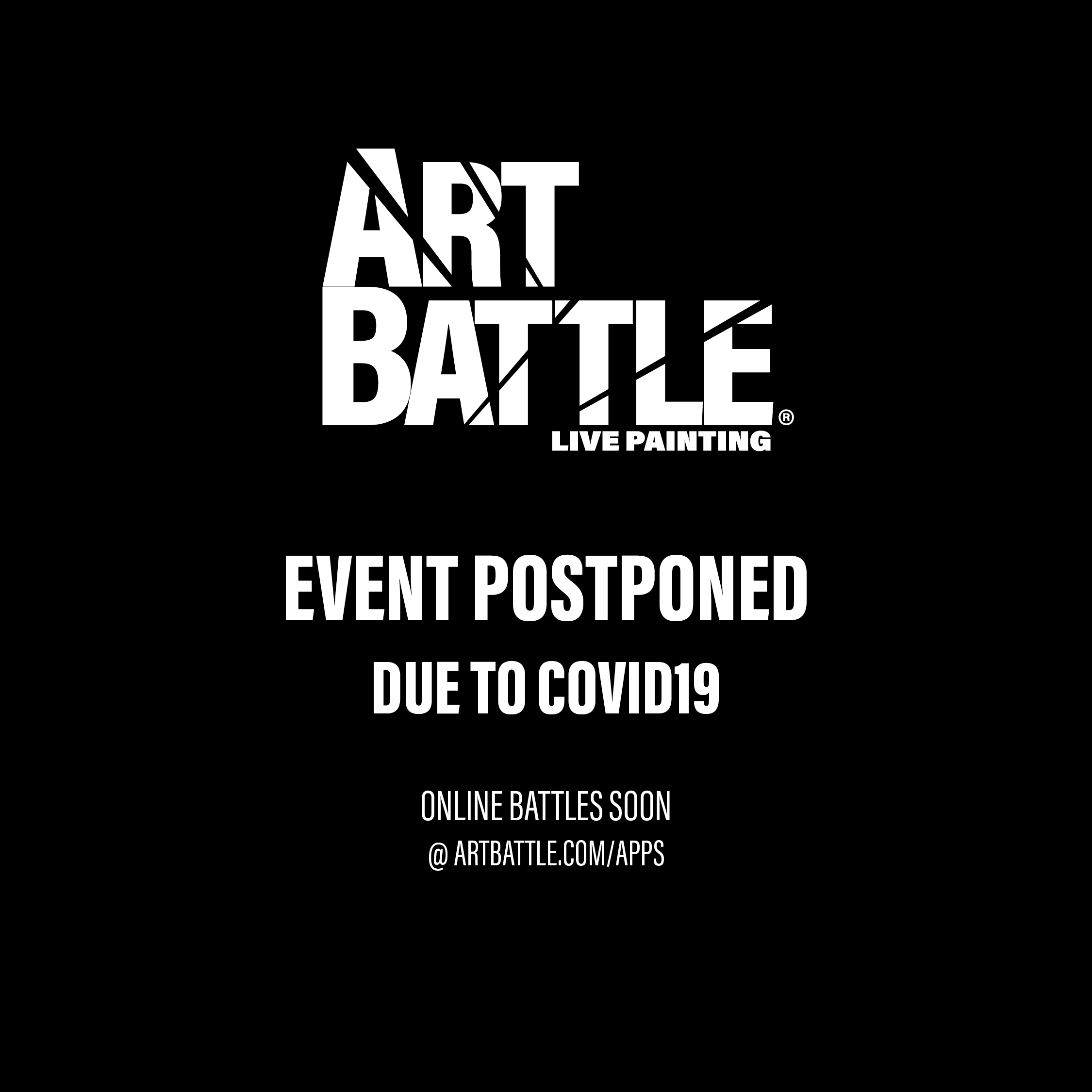 A number of event postponements have been announced in the US and around the world for regular season and Championship Art Battle® events. We will update this page with the latest info.
Summary:
All Art Battle events in the US, Canada, Europe, and the UK that were scheduled before April  28th have been postponed. Events in Mexico, South Africa, and Australia may continue as planned. Events after April 28th will be evaluated closer to event dates.
Ticket refund requests will be honoured, guests are asked to consider holding their tickets for admission to rescheduled shows. To request a refund, please reply to the original ticket email receipt so we may easily match your request to the proper transaction.
As of March 15 230PM(ET):
All South African events are postponed
Johannesburg (March 27th)
Cape Town (May 7th)* may be reinstated depending on local conditions
Updated UK notice as (PDF Download)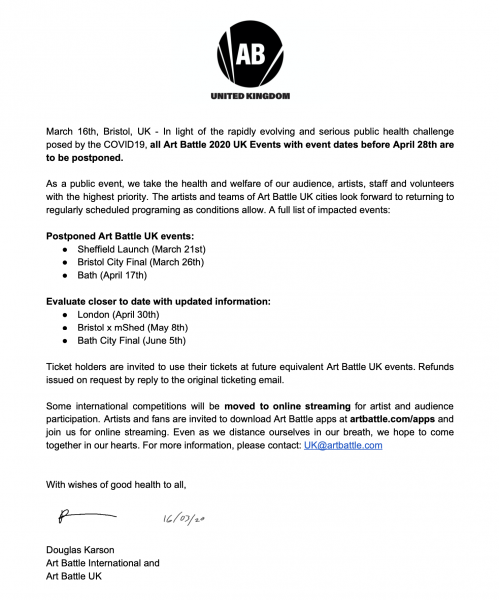 As of March 14 200PM(ET):
UK Impacted events:
Sheffield Launch (March 21st)
Bristol City Final (March 26th)
Bath (April 17th)
Post April 28th events, proceed as planned for the time being, to be reviewed at the beginning of April:
London (April 30th)
Bristol x mShed (May 8th)
Bath City Final (June 5th)
Additional Canadian events impacted:
As of March 13th 1100AM(ET):
Update to postponed Canadian events
Ottawa (March 21st)
Saint John, NB (April 3rd)
Fredericton (April 4th)
As of March 12th 710PM(PT):
Update to postponed Canadian events
As of March 12th 310PM(ET):
An announcement for the delay of European events in Bristol, Amsterdam, and Barcelona is forthcoming on Friday, they will be postponed until further notice.
As of March 12th 1030AM(ET);
Most US Art Battle events in the next 6 weeks have been postponed, including:
All US Championship events have been postponed.
NYC Championship (March 13th)
Florida State Championship (March 14th)
Midwest Regional Finals (March 14th)
Texas State Championship (March 14th)
Phoenix City Finals (March 22nd)
LA City Finals (April 1st)
Monterey City Finals (April 4th)
Boston City Finals (April 6th)
Atlanta City Finals (April 9th)
US National Championship (Wichita Falls, TX on April 18th)
A statement follows below (PDF Download):