AB2362 – Toronto
December 20, 2022 @ 7:30 pm
UTC-5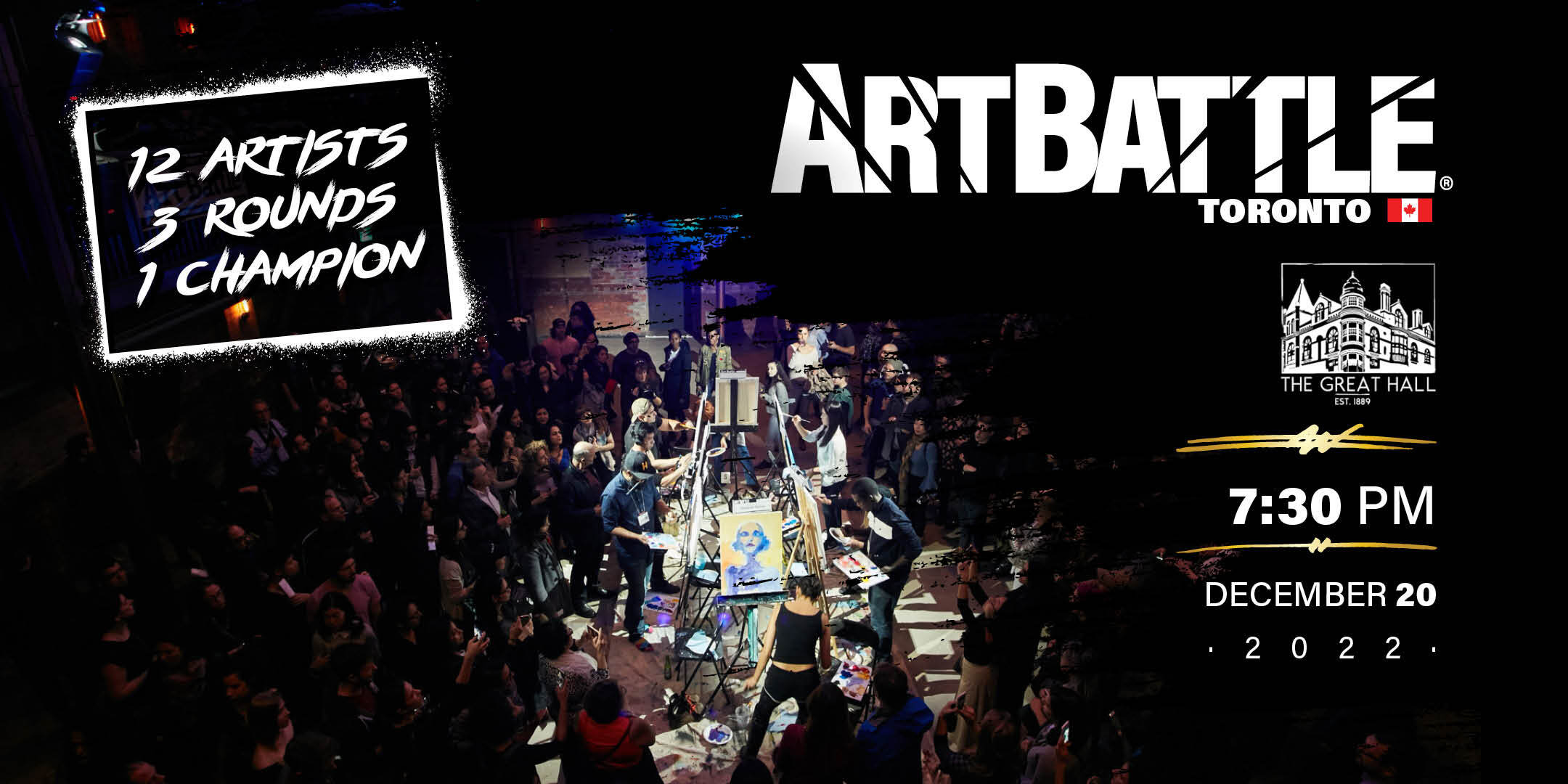 Art Battle Toronto – Dec 20, 2022
Doors @ 7:30pm / Painting @ 8:15pm
The Great Hall – 1087 Queen Street W.
view on
Eventbrite
Join Art Battle Toronto for an amazing experience of live performance!
Grab your best pals and join us for a wonderful afternoon of creativity and community, a live painting tournament showcasing local artists and connecting Toronto to towns and cities around the world. Come watch as artists transform blank canvases into beautiful pieces of art in 3 rounds of just 20 minutes, and then help vote to determine the winner of the event! All artwork will also be available for silent auction. Be a part of the fun as a spectator, or participate as one of the featured artists by applying online at artbattle.com/artists!
REGISTER TO VOTE
Artists
Artists can apply to compete. Also, most events have a 'Wildcard' easel, where artists leave their names at the door and we draw at random to pick the Wildcard Artist. To be a potential wildcard artist, just buy a ticket and show up!
Confirmed Competitors
Shawnee grew up in her grandmother's porcelain doll studio which inspires the treatment of bodies in her work. She draws and paints highly detailed imagery centered around figures and nature in a non-traditional way./sf
From the artist:
Pumped to paint. Representing my Rochester community.
Seromo has always wanted to be in an art battle. He focuses on painting, pencil and pen, tattoos, graffiti and even sculpture./sf
Carolyn enjoys working in a wide variety of art media and has been doing art for most of her life. She thinks that acrylic is a great medium to work in and express herself. /sf
From the artist:
Competing live is exciting and a little bit daring. I want to challenge myself. When I do a quick painting the ideas can be fresh and vibrant, and the energy really flows
It is Art Battle #3 for Violetta---and her birthday! She won Art Battle in Hamilton in August and was a finalist in Toronto. She hopes to rake in another win to celebrate her first year in Canada./sf
From the artist:
Art Battle #3.— AND it's my BIRTHDAY!!! Early birthday present … my husband , Misha, was able to leave Ukraine and join me in Canada. My family is reunited … the BEST birthday and Christmas present all rolled into one!! I won my first Art Battle in Hamilton in August, was a finalist in Toronto in October and winning this one would be a wonderful way to close my first year in Canada!
A form of art therapy, Katherine's style is very playful. She doesn't like to create things that are too realistic. /sf
From the artist:
Art is for everyone, come check out my abstract chaos.
"MEDEIO is a Toronto based artist - internationally recognised for his Calligraffiti style. With a freestyle approach to painting, he uses abstract calligraphy and graffiti elements to illustrate detailed symbols and portraits." /sf
From the artist:
LESSSSGOOOOOOOO ?
Celia likes to capture the human experience and paint a world that she would like to see. She uses vibrant, fun colors and intentional brushstrokes./sf
From the artist:
This is my first time in an art battle, and I'm so excited. I will bring the best energy to the stage, can't wait to see you all there!
Based in Ontario, Meaghan's training was refined through York University's Fine Arts program. She focused mostly on painting and historical techniques while there./sf
From the artist:
I am excited to be here again, this time as a participant and not as a wildcard. I have been painting for years, but this is a whole new fun filled challenge!
Born in Kyiv, Olga is a classically trained artist who is fascinated by the possibilities and depth of classic realist art when you start breaking the rules after you learned them./sf
From the artist:
My name is Olga, I was born in Ukraine, and I moved to Toronto around 8 years ago.
I study classic realist art at the Academy of Realist art in Toronto, and I'm trying to push the limits of academic art and see how far it can take me.
Related Events