AB2384 – Vancouver
February 25 @ 6:00 pm
UTC-5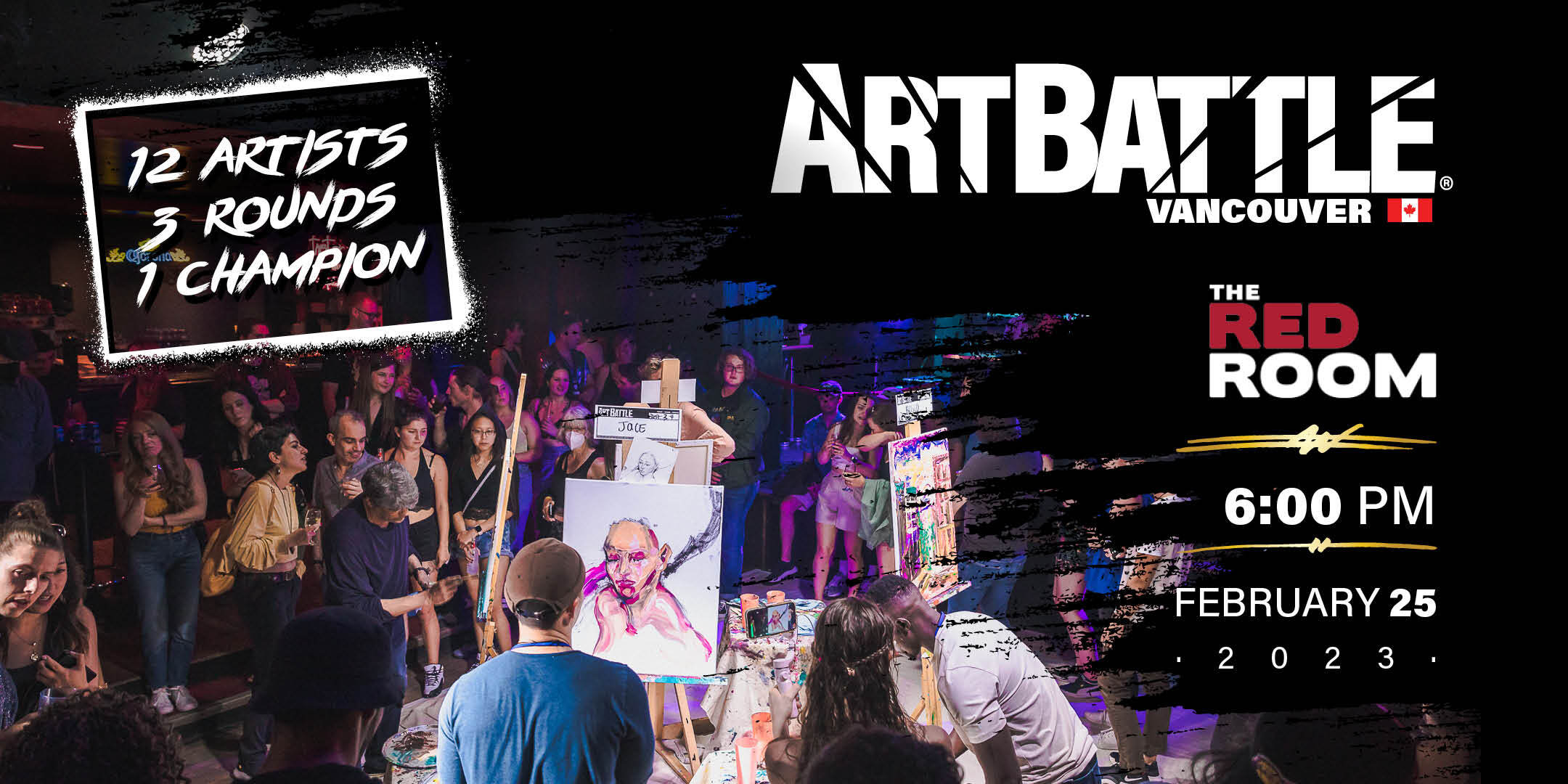 Art Battle Vancouver – Feb 25, 2023
Doors @ 6:00pm / Painting @ 7:00pm
The Red Room – 398 Richards St, Vancouver, BC
view on
Eventbrite
Join us in Vancouver for a Saturday night full of live art!
Come watch the paint fly before your eyes and help vote to determine the Winner as artists battle the clock & each other in 3 fast-paced rounds.
All artwork will also be available for auction during this incredible night of community and creation!
Be a part of the fun as a spectator, or participate as one of the featured artists by applying online at artbattle.com/artists!
Art Battle Vancouver is a 19+ event.
REGISTER NOW TO VOTE
Artists
Artists can apply to compete. Also, most events have a 'Wildcard' easel, where artists leave their names at the door and we draw at random to pick the Wildcard Artist. To be a potential wildcard artist, just buy a ticket and show up!
Confirmed Competitors
Ghi is a figurative, symbolist painter. He enjoys watching the event and is excited to participate./sf
Garry is new to the traditional art scene, having worked in TV and games for the last decade helping build worlds for the Gears of War franchise. He enjoys computer art, sketching and painting./sf
Aki has done everything from live painting to live music. His art is considered figurative and expressionistic, yet spontaneous and technical./sf
From the artist:
Controlled Chaos meets Figurative Expressionism!
A father of two and an electrician, Orion likes the capture the beauty in everyday life in the city around us. He loves to capture beautiful light on sunny days and paints in a somewhat impressionistic style./sf
Marissa's art is usually ethereal. She likes to give whimsical touches to make it feel almost dreamlike in the color and focus./sf
From the artist:
Just excited to be here 🙂
Bethany's mediums are both 2D and 3D. Her works have a vibrant color pallet and whimsical and imaginative subject matter./sf
From the artist:
My name is Bethany, I'm from Nelson BC. Currently attending Emily Carr majoring in illustration.
Kallista is a representational artist who loves to include graphic abstraction and tinges of the macabre. She has previously competed as a wildcard./sf
Misha grew up with art and has been drawing and playing with various mediums all his life. He specializes in drawing and painting, having gone to school for both traditional and digital media art./sf
From the artist:
I'm an artist born in Vancouver who loves creating art in many forms including both painting drawings, and digital. I most enjoy creating environments and mechanical sci fi, cartoony, or retro art.
Related Events