AB2404 – Minnesota
January 26 @ 7:00 pm
UTC-5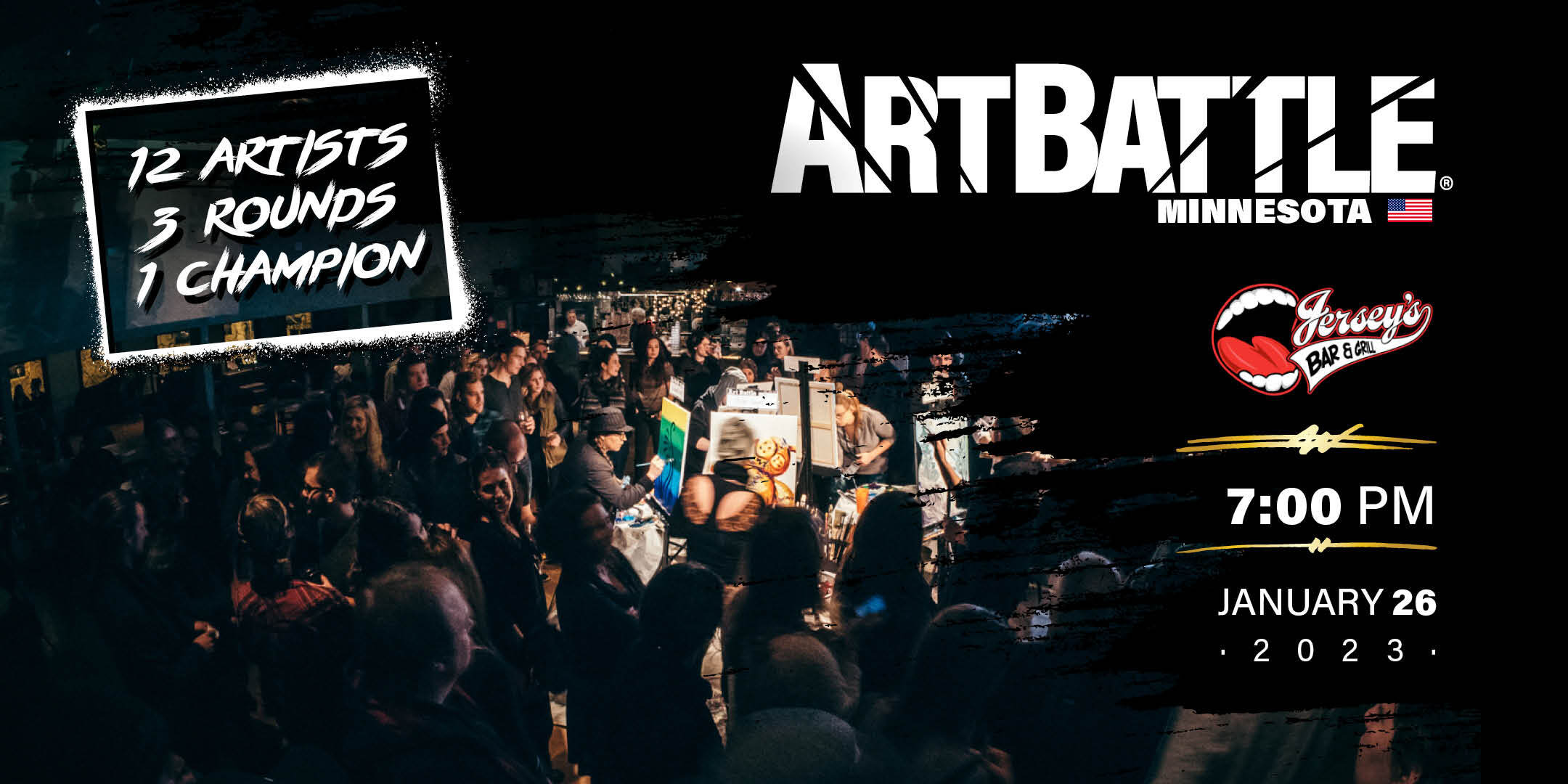 Art Battle Minnesota – Jan 26, 2023
Doors @ 7:00pm / Painting @ 8:00pm
Jersey's Bar & Grill – 6449 Concord Blvd, Inver Grove Heights, MN
view on
Eventbrite
This is our first Minnesota event! You don't want to miss it
Grab your best pals and join us for a wonderful afternoon of creativity and community, a live painting tournament showcasing local artists and connecting Minnesota to towns and cities around the world!
Come watch as artists transform blank canvases into beautiful pieces of art in 3 rounds of just 20 minutes, and then help vote to determine the winner of the event! All artwork will also be available for silent auction.
Be a part of the fun as a spectator, or participate as one of the featured artists by applying online at 
artbattle.com/artists
!
Art Battle Minnesota is an All Ages event with a 21+ bar.
REGISTER NOW TO VOTE
Artists
Artists can apply to compete. Also, most events have a 'Wildcard' easel, where artists leave their names at the door and we draw at random to pick the Wildcard Artist. To be a potential wildcard artist, just buy a ticket and show up!
Confirmed Competitors
A Minnesota born and raised artist, Sara is looking to fill the world with love and color. She has done murals around Minneapolis and LA. /sf
From the artist:
Spreading love through color and creativity.
Anton is a Minneapolis-based, self-taught artist who uses bold, dynamic colors to define shape and contour for the subjects he paints./sf
From the artist:
I would really just love for the audience to have a great time ..
Amanda believes her art is a way to reach people--to help or inspire them. It hopefully inspires them to understand that experiences and feelings, good and bad, are okay to have./sf
Tamina is a professional minnesota based artist that is highly recognized for her face and body painting. When it comes to her Canvas work, her art represents strong black women in a positive and beautiful light. As most of her life she resided in the southwest, she tends to incorporate her Native American Ancestry. This heritage is often depicted in her work.
From the artist:
Thank you for your continued support , inspiration, and encouragement. I hope that you enjoy the beautiful work displayed by all the artist who put their love and passion into each piece.
Jeremy, from Phoenix, Arizona, has travelled the world with their art and has been live painting since 2006. His art can be considered calligraffiti meets typographic wizardry./sf
From the artist:
First and former most, REST IN POWER George Floyd🙏🏽 peace and blessings to his loved ones and everyone in the Twin Cities that was affected by his death. This will me my very first time coming to your City and I'm dipping my brushes in WAR PAINT so be ready y'all!! Where my Indigenous brothers and sisters at!? Raise UP and let's DO THIS 💪🏽✊🏽🙏🏽🙌🏽
Related Events