AB2410 – Ormond Beach
February 5 @ 4:00 pm
UTC-5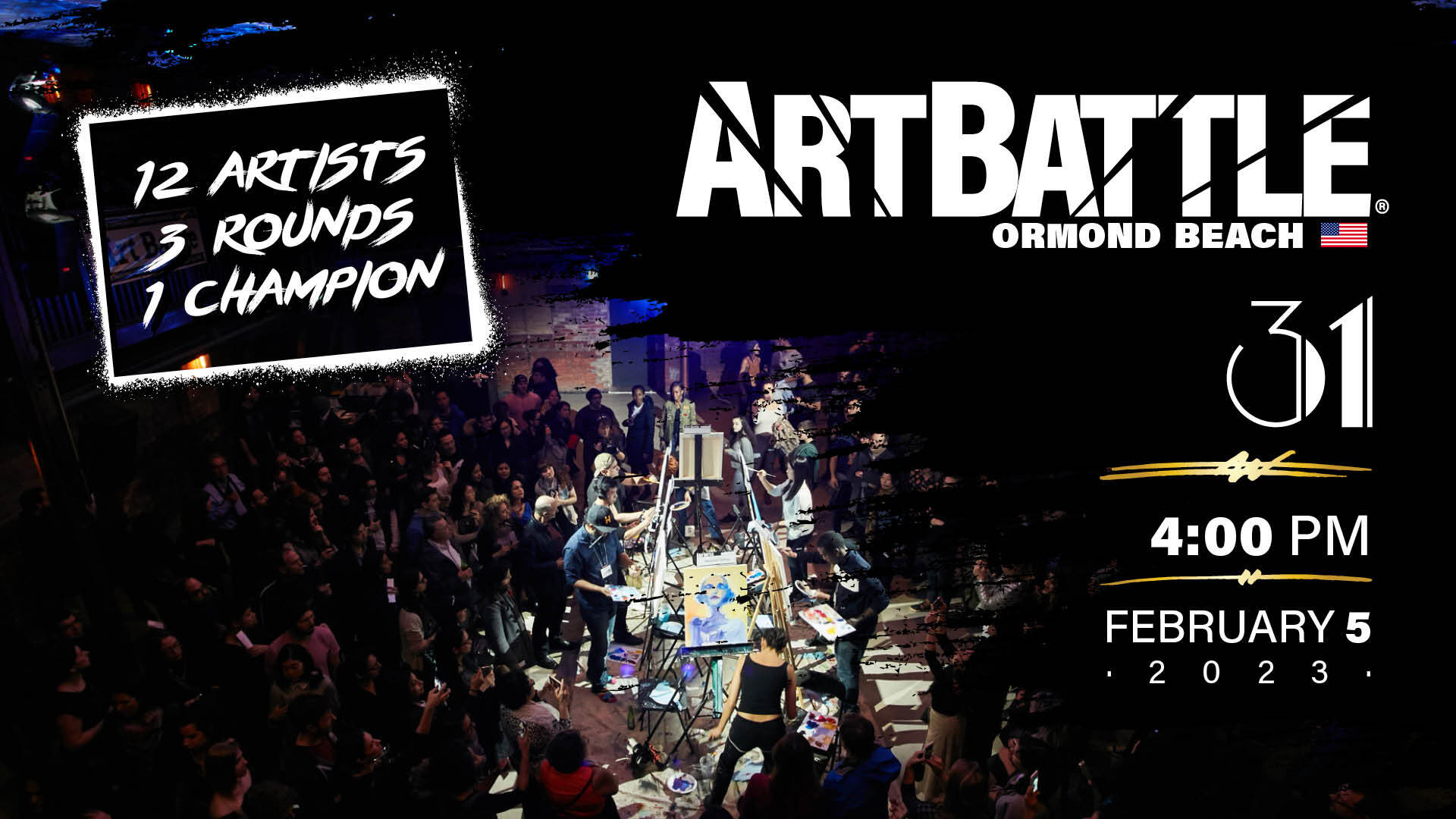 Art Battle Ormond Beach – Feb 5, 2023

Artists in Round: 1 :
1 => Lisa Gale ()
2 => Kirsten Lahmann
3 => Jordan Jones (WIN)
4 => Charles Maxwell (WIN)
5 => Sondra Avant ()
6 => Thays França ()

Artists in Round: 2 :
1 => Montgomery Triz ()
2 => Jessica Shippee ()
3 => Rachel Caldwell ()
4 => Thays França (WIN)
5 => Ryan Houman ()
6 => Montgomery Triz (WIN)

Artists in Round: 3 :
1 => Montgomery Triz ()
2 => Jordan Jones (EVENT CHAMPION)
3 => Charles Maxwell ()
4 => Thays França ()
Doors @ 4:00pm / Painting @ 5:00pm
31 Supper Club – 31 W. Granada Blvd, Ormond Beach, FL
view on
Eventbrite
Join us for a wonderful Sunday full of live art!
Grab your best pals and join us for a wonderful afternoon of creativity and community, a live painting tournament showcasing local artists and connecting Ormond Beach to towns and cities around the world!
Come watch as artists transform blank canvases into beautiful pieces of art in 3 rounds of just 20 minutes, and then help vote to determine the winner of the event! All artwork will also be available for silent auction.
Be a part of the fun as a spectator, or participate as one of the featured artists by applying online at 
artbattle.com/artists
!
Art Battle Ormond Beach is an All Ages event.
REGISTER NOW TO VOTE
Artists
Artists can apply to compete. Also, most events have a 'Wildcard' easel, where artists leave their names at the door and we draw at random to pick the Wildcard Artist. To be a potential wildcard artist, just buy a ticket and show up!
Confirmed Competitors
Related Events