AB2421 – Lagos
February 19 @ 3:00 pm
UTC-5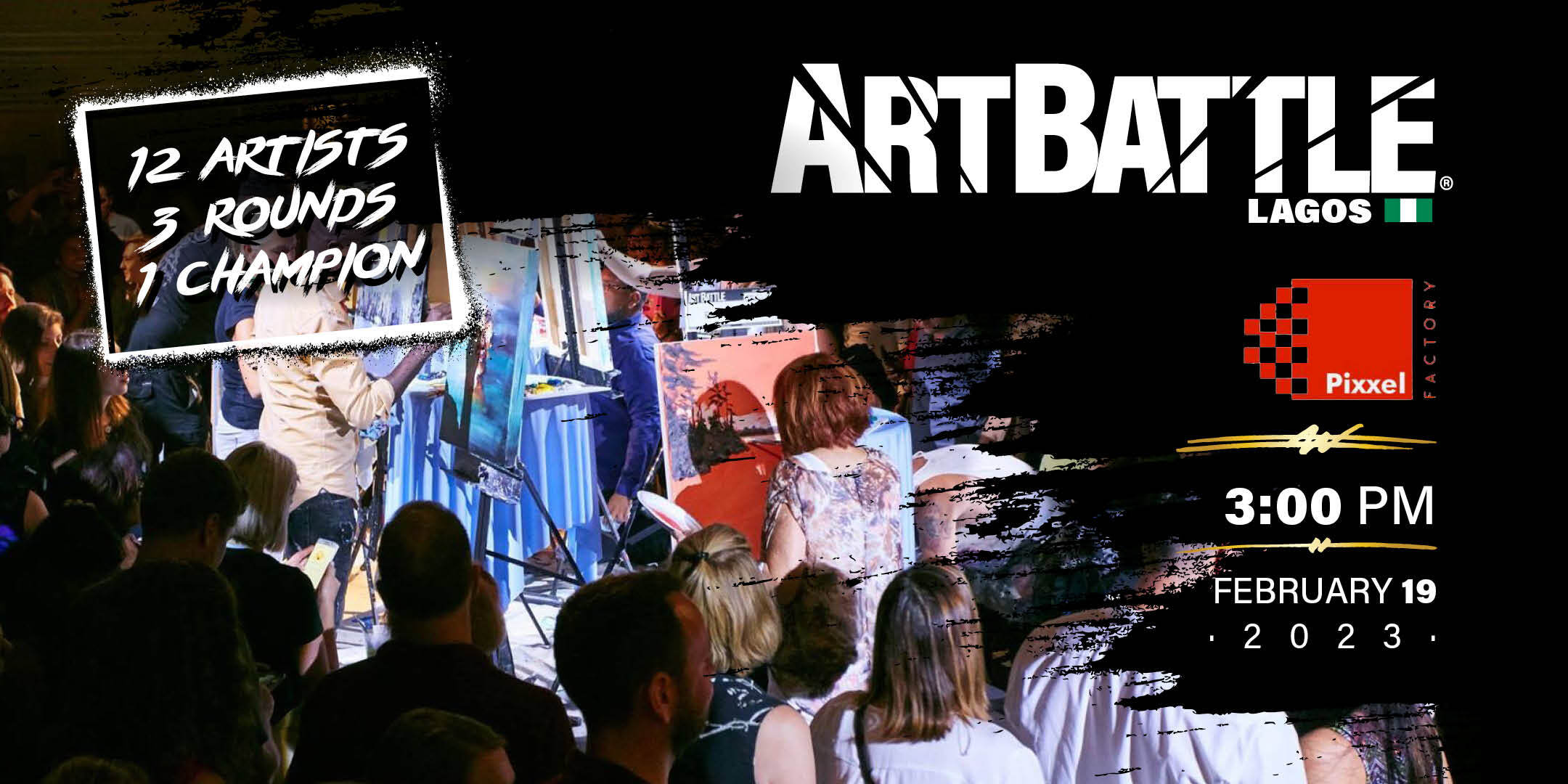 Art Battle Lagos – Feb 19, 2023
Doors @ 3:00pm / Painting @ 4:00pm
One Art Gallery – 2/5 Idowu Ajao Street, Ajao Estate, Anthony Village

Tickets on Tix Africa
Join us for our first Lagos event!
Join us for a night of artistic excellence as skilled artists face off in three rounds of fast-paced competition.
Be there as the paint flies and help choose the ultimate winner.
Then, peruse the artwork that will be available for auction and take home your own piece of the creative action. It's a night of community, creation, and pure artistic adrenaline.
Be a part of the fun as a spectator, or participate as one of the featured artists by applying online at artbattle.com/artists!
Art Battle Lagos is an All Ages event.
REGISTER NOW TO VOTE
Artists
Artists can apply to compete. Also, most events have a 'Wildcard' easel, where artists leave their names at the door and we draw at random to pick the Wildcard Artist. To be a potential wildcard artist, just buy a ticket and show up!
Confirmed Competitors
Tiolu is a visual artist with experience in both digital and traditional art. Her work authenticates her keen interest in the body, beauty standards, society issues and gender stereotypes, especially in Africa./sf
Kessie is a versatile and upcoming Nigerian-based artist whose chosen mode of expression, whilst illustrating or painting, is centered around the female figure and all of its intricacies./sf
From the artist:
I'm Kessie Hue a.k.a AFRONUDIST .I'm a Multidisciplinary artist and I'm excited to have been selected to showcase my painting skills at this years ART BATTLE event …come watch me paint and LETS HAVE FUN CREATING.
Akande John is a visual contemporary artist in Lagos. He's currently a painter. He studied art in Yaba College of Technology, and has exhibited works in various kinds of exhibitions./sf
From the artist:
i'm akande john your artist to battle with paint, i will be there to do my best and win for this, thanks
Sodiq is a versatile artist who can create under any circumstance. His work reflections a construction of culture and his goal is to create visually endearing works./sf
From the artist:
Come experience best of live paintings
Joy, a student, attempts to bring to light the beauty of life with her art through the eye of nature, cultural dynamics(Africa precisely), human affairs etc., in a manner that life should be appreciated and not wasted./sf
From the artist:
It is a great joy to have you watch me paint
Klotoe-Michael Daniel abiodun