AB2481 – Minnesota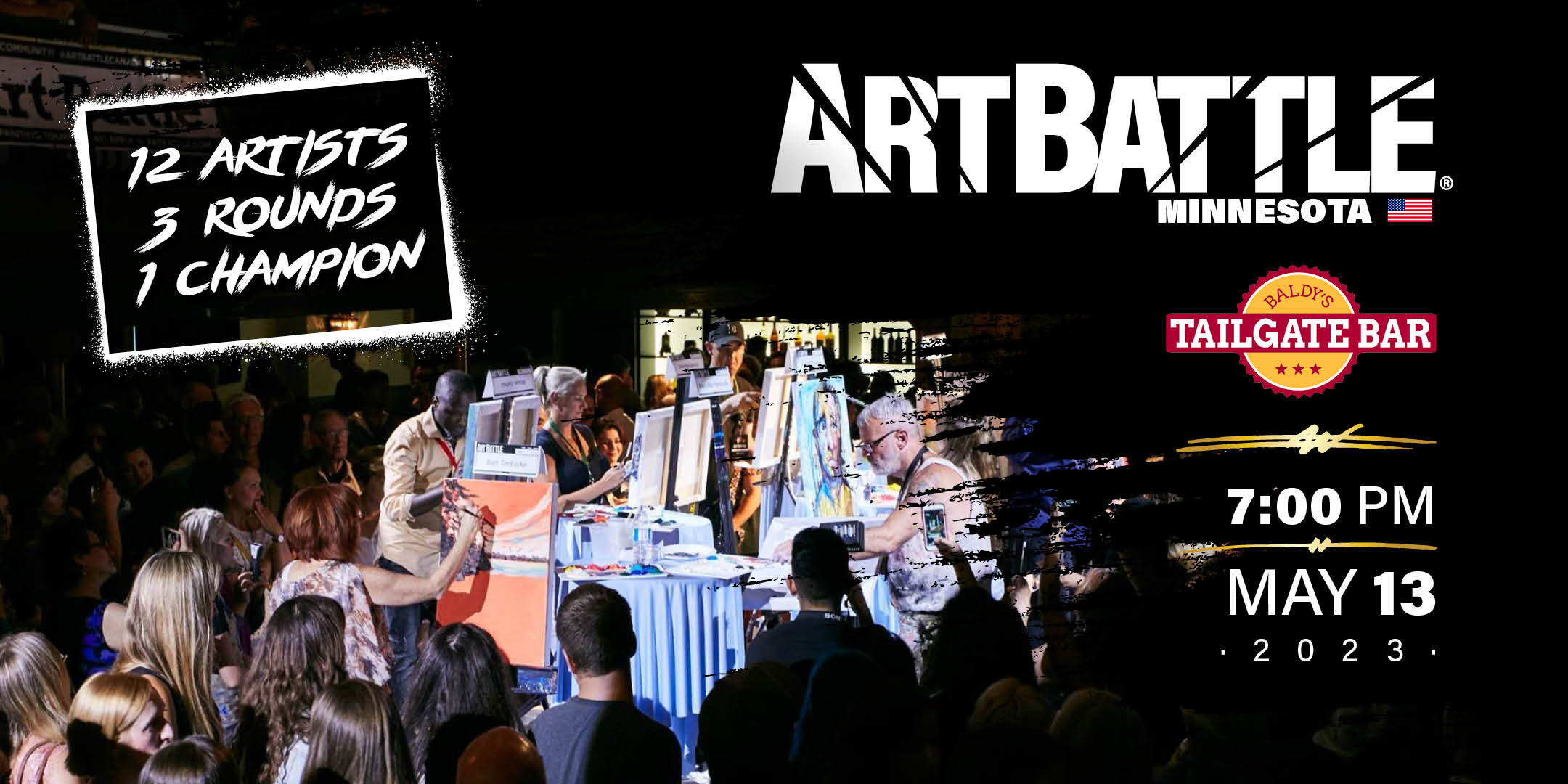 Art Battle Minnesota – May 13, 2023
Doors @ 7:00pm / Painting @ 8:00pm
Baldy's Tailgate Bar – 20944 Holyoke Ave, Lakeville, MN 
view on
Eventbrite
Get charged up for a electrifying Saturday night featuring live, pulse-pounding art!
Join us for an epic art showdown where creativity knows no bounds!
Watch as masterful artists craft stunning masterpieces in just 20 minutes per round. Be part of the decision-making process and vote for the ultimate champion.
And don't miss your chance to own a piece of the action with the silent auction of all original works.
Be a part of the fun as a spectator, or participate as one of the featured artists by applying online at 
artbattle.com/artists
!
REGISTER NOW TO VOTE
Artists
Artists can apply to compete. Also, most events have a 'Wildcard' easel, where artists leave their names at the door and we draw at random to pick the Wildcard Artist. To be a potential wildcard artist, just buy a ticket and show up!
Confirmed Competitors
Giada loves painting nature like Bob Ross and has also been glassblowing since she was 10. In addition, she also works with fabric, felt, fused glass, digital art, clay, wood and woodburning art, and pencils. /sf
Christopher is inspired by faith - personalities of faith and moments in faith, as well as the narrative of love, relationships, parenting, dating and loss of love. He paints with acrylic paint, watercolor, ink(s), markers, pencils, crayons, paint sticks, pastels, colored pencils, permanent markers and alcohol, wine - yes, wine. /sf
From the artist:
ArtBattle Minnesota patrons - get ready to go on an artistic journey with me in May 2023. I looking forward to creating a couple of pieces for you.
- Christopher Barksdale
CasSa wants to try to share the emotions, feelings or memories that a painting or drawing can convey for us humans. Using all mediums but oil, his style can vary from piece to piece. /sf
From the artist:
Looking forward to this battle
Born in Morocco, Abderrahmane does mostly mixed media and African art. He has had his work showcased in galleries and completed a few murals at local restaurants. He combines multiple techniques and believes his art has an ethnic traditional feel. /sf
From the artist:
I'm ready to showcase my arts and have a good time
Jade returns! Jade is a self-taught artist from Minnesota. Her multi-media style includes painting, drawing, mixed media pieces and recently textile art./sf
Lydia's art is a little spooky and a little sweet. She creates through painting, sculpting, multimedia art, digital art, miniatures, jewelry, resin, and woodworking. While she loves horror, she never uses it as a subject matter./sf
From the artist:
Excited to be here and get a little weird!
Kelly is a Minnesota based, international artist. Most of her work is emotion based and tied to a dictionary definition, one word or short phrases that often are depicted in the imagery. She works in many mediums but her most popular is melted crayon. /sf
From the artist:
I am so excited to have a few minutes to jump in and create.
Melanie loves teaching children and hosting wine/coffee and canvas parties. She's a portrait artist, a muralist, and does zombie special FX and face painting. She is also the previous winner of the Uptown Art Fair Kitchen Window Battle of the Chefs & Artists./sf
Tom loves fun bright colors and to paint loose as well as tight. His work has been on magazine covers, newspapers, novel covers, cookie tins a couple puzzles and some products etc. He is looking forward to the thrill of Art Battle. /sf
From the artist:
I love to paint and I love color!
An artist from Minnesota, Olivia is inspired by her artist mother. She enjoys painting people, faces and emotions and uses color and light to give her paintings feeling and depth. She loves being outside and often paints on her deck in the summer. In her free time, she likes to read, workout, and practice Italian./sf
Related Events