AB2485 – Pawtucket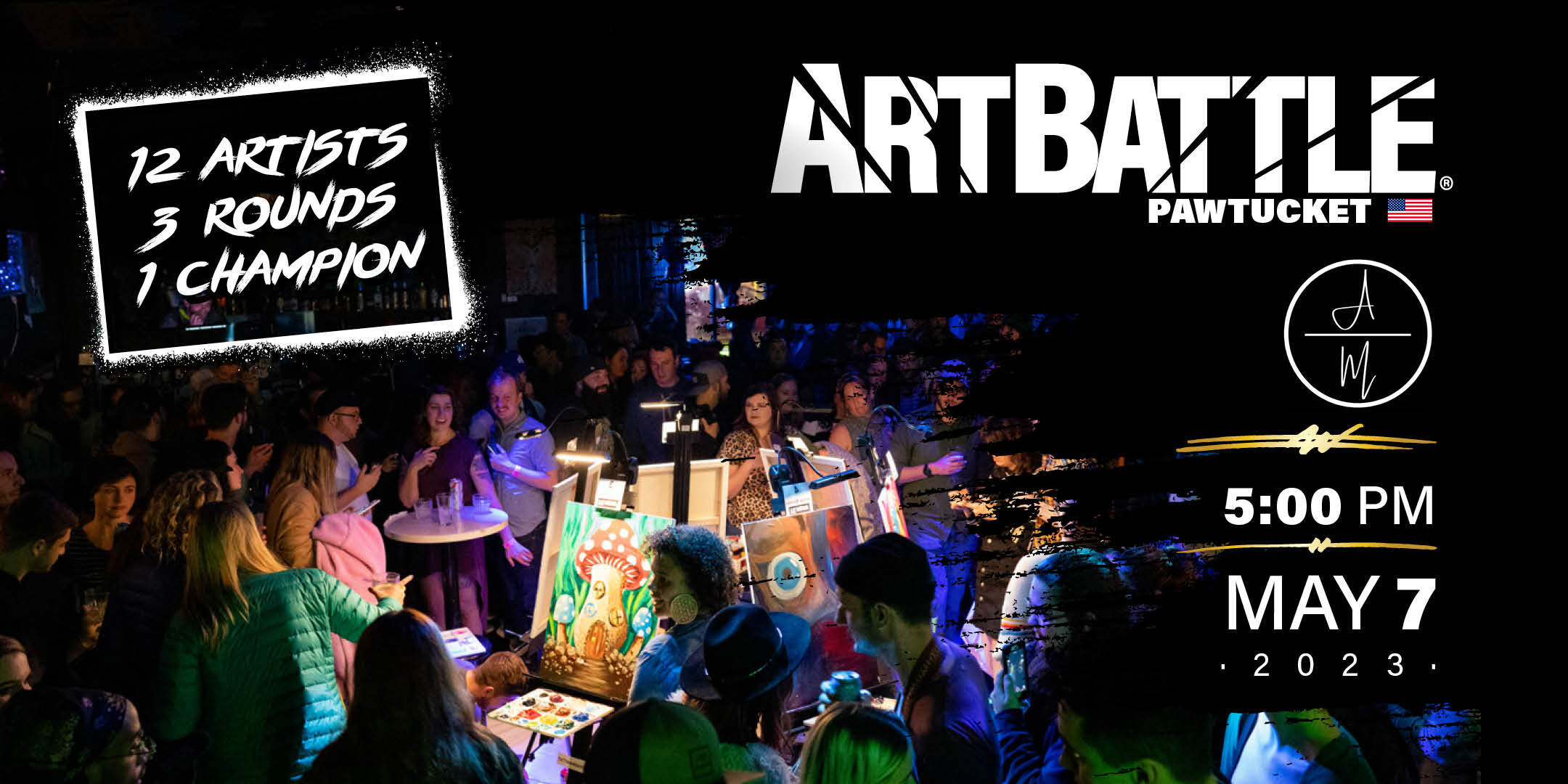 Art Battle Pawtucket – May 7, 2023
Doors @ 5:00pm / Painting @ 6:00pm
Atrium on Main – 285 Main Street, Pawtucket, RI
view on
Eventbrite
Join us for an electric Sunday full of live art!
Join us for a night of fierce artistic competition as skilled painters go head-to-head in three high-intensity rounds.
Be there as the paint flies and help decide the ultimate winner. Then, browse the amazing artwork that will be up for auction and take home your own piece of the creative action. It's a night of community, creation, and pure artistic energy.
Don't miss out on the excitement – see you there!
Be a part of the fun as a spectator, or participate as one of the featured artists by applying online at artbattle.com/artists!
Art Battle Pawtucket is an All Ages event.
REGISTER NOW TO VOTE
Artists
Artists can apply to compete. Also, most events have a 'Wildcard' easel, where artists leave their names at the door and we draw at random to pick the Wildcard Artist. To be a potential wildcard artist, just buy a ticket and show up!
Confirmed Competitors
Jenny is a PK-12 Rhode Island art teacher. She uses mediums such as painting, ceramics, printmaking and metalsmithing. She loves to encourage people to create./sf
From the artist:
Pk-12 art teacher. Enjoys painting and ceramics. Loves encouraging others to create. We all have our own message to share through our artwork.
Mary is back! Mary's art is mostly inspired by songs she listens to, animals, nature, and architecture. She mostly paints in acrylic but loves to experiment with other mediums./sf
Kelly is a multimedia figure painter based in Brooklyn, NY. Her work is a study of the human body as it relates to relationships, intimacy and connection in the digital age. Her current motifs surround femininity, toxicity, and the internet./sf
From the artist:
Not sure what to write here! Will this be read off to the audience or used for promotion? Should I include a bio or a quote? Let me know! Happy to provide whatever 🙂
Because Joseph is self-taught, all of his techniques are self made, from brush strokes to mixing to even vigorously shaking and banging his canvas until it mirrors the idea he has envisioned. He enjoys drawing, painting, woodworking and sculpting, but mostly, he is a musician and songwriter./sf
Yasira, a self-taught artist, is back! Her art is a modern take on time. She uses stick figures because she appreciates the simplicity and uses black and white to showcase equal counterparts./sf
Erik has been creating art for most of his life. What started as scribbles in his grade school notebooks turned into bright beautiful images that pop off the canvas. He prides himself in continuing to grow as an artist by looking for creative opportunities anywhere that he can find./sf
From the artist:
Ready to show the Art Battle Community what I got!
Elton returns! Self-taught Elton would say his style is illustrative. He loves to work with all types of mediums and considers his art illustrative. Elton is also a tattoo artist./sf
From the artist:
Let's have some fun!
Related Events