AB2489 – San Francisco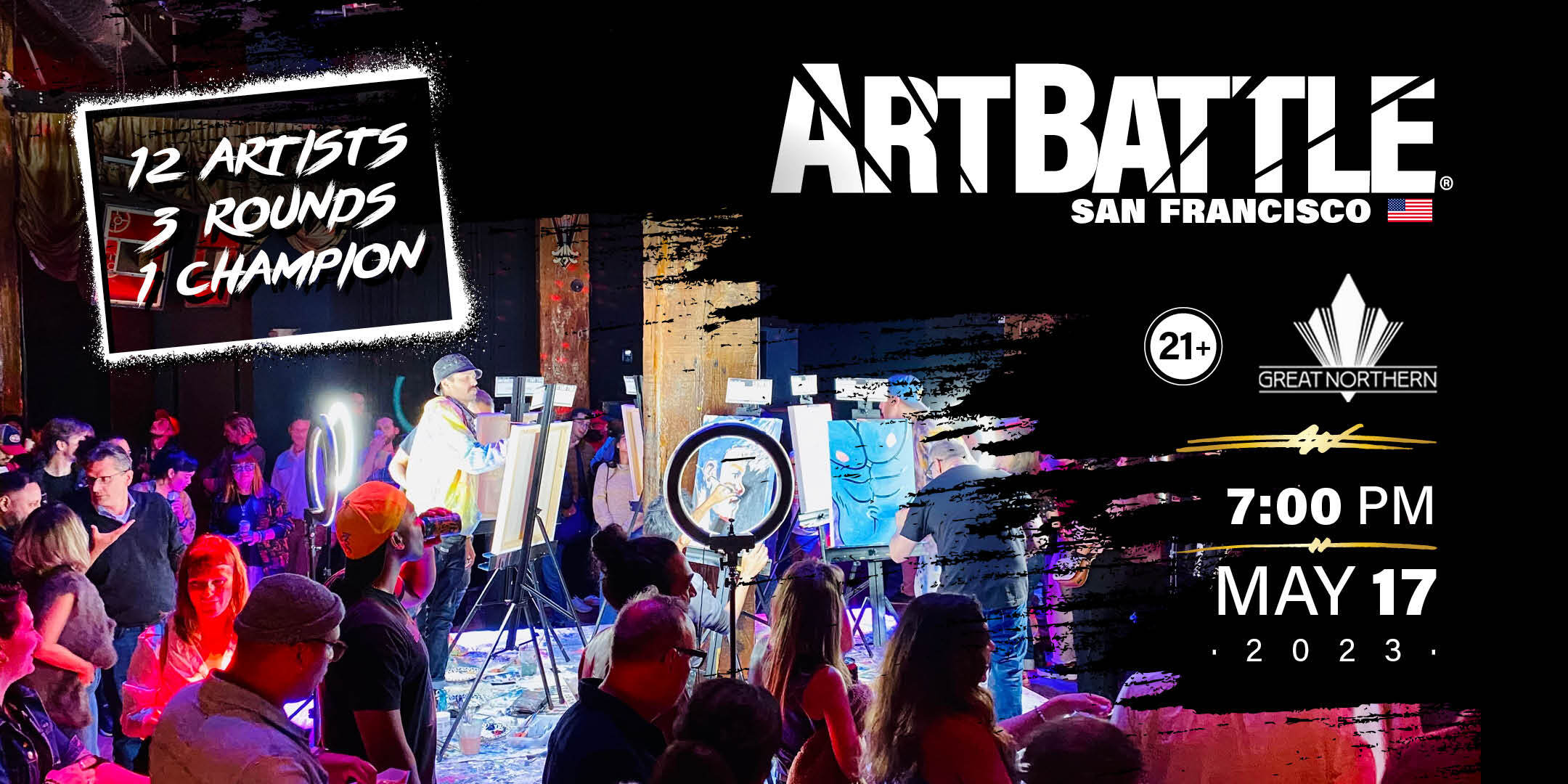 Art Battle San Francisco – May 17, 2023
Doors @ 7:00pm / Painting @ 8:00pm
The Great Northern – 119 Utah Street, San Francisco, CA
view on
Eventbrite
Get charged up for an electrifying Wednesday night featuring live, pulse-pounding art!
Be a part of the electrifying energy as skilled artists engage in a high-speed showdown, flinging paint with every stroke.
Cast your vote and crown the champion in three pulse-pounding rounds. And as the night unfolds, snag a one-of-a-kind masterpiece as every piece created goes up for auction. Don't miss this unforgettable evening of live art!
Art Battle® San Francisco is a 21+ event.
REGISTER NOW TO VOTE
Artists
Artists can apply to compete. Also, most events have a 'Wildcard' easel, where artists leave their names at the door and we draw at random to pick the Wildcard Artist. To be a potential wildcard artist, just buy a ticket and show up!
Confirmed Competitors
Matteo is inspired by all aspects of architecture, nature, pop culture and symbolism. He has been creatively painting for the last 10 years and has had experience with mixed media from small canvas to large scale murals./sf
Jennifer's creative process begins from obsessive observation of her travels as chaotic pen sketches and captured moments in prose that later become refined instinctual abstractions of form and movement. Some muses that influence Jennifer's artwork include expressionism, street art, nature, poetry, and social anthropology./sf
Mayzie has been a first grade teacher in Title I and III schools for 5 years. She creates through acrylic painting, dumpster diving, printmaking, love letters and art education./sf
From the artist:
Mayzie has been a first grade teacher in Title I and III schools for 5 years. She creates through acrylic painting, dumpster diving, printmaking, love letters and art education.
Join me on the picket line and collective bargaining table!
Hanging out with under 7 years old and over 70 years old is my sweet spot. Untainted by heteronormative and capitalism. "Unschooled" by white-washed narratives.
P.S. We have more than 5 sense.
Born in Puebla, Mexico, Ilse was first "discovered" in kindergarten. She loves painting, 3-D sculpting and her cat and turtle./sf
Anna is an artist, innovator, art historian, and teacher. She is the founder of the art House Anna Aksenova.
She paints with her fingers right in front of your eyes and is excited for the opportunity to collaborate with like-minded people./sf
From the artist:
I am glad that you see and read me, it means that I did not go through this long creative and human path in vain! I am an artist from Ukraine! Which brings the World to the World a message that Freedom is the only true Path, freedom in manifestation and in painting - it is identical! I paint pictures that are not planned by the plot, this is only the transfer of data from space to the viewer! And I hope to create with my work that atmosphere that you will remember for a long time! See you! I'm happy to be with you!
Inspired by weekends spent at Bay Area beaches with her family, Nathalie paints the sea, light and sky in all its colors and textures, creating landscapes and seascapes that may or may not exist./sf
Hash returns to another Art Battle. In his art, he tries to offer a new perspective on current events and to reflect by thinking outside the box. He paints, draws, sculpts and plays music./sf
Amber is back! Amber's art is colorful, yet dark. Her work is free and constantly changing. She is inspired by nature's colors, textures and mind tricks./sf
From the artist:
I'm baaaaaack! Can't wait to throw paint down with you guys again.
Tommy Perkasso is back. Tommy grew up drawing and graduated to a paintbrush. His art is often a mashup of multiple techniques utilizing his vivid imagination./sf
From the artist:
1st. i conjure a thought, a mere flicker of energy originating deep inside my personal conscience firing brain waves. this thought has no weight, you can not hold it, but most intriguing the absolute fact that in your personal current universe, this thought i brewed up does not even slightly exist in any way. everything you do, see, hear, taste, touch, feel is an experience, and the thought i have is fairly difficult to explain in words.
The only way you can see, hold, or truly understand the vision of my Minds Eye, and ultimately trigger as an experience registered within your personal universe....
I have to create it in front of you.
I can take this invisible, weightless, undetectable, illusive spec of nothing that never was, never has been, and currently not even a quark of an atom of a cell.... Seemingly impossible in theory, I can make it come to fruition, materialize this sole thought into actual matter... with weight, you can see it, even hold it, even own this creation that didnt even exist 20 min prior. Its no hoax because you saw every strand and ingrediant come together from being locked out from all except me. And that exact moment will be newest creation of existence, consuming space in this intertwined and entangled world consisted of experiences all of our minds encounters in a grand collaboration fed by enlightening everything possible, and level up by seeking and adjusting enlightenment on the fly.
in short... talk is cheap, so, just watch me bring to life what has never been, and make something that never was made to begin with.
Briana is an artist from the Bay Area who works primarily in acrylic, graphite, and dance. Her practice focuses on the emotional, the abstract, and design that come naturally from the artistic process./sf
From the artist:
Our Mind is the ability to create thought. Therefore as human beings we are Creators. Art opens our minds and gives us the ability to express our inherent nature. Thank you for being here tonight and all of the support.
Related Events