AB2540 – Sydney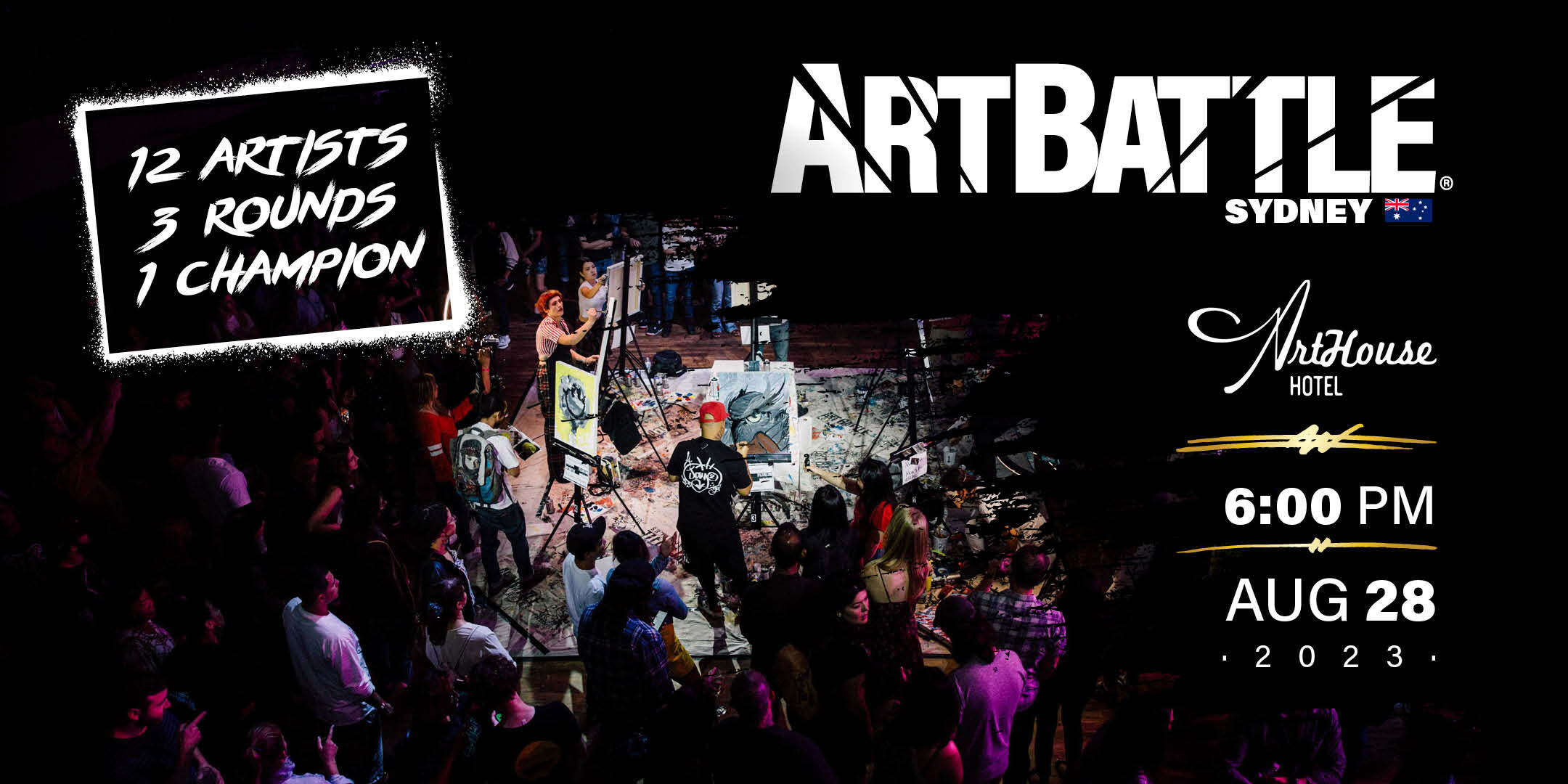 Art Battle Sydney – August 28, 2023
Doors @ 6:00pm / Painting @ 7:00pm
The ArtHouse Hotel – 275 Pitt St, Sydney, NSW
view on
Eventbrite
Get charged up for an electrifying Monday night featuring live, pulse-pounding art!
Be a part of the electrifying energy as skilled artists engage in a high-speed showdown, flinging paint with every stroke.
Cast your vote and crown the champion in three pulse-pounding rounds. And as the night unfolds, snag a one-of-a-kind masterpiece as every piece created goes up for auction. Don't miss this unforgettable evening of live art!
Be a part of the fun as a spectator, or participate as one of the featured artists by applying online at artbattle.com/artists!
Art Battle Sydney is a 18+ event.
REGISTER NOW TO VOTE
ARTISTS
Artists can apply to compete. Also, most events have a 'Wildcard' easel, where artists leave their names at the door and we draw at random to pick the Wildcard Artist. To be a potential wildcard artist, just buy a ticket and show up!
Confirmed Competitors
Laura specializes in drawing and painting. She is looking forward to the excitement of Art Battle./sf
Ro-Hsi's art is more of a children character style drawing. She does children's art in books and her own character creation. She does portraits for people based on her cute character style./sf
From the artist:
Its great to attend this event!
Mikel likes to draw ideas from the decayed urban environment and takes pleasure in the aesthetic of texture on weathered walls, as well as layers of advertising material glued and painted over many times over the years. He loves the work to look crude and like it has been ripped off an old wall./sf
From the artist:
I love art lovers, so thank you all for coming and promoting artistic expression. I feel like art is extremely underappreciated and its true value in life hasn't fully been realised.
Raf's art involved stylized recreations through paintings, drawing and sculpture of scenes around him and recording those mediums of importance and relevance in Australian and world culture. His goal is to create over 1 million pieces of work throughout his life and he is currently at roughly fifteen thousand./sf
From the artist:
Thank you everyone for coming out tonight and enjoy the battle.
Karolina, aka Spaceromper, considers her art expressive and colorful. Her art includes experimental portraits, nudes, and landscapes across mediums and styles. Her art is driven by the passion to learn, experiment, explore and indulge deeply in craftsmanship. /sf
From the artist:
Dear Ladies and Gentlemen, you have come to wonder. Thank you. We are grateful. Be amazed by the beautiful, the remarkable, the unfamiliar and the bizarre!
The the magic that unfolds in front of your eyes.
We will take the line on a holiday.
We will let our pure essence overflow onto this white canvas.
We will let the divine creation lead our brush, so we can share it with you tonight.
Enjoy!
Pamela, also known as classbunny is an arts educator that loves watercolor, collage, little things, pen and ink. She also has worked as a stop frame animator and illustrator. Art Battle is perfect because she loves working fast and under pressure./sf
From the artist:
Pamela, also known as classbunny is a arts educator that loves watercolour, collage, little things, pen and ink and working fast So excited about taking part in ArtBattle.
Ecmode studied Graphic Art and Design at Whitecliffe Art School in Auckland and Applied Arts ( Visual) Contemporary Arts at Northtec in Northland, New Zealand. She is currently working on building a creative business. She specializes in painting, intaglio printmaking screen printing, and illustration. Ecmode's greatest achievement is doing art everyday! /sf
From the artist:
Hey people, I can't wait to share some magic, cheers!
Reema is a doodler. She has no plan when she starts to draw. She starts with an emotion and lets her pen do the rest of the work. She can doodle for hours! /sf
From the artist:
Hey folks,
Super pumped to be drawing for you all!
Rinat is an architect, designer and artist. He graduated from the Russian Academy of Arts, an institution that was graced and guided by the great artists of Russia. After university, he co-founded an architectural studio which has won numerous awards./sf
Nikita's art can mainly be styled by the use of bright, bold colors, in a mix of realism and impressionism. She mainly paints wildlife and landscapes. She often incorporates her fingers and hands to paint instead of brushes./sf
From the artist:
Hello everyone, my name is Nikita and I've been obsessed with painting since I was three years old, back then I painted hundreds of flamingos. Then when I was 9 years old I asked a priest what happens when you die, he told me that when an artist dies, god lets them paint the sunset. At the moment I do Paint & Sip classes and Murals, but this will be the first time painting at pressure with such a small amount of time
Svetlana is best at drawing funny characters. She's been drawing as long as she can remember. She also uses brushes, fingers, paper or whatever is available. She makes her own paints from flowers and stones./sf
From the artist:
I always try to do what I love the most. And drawing is one of my passions. And I believe that everyone can draw too, if you don't think so, you just haven't drawn with me yet. For me, drawing is my relaxation, my therapy, I am constantly learning new things myself, trying different techniques. It will never get boring
Related Events