AB2551 – Austin
September 23 @ 7:00 pm
CDT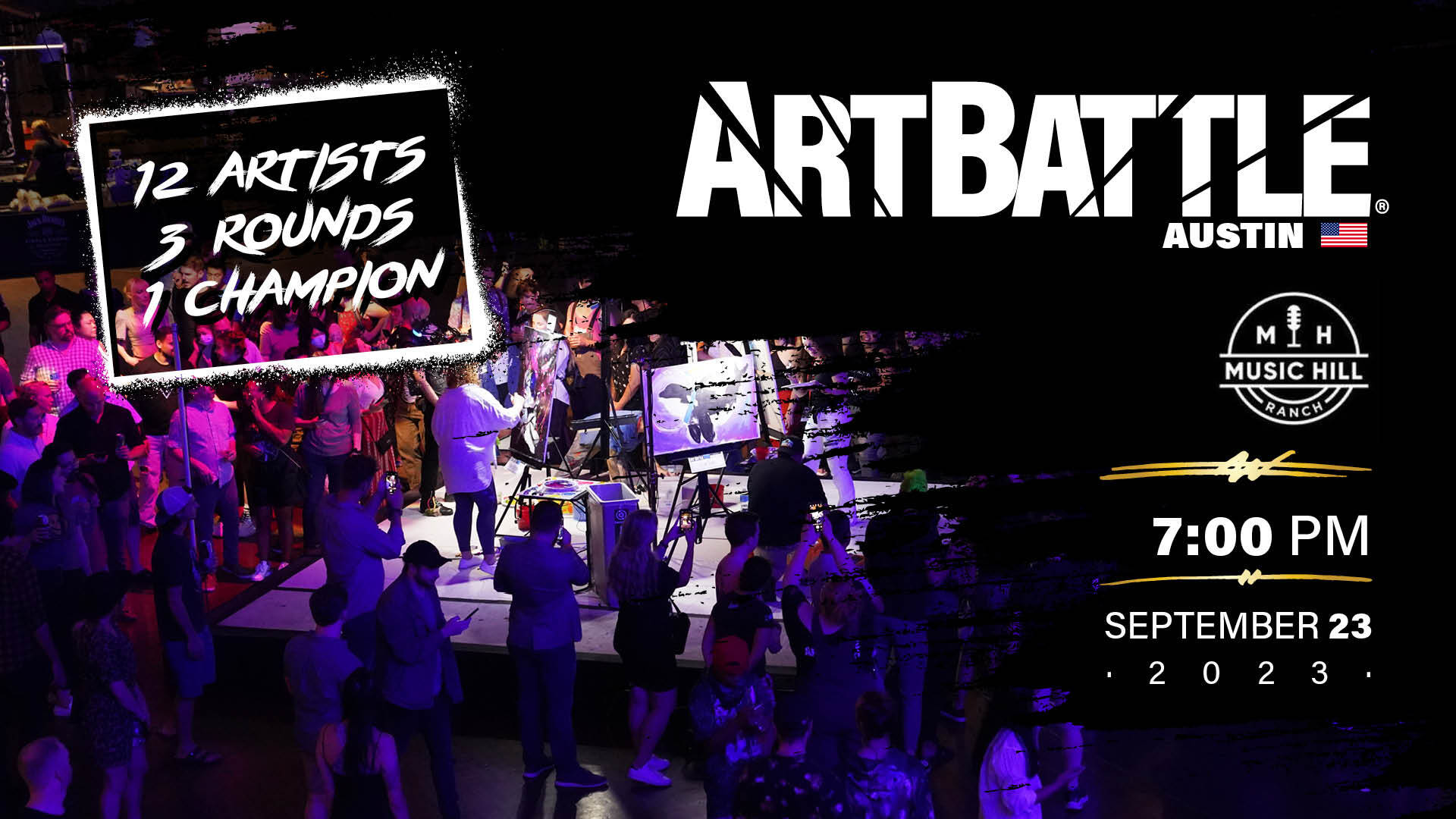 Art Battle Austin – Sep 23, 2023
Doors @ 7:00pm / Painting @ 8:00pm
Music Hill Ranch – 16219 Navajo Trail, Austin, TX
view on
Eventbrite
Get charged up for an electrifying Friday night featuring live, pulse-pounding art!
Be a part of the electrifying energy as skilled artists engage in a high-speed showdown, flinging paint with every stroke.
Cast your vote and crown the champion in three pulse-pounding rounds. And as the night unfolds, snag a one-of-a-kind masterpiece as every piece created goes up for auction. Don't miss this unforgettable evening of live art!
Be a part of the fun as a spectator, or participate as one of the featured artists by applying online at artbattle.com/artists!
Art Battle Austin is an All Ages event.
REGISTER NOW TO VOTE
ARTISTS
Artists can apply to compete. Also, most events have a 'Wildcard' easel, where artists leave their names at the door and we draw at random to pick the Wildcard Artist. To be a potential wildcard artist, just buy a ticket and show up!
Confirmed Competitors
Ty's art varies in meanings that symbolize deeper understandings of himself. Some of his artistic skillsets include portraits, hands, eyes, and make believe characters. He enjoys using acrylic/ markers/ and spray paint./sf
From the artist:
Blessings.
Sammy, who has been drawing since she was a child, says her art consists of a lot of character design. She loves using bright and vibrant colors and also does a lot of street/graffiti style art. She's pretty good at coming up with characters on the fly. /sf
From the artist:
I'm an artist based out of Fort Worth TX. Art has always been a huge part of me, and I plan to continue getting better and better throughout the span of my lifetime!
Haley paints dark fantasy and myths, as well as nature and portraits. A lot of her inspiration comes from dreams, myths and legends she has read about. She was taught by her grandmother, a watercolorist, to use watercolors as a kid but her newest medium is skin as a tattoo artist./sf
From the artist:
So excited to be competing in this awesome event!!
Lenora's art is highly expressive and process based. She comes from a background of traditional oil painting and realism but has since discovered her love for the feel of painting, the textures, strokes, and the many different effects you can create by experimenting with materials in a non-traditional way./sf
Ryan's art is influenced by the land he grew up on and his indigenous heritage. He is is from the Cherokee and Choctaw nations of Oklahoma. The animals and plants which are sacred to his tribal stories and traditions are often the subject matter in his work./sf
Lisa Sutton chose to pursue art in 1990, graduating from the University of Michigan. 23 years later, after studying at the Austin Atelier under Edward Povey and working out of a studio at Fe29, she began the first of her collections of larger portraits. /sf
From the artist:
I love complicated systems. My paintings can have many stages of development. If my artwork were a Rube Goldberg device, I would love all the little parts and details.
So, making a twenty minute artwork is a huge challenge for me. It takes a willingness to accept what you've put on the canvas and keep knocking it out. There's a skill to saying something valuable while being that brief. I may fall flat on my face, but I'm going to have fun playing!
Vero Lyn Esque is a multidisciplinary artist with a technical and business savvy mindset. This big picture thinker has a diverse background spanning across traditional and digital art content. Vero is also an interactive stage performer and speaker for women in games and web3 over the course of her career./sf
Ria is an Ecuadorian American artist who lives in Texas. She finds inspiration in water and in the presence of energies around us. She loves focusing on the color of my work and believes she has a special ability to discern even the lightest of color hues even in grays and neutrals. Ria brings out vibrant colors whenever she can.
Memo was inspired by his older cousin to get into graffiti. Memo likes journaling, poetry, graffiti and spray paint. Most importantly, he likes to mix them all together. He doesn't think about what he is doing but rather lets it happen in the moment.
From the artist:
I like poetry and writing. I like graffiti and spray paint. I like to put these together.
Related Events