AB2556 – Sydney
October 30 @ 6:00 pm
AEDT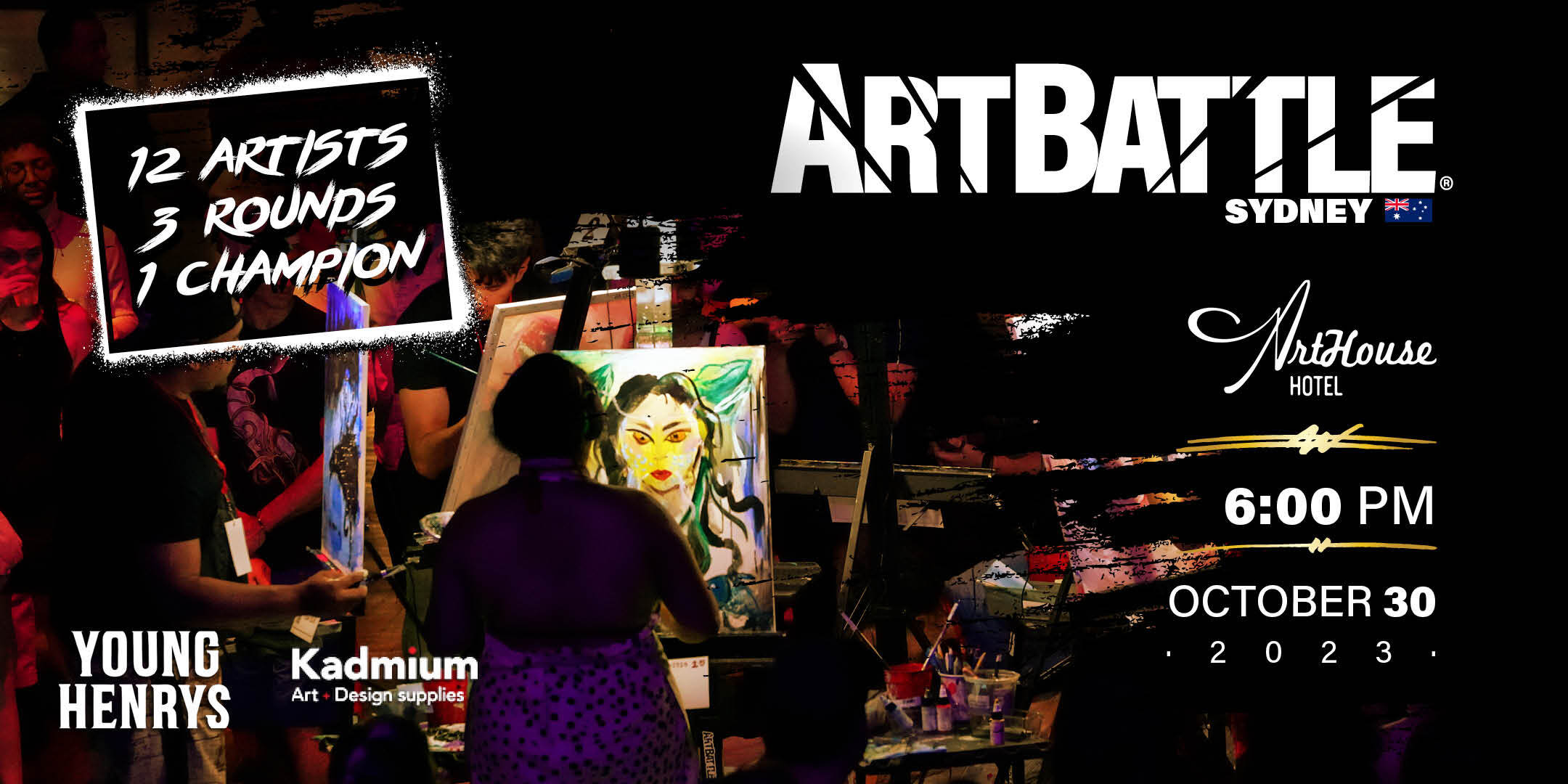 Art Battle Sydney – October 30, 2023
Doors @ 6:00pm / Painting @ 7:00pm
The ArtHouse Hotel – 275 Pitt St, Sydney, NSW
Error! Please specify the event ID. view on
Eventbrite
Get charged up for an electrifying Monday night featuring live, pulse-pounding art!
Be a part of the electrifying energy as skilled artists engage in a high-speed showdown, flinging paint with every stroke.
Cast your vote and crown the champion in three pulse-pounding rounds. And as the night unfolds, snag a one-of-a-kind masterpiece as every piece created goes up for auction. Don't miss this unforgettable evening of live art!
Be a part of the fun as a spectator, or participate as one of the featured artists by applying online at artbattle.com/artists!
Art Battle Sydney is proudly sponsored by Kadmium Art + Design Supplies & Young Henrys!
This is an 18+ event.
REGISTER NOW TO VOTE
ARTISTS
Artists can apply to compete. Also, most events have a 'Wildcard' easel, where artists leave their names at the door and we draw at random to pick the Wildcard Artist. To be a potential wildcard artist, just buy a ticket and show up!
Confirmed Competitors
Jesse is a young and bright emerging artist, who uses her youthful perspective on Australian society to create bizarre and entertaining pieces of art. Additionally, she is the youngest finalist in the 2023 Mosman Art Prize, having won the Mosman Youth Art Prize earlier this year.
Alice is a figurative artist, working mostly with inks and oil paint. She loves to make artworks about the everyday with a focus on groups and community doing mundane things. She also finds inspiration in other cultural traditions like the Inuits, Chinese and Japanese culture.
From the artist:
Hi Everyone, I'm happy to be doing my first art battle! Wish every participant good luck, excited to see all the works!
Yan is a poet and artist. His art forms push the boundaries of perception and make the viewer dive into imagination. Yan uses acrylics, charcoal, graphite, oil paints, anything and everything that makes an impact!
From the artist:
What captivates your mind, captures your heart
What your soul can't find, you find it in art