AB2570 – Auckland
September 21 @ 6:00 pm
NZST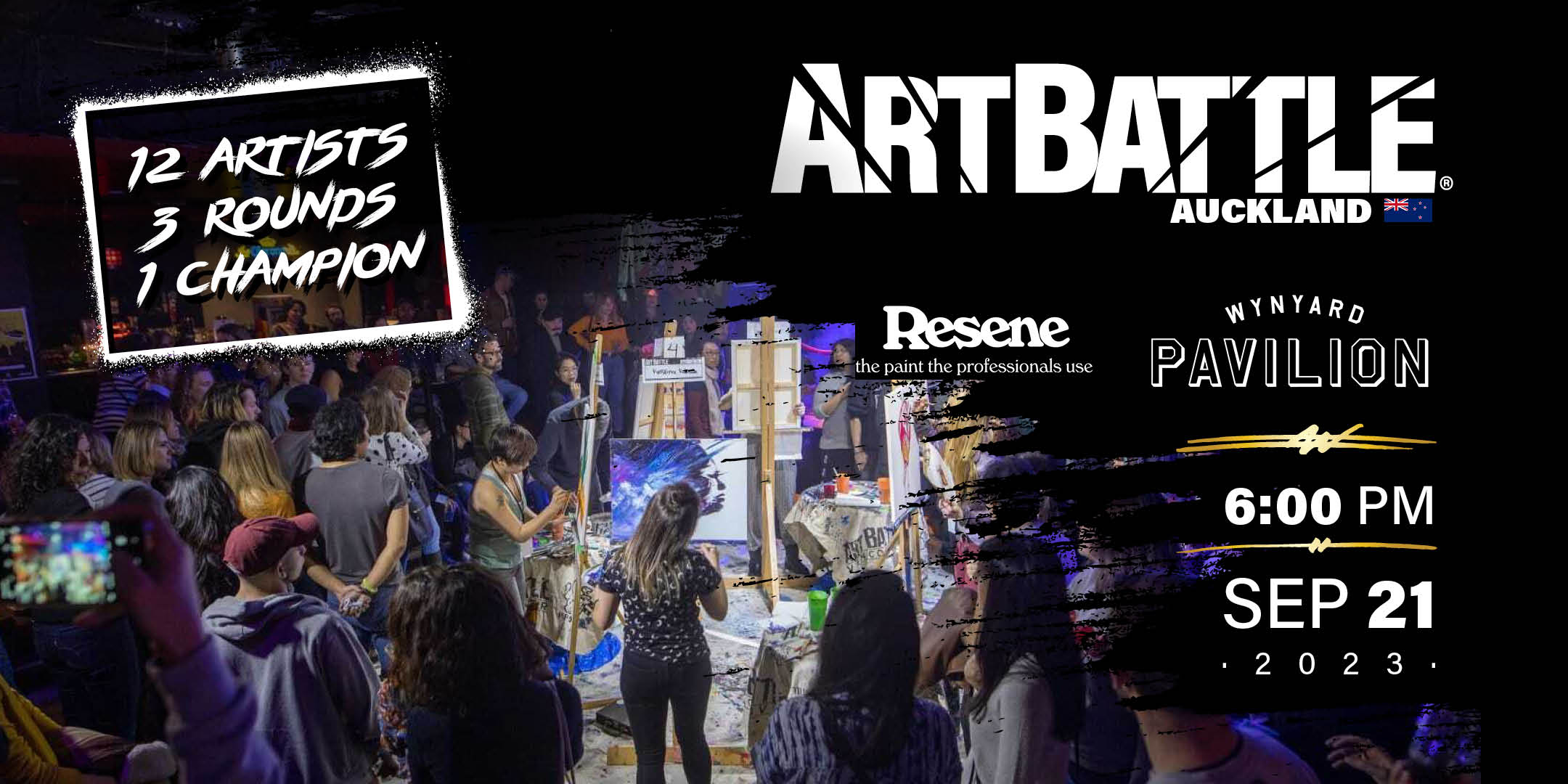 Art Battle Auckland – September 21, 2023
Doors @ 6:00pm / Painting @ 7:00pm
WYNYARD PAVILION – 17 Jellicoe Street, North Wharf, Auckland
view on
Eventbrite
Get ready for an electrifying Thursday evening packed with live art that's gonna blow your mind!
You decide, as 12 artists battle it out in three rounds of fast paced creativity. The pieces will be auctioned off and the crowd will crown the ultimate champion of the night!
Don't miss the Happy Hour from 5-6pm as well as $12 Bombay Saphire signature G&Ts.
First painting round begins at 7:00pm !
Be a part of the fun as a spectator, or participate as one of the featured artists by applying online at artbattle.com/artists!
Art Battle® Auckland is an All Ages event.
REGISTER NOW TO VOTE
youtube.com/@artbattleint
ARTISTS
Artists can apply to compete. Also, most events have a 'Wildcard' easel, where artists leave their names at the door and we draw at random to pick the Wildcard Artist. To be a potential wildcard artist, just buy a ticket and show up!
Confirmed Competitors
Robin uses New Zealand's natural beauty to create works that evoke an emotive response. She uses a variety of styles and they range from simple art to complicated fine art./sf
Kelly aka Mountain Duck had a background writing graffiti across the streets of Auckland which led him into drawing classic style animated cartoons for Disney and our local show Brotown. His current art is a culmination of all the influences and styles he's explored and is self described as "Mash-up surrealist psychedelic cartoon graffiti"./sf
From the artist:
A kangaroo stole my surfboard!
Seb makes art with contagious vitality. The work is vibrant and full of movement. His goal is to transpose the energetic rhythm of the paintings creation into its final 2D surface./sf
From the artist:
Hi team! Come see me stir up a mess in person. I can't wait to bring some quirky, crazy, fun energy to a crowd in the near future. I'm going to have such a good time that it'll be contagious 💃💃🕺
Awii he has ink panting and calligraphy background. To him ink is like a seed that grows freely with water when it is planted on paper./sf
From the artist:
Ink is my Blood.
Rashi's first experiences as an artist were when she was 6- or 7-years-old. Her influences are everything she sees and experiences in life. She uses materials like oil color, acrylic color, soft pastel, pencil colors, charcoal & graphite pencils on medium like sheets, cloth canvas, hard board./sf
From the artist:
Art a Dil
Paul is a self-taught artist that works with acrylic, spray paint and watercolor. He has been a full-time mural artist for over a decade, specializing in utility boxes and large-scale murals. He has painted 80 utility boxes around Auckland, as well as the musician memorial wall on K Road./sf
From the artist:
Hi Auckland! I'I'm the guy that paints weird animals on all the utility boxes around the city... hope you're having a good night!
Lukasz is a freestyler in all mediums. He paints from the gut more so than the head. He creates through drawing, painting, sculpture and poetry./sf
From the artist:
Just relax and enjoy the ride
Val believes her art is as diverse, varied and wayward as she is. She is mainly a portrait artist but also enjoys doodling with mixed media and painting with anything she can get her hands on. /sf
From the artist:
if I could insert a panicked emoji face right now I would have done it !!!
Aukilani is a member of the Kākano Youth Arts Collective, based at Corban Estate Art Centre, Henderson. As a budding artist, she strives to create bold works with a narrative of female empowerment. "I like to incorporate my Samoan heritage into my art where I can." But foremost she creates work that celebrates a woman's body, its form, and its curves; the more voluptuous the better! She also overlays text as a form of self-expression.
Joel is a multi-faceted, imaginative artist who creates everything from comic to realistic, from pages to walls. He creates with brush, paint, pencil, and pen./sf
From the artist:
Here, where I live, It is uniqueness, creativity and freedom of thought that is starving. That is why I will continue to do what I do. Create. and hopefully inspire others to do the same.
Related Events