AB2585 – Sudbury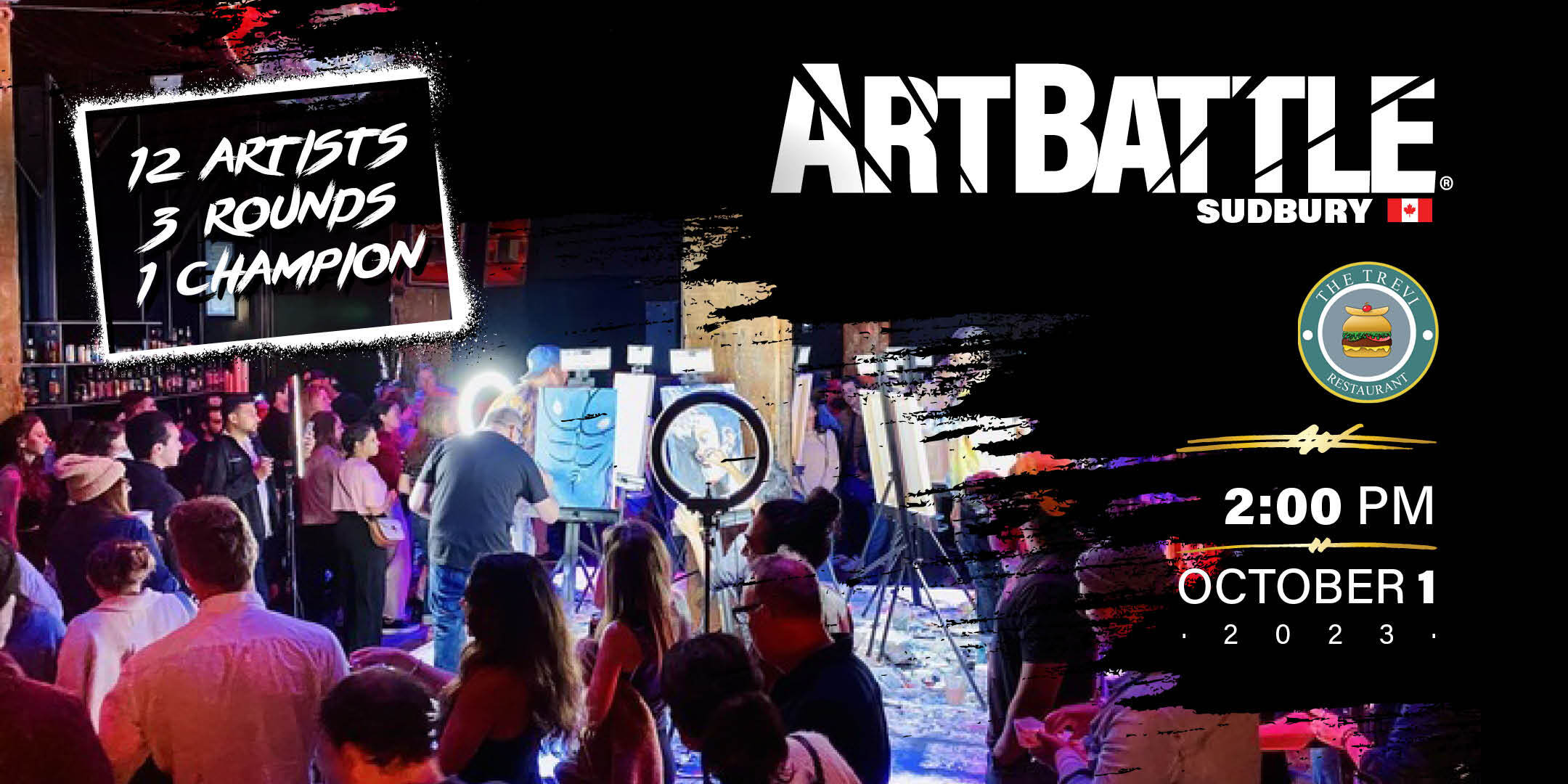 Art Battle Sudbury – October 1, 2023
Doors @ 2:00pm / Painting @ 3:00pm
Trevi Restaurant – 1837 Lasalle Blvd., Greater Sudbury, ON
view on
Eventbrite
Join us for a Sunday afternoon full of live art in incredible Sudbury!
Be a part of the electrifying energy as skilled artists engage in a high-speed showdown, flinging paint with every stroke.
Cast your vote and crown the champion in three pulse-pounding rounds. And as the afternoon unfolds, snag a one-of-a-kind masterpiece as every piece created goes up for auction. Don't miss this unforgettable evening of live art!
Be a part of the fun as a spectator, or participate as one of the featured artists by applying online at artbattle.com/artists!
Art Battle Sudbury is an All Ages event.
REGISTER NOW TO VOTE
ARTISTS
Artists can apply to compete. Also, most events have a 'Wildcard' easel, where artists leave their names at the door and we draw at random to pick the Wildcard Artist. To be a potential wildcard artist, just buy a ticket and show up!
Confirmed Competitors
Grant Neegan is a visual artist who has dedicated a great deal of time strengthening his artistic abilities. Working predominantly in oil paint and charcoal on canvas, his work expresses themes of bold contemporary stylistic techniques that pushes the boundaries of traditional painting and forms an organic style of modern abstract impressionism. /sf
Evan says his art is fun and it doesn't take itself too seriously. The goal of his art is to make you happy through its bold, graphic, and playful nature. His mediums of choice are acrylic, spray-paint, airbrush, and plain pen and ink./sf
From the artist:
Super stoked to compete this year! This event combines too of my favorite things, super sick artists, and friendly competition. May the best artist win!
Monique is "a large scale muralist and custom artist. For her no style or theme is off limits." Monique's adaptable practice ranges from "photorealistic to impressionistic" paintings./sf
From the artist:
Let the battle begin baby!!!!!
Jennifer enjoys painting an impression of the Northern landscape, using colors and brushwork to create the mood of the location. Jennifer works in acrylic and watercolor and has been painting for 9 years with the Sudbury Art Club. She has always enjoyed painting live. /sf
From the artist:
I am ready for the charge of energy from the crowd and fellow competing artists! My game face is on. Let's do this!!
Celeste has always felt a particular connection to her natural surroundings. The beauty is endless, and she especially enjoys capturing her observations with art. Celeste does not have a medium preference because she believes that art has no boundaries./sf
Don bal loves mixing history, contemporary, and some bit of abstraction that depicts the present. He has a unique technique of doing things, a born artist. /sf
From the artist:
All around the world soon .
Ivan is an architecture graduate and has done digital art and sculpting. He really enjoys oils, watercolors, pen and ink, pencil, and charcoal. He really loves to work on portraits. Provoking positive emotion is important to Ivan, even when representing a serious topic. /sf
From the artist:
Excited to participate!
Sarah is a creator living in the crater that is Sudbury, Ontario. She enjoys mixing her background in graphic design with traditional mediums such as graphite illustration and acrylic painting. Her work often features whimsical themes with a clean aesthetic./sf
Related Events