AB2593 – Thunder Bay
September 23 @ 2:00 pm
EDT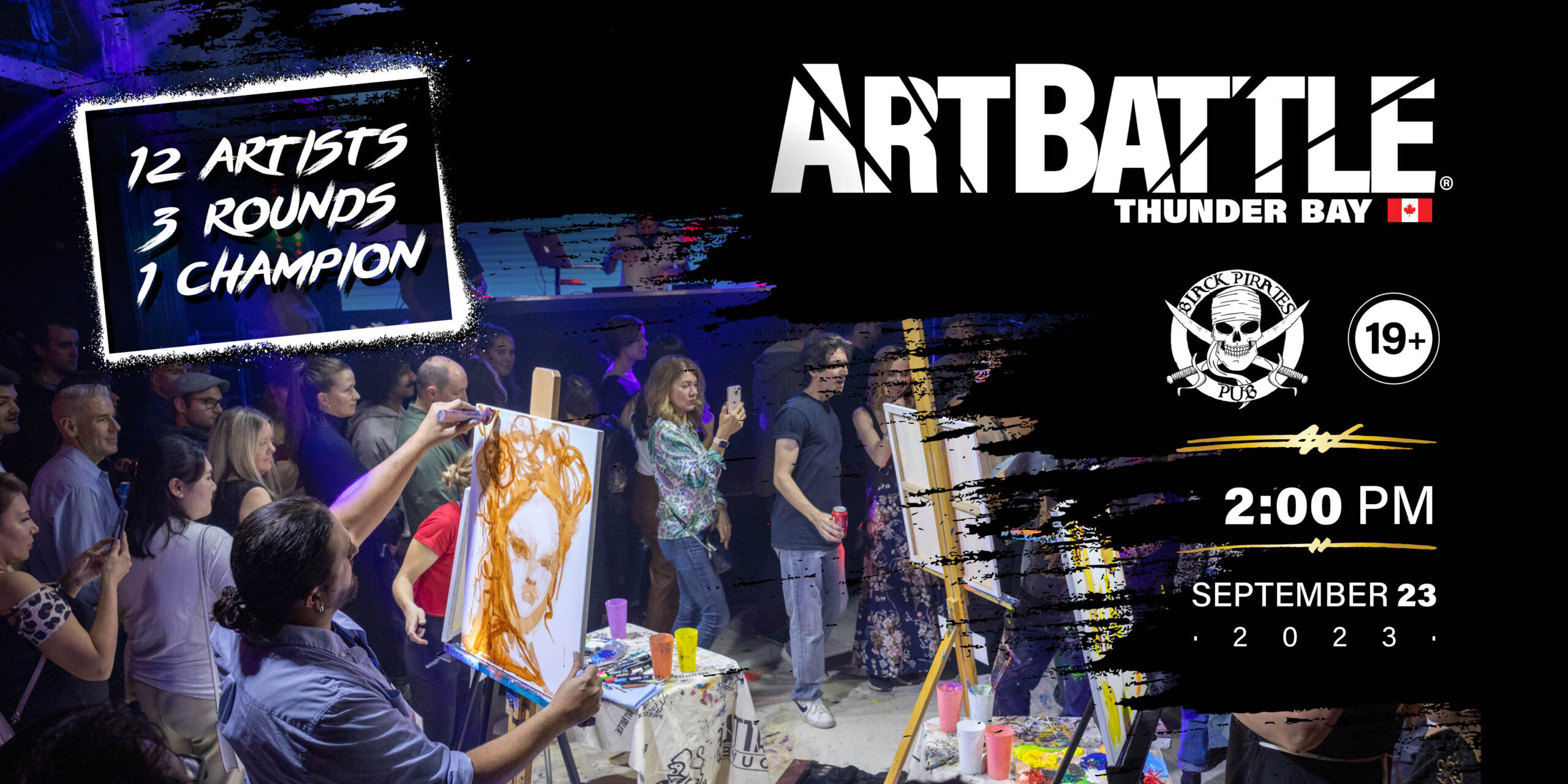 Art Battle Thunder Bay – September 23, 2023
Doors @ 2:00pm / Painting @ 3:00pm
Black Pirates Pub – 215 Red River Rd Suite 101, Thunder Bay, ON
view on
Eventbrite
Join us for a summer afternoon full of live art!
Be a part of the electrifying energy as skilled artists engage in a high-speed showdown, flinging paint with every stroke.
Cast your vote and crown the champion in three pulse-pounding rounds. And as the night unfolds, snag a one-of-a-kind masterpiece as every piece created goes up for auction. Don't miss this unforgettable evening of live art!
Be a part of the fun as a spectator, or participate as one of the featured artists by applying online at artbattle.com/artists!
Art Battle Thunder Bay is a 19+ event.
REGISTER NOW TO VOTE
ARTISTS
Artists can apply to compete. Also, most events have a 'Wildcard' easel, where artists leave their names at the door and we draw at random to pick the Wildcard Artist. To be a potential wildcard artist, just buy a ticket and show up!
Confirmed Competitors
Martin King is an Ojibway multi-media artist from Thunder Bay, Ontario with family roots in Gull Bay First Nation and Lac Des Mille Lacs First Nation. After graduating from college, Martin dove into the arts and media community in a variety of ways including directing, acting, and animation. Martin has also had his art in multiple exhibits at the Definitely Superior Art Gallery and the Thunder Bay Art Gallery./sf
From the artist:
Welcome to the art battle
Lisa is a self-taught mandala artist from Neebing, Ontario. She paints a wide variety of home decor items on different types of media. Lisa has been a full-time teacher for over 25 years and has had her art business for 5 years./sf
From the artist:
Hello fellow Art Enthusiasts! I'm excited to be participating in this Art Battle. I'm a self-taught Mandala Artist who has been creating unique art pieces for h past five years. I love working with metal, wood, ceramics, glass, stone, and pretty much anything else that can be dotted on! I hope you'll enjoy my creations and I look forward to taking part in this fun challenge.
An indigenous, multimedia artist based in Thunder Bay, Corrina's (Rain's) art focuses on the art of storytelling and the flow of expression. Starting out by creating rushed and expressive 4 panel diary comics, Rain has evolved her art into acrylic, digital paintings and mural works./sf
From the artist:
I'm excited to paint with others and to have fun with everyone!
Aaron likes to describe his art as "sloppy realism"--from afar they might be realistic but close up they are just sloppy. He enjoys using his fingers, brushes, palate knives, and even flicking at the canvas./sf
Shelby paints easy to consume folk art that is accessible and unpretentious. She paints the world around her as she sees it and wants others to see it. Her main medium is acrylic painting, but she does dabble in zen doodle art and a little videography for work./sf
From the artist:
Painting the landscapes of the North Shore has kept me sane. Happy to share happy art.
Anneke works with a variety of mediums. She is inspired by psychedelics, nature and animals. She is a trained social worker and uses her creative skills as therapy./sf
From the artist:
Hey there partner! Thank you for your interest and support! Lots of love xoxox
John is a self-taught artist who creates within all mediums. He is inspired by Thunder Bay and its surrounding areas. he strives towards photo realism. /sf
From the artist:
John 3:16
Duncan is an award winning children's book writer and illustrator by day, but at night is a terror with the brushes. He likes to experiment with different styles, primarily his own! He can paint and sculpt practically anything in any style./sf
From the artist:
Hello Everyone! Get ready for drama! I might be a mild mannered award winning children's book writer and illustrator by day, but at night I'm a terror with the brushes. This is my first battle and I guarantee my inner child is going to let the paint fly. I can't wait to see what kind of mess I make and what kind of 20-minute masterpieces will prevail.
Stephanie paints emotionalism/abstract type art. She uses acrylic on canvas.
Related Events