AB2604 – Wichita Falls
November 10 @ 6:00 pm
CST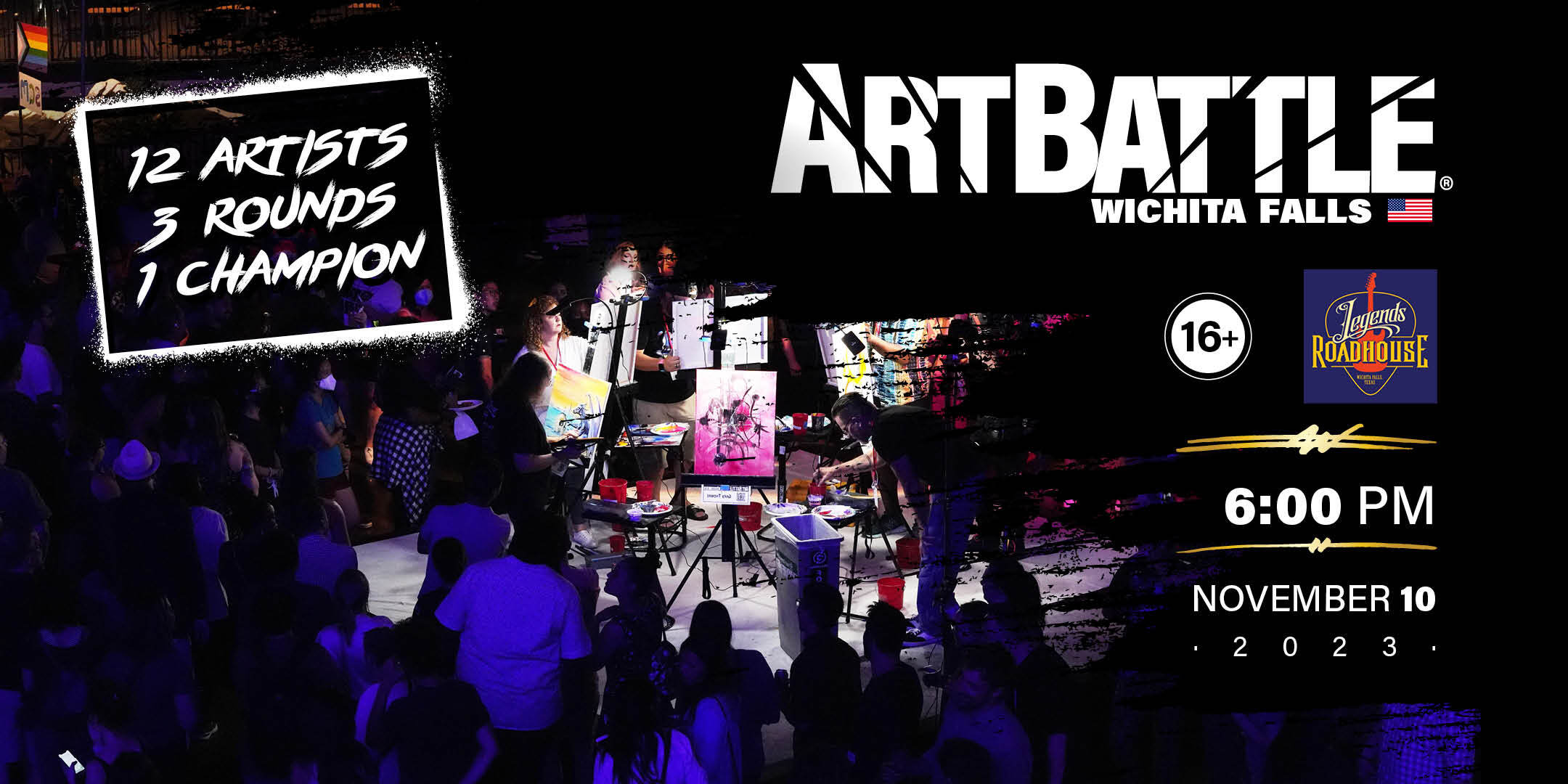 Art Battle Wichita Falls – November 10, 2023
Doors @ 6:00pm / Painting @ 7:00pm
Legends Roadhouse – 3305 Sheppard Access Road, Wichita Falls, TX
view on
Eventbrite
Get charged up for an electrifying Friday night featuring live, pulse-pounding art!
Fantastic Marcus McGee as our incredible DJ!
Watch the paint fly before your eyes and incredible creations unfold during 3 fast-paced rounds of live painting and help vote to determine the Winner. Food and a full bar will also be available!
All artwork created will also be available via silent auction.
Be a part of the fun as a spectator, or participate as one of the featured artists by applying online at artbattle.com/artists!
Art Battle Wichita Falls is a 16+ event.
REGISTER NOW TO VOTE
ARTISTS
Artists can apply to compete. Also, most events have a 'Wildcard' easel, where artists leave their names at the door and we draw at random to pick the Wildcard Artist. To be a potential wildcard artist, just buy a ticket and show up!
Confirmed Competitors
Amjad's art focuses a lot on African American culture and fashion while borrowing ideas from afro-futurism aesthetics. Overall, her art can be fun, silly and expressive or very straightforward, neat and powerful.
From the artist:
I'm Amjad and this is my first art battle. I'm entering as a newbie but I'm aiming to win. I live art so even if I don't win being able to compete in something I'm passionate about is forever worth it.
Logan Lofgren, a Texas born illustration artist, attended the Rochester Institute of Technology (RIT), where he received BFA in Illustration. He has studied and created his illustration artworks. His specialty works of surrealism arts, cartoons, caricatures, graphic novels, and illustration in general.
From the artist:
Logan Lofgren is a freelance artist, Illustrator, and Concept Artist. Logan grew up watching cartoons and is especially inspired by 1930's style animation and 1990's cartoons such as The Ren & Stimpy Show and Rocko. As a deaf person, Logan finds cartoons to be especially comforting in a world where communication is a challenge and language barriers exist.
I believe communication is the key to success no matter what opportunity or education or job is. I have been a student of communication of my life. Helen Keller, who was deaf and blind once said that her blindness cut her off from things, but her deafness cut her off from people. I work hard to stay connected to people and to find a way to insure communication flows. I believe my passion for connecting and my artistic ability has brought me this opportunity to express with my emotions as well as communicating through sign language and sharing experiences with my art.
Jeff has been creating art as long as he can remember. He has a mix of graphic novel and realism style art. Portraits and a combination of mixed media are some of his favorite pieces. Jeff also draws really fast because he thinks really fast.
From the artist:
Hey Everyone!
To say I'm excited is an understatement!
I look forward to taking the stage with other creative talents and making some Art.
I have a feeling I will not mistake my paint water mug for my coffee since It will be a Live Art Battle.
Those who know me will understand that reference lol.
See you there!
Related Events