AB2623 – Quebec City
November 19 @ 5:00 pm
EST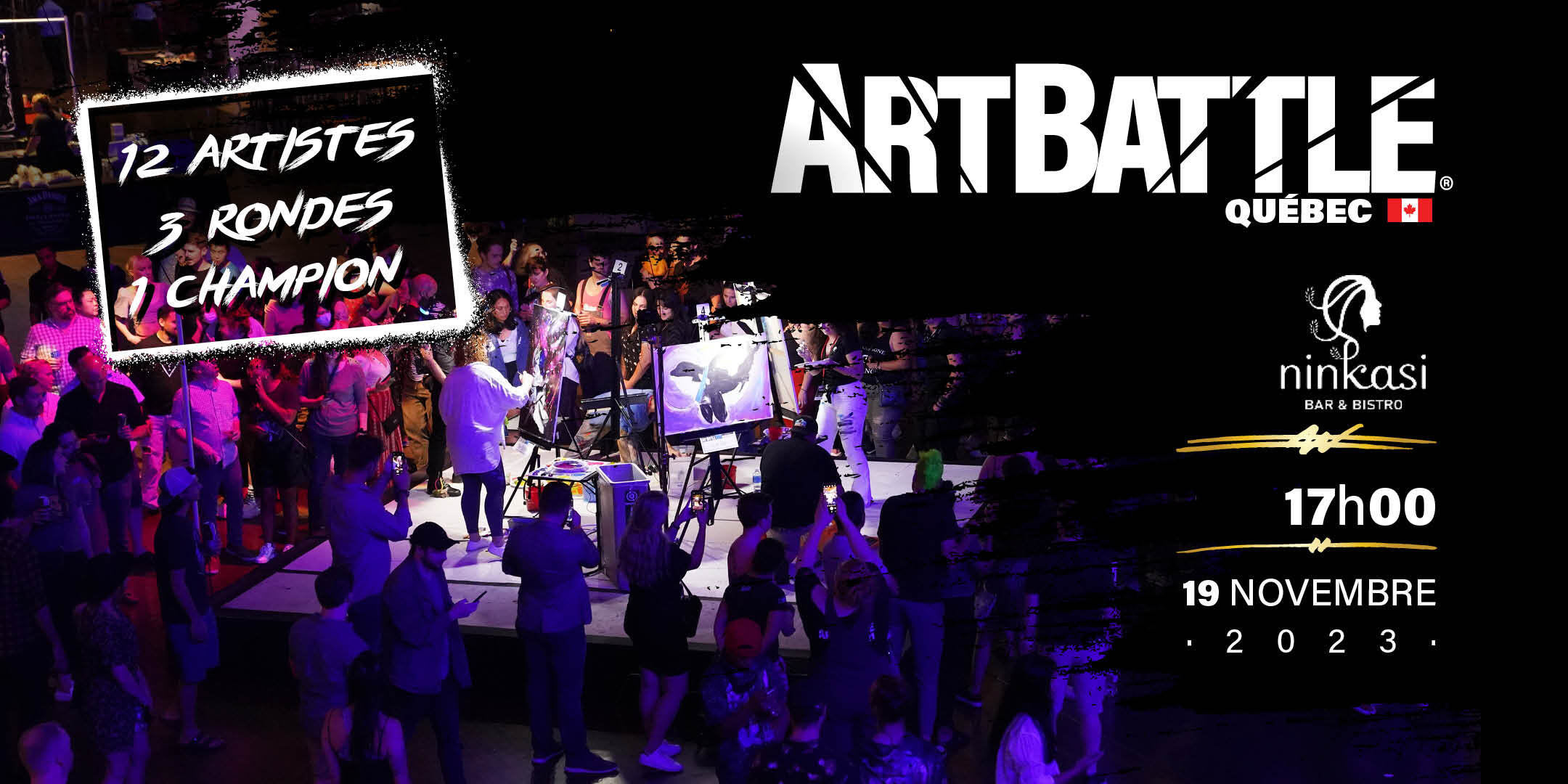 Art Battle Quebec City – 19 Novembre, 2023
Doors @ 5:00pm / Painting @ 6:00pm
Ninkasi Bar & Bistro – 801, rue Saint-Jean, Québec, QC
view on
Eventbrite
Rejoignez-nous pour une soirée pleine de création et de communauté!
Accompagnées de vos amies ou de vos collègues, joignez-vous à nous pour une soirée de festivités, de créativité et d'échange.
Un combat artistique où s'affrontent 12 artistes peintres de Québec et des environs. Venez admirer le travail de ces artistes qui réaliseront leur meilleure œuvre d'art devant vous en seulement 20 minutes.
Observez le processus créatif et à la fin vos votes détermineront le grand gagnant de la soirée. Les œuvres seront disponibles grâce à l'encan silencieux durant l'événement.
Prenez part au plaisir pour la soirée ou alors devenez un des aspirants artistes en vous inscrivant sur le lien ArtBattle.com/artists
À bientôt!
18 en plus+++
REGISTER NOW TO VOTE
Artists
Artists can apply to compete. Also, most events have a 'Wildcard' easel, where artists leave their names at the door and we draw at random to pick the Wildcard Artist. To be a potential wildcard artist, just buy a ticket and show up!
Confirmed Competitors
Alysson mostly draws portraits of stylized girls. She says her pieces start like a child's drawing and slowly build up to be something completely different. Her works revolve around mythology, friendship and nature.
From the artist:
Alysson White est étudiante au cégep en arts visuel. Elle aime explorer divers médias comme: la photographie, la peinture et l'animation en dehors du cadre scolaire. Ses oeuvres révoluent autour de la mythologie, de l'amitié et de la nature.
An artist at heart, Kevin experiments with everything...abstract art, photography, sculpture and fashion design. A teacher by profession, he wants to make his art visible and accessible to all those who will feel the emotions he tries to convey!
From the artist:
KevArt = énergie et émotions dans la réalisation de ses oeuvres abstraites! Originaire du Nouveau-Brunswick, Kevin est aussi designer de mode, enseignant au primaire et papa! C'est un passionné passionnant 😉 plein de dynamisme! Partez la musique et il vous transmettera ses émotions sur une toile... en 20 minutes!
Related Events