2016 Art Battle National Championship!
July 20, 2016

-

July 21, 2016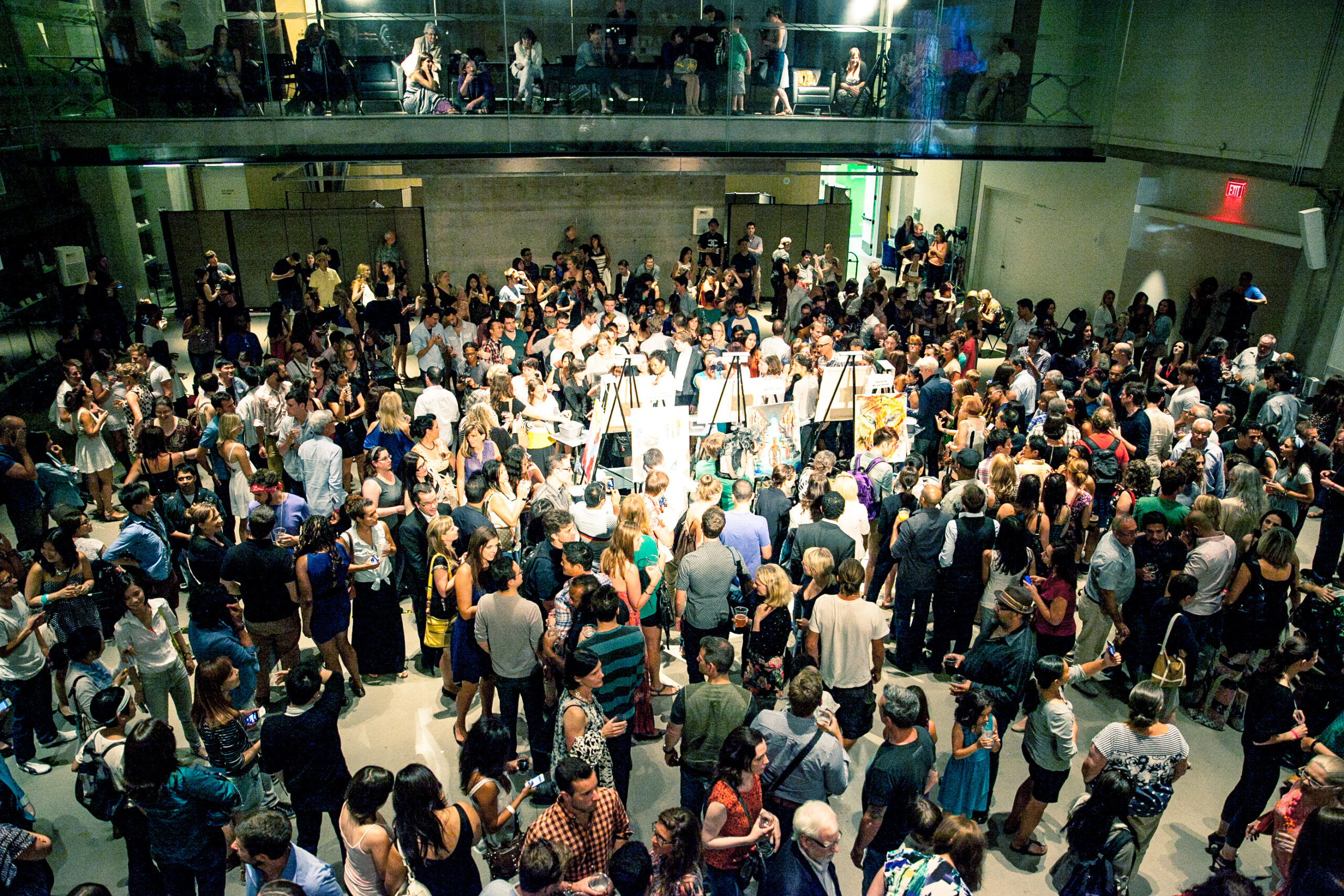 Canada's top live painters are in Toronto for the 2015/2016 Art Battle National Championships. These 15 artists have qualified through local Art Battle city events and then won at their regional finals across Canada. They are the best of the best.
On the evening of Thursday, July 21st, the audience will vote in each of 3 rounds. In the end — only one Art Battle National Champion will be chosen.
New in 2016: Starting , July 20th, painters and patrons are invited to a Championship Preview and Live Studio Showcase. Watch each of 15 artists work on large format (36' x 36') piece that will create over 2 days. All works are available for immediate sale at a special 'Wednesday' price of $1200.

**WILDCARD** In long standing Art Battle tradition, the final position will be taken by a randomly selected painter from our community of incredible artists. On Wednesday night, any painter may can add their name into the random draw for one of 4 spots. After drawing, these four will compete in a single round, and the audience will vote for the 15th (' Wildcard') position at the Thursday night Championship.
Join us for this spectacular Finale to the season, this is truly the best night of the year for Live Art in Canada!
If you do not see the ticket window above please visit: https://www.picatic.com/event14672179181591
2015/2016 Art Battle National Championships
The Great Hall
1087 Queen Street West
Toronto, Canada
The competitions are set to take place at newly renovated and Great Hall in Toronto. The new AC is fantastic and the venue is fully accessible.
Join the Art Battle community and witness the finest live artists in the country perform.
Championship Only [$30] – Thursday, July 21st, 7:30pm
Championship Studio / WILDCARD BATTLE Only [$20] – Wednesday, July 20th, 4pm onwards. Wildcard Battle at 8pm.
Whole event, two nights [only $40]
MEET OUR NATIONAL CHAMPIONS!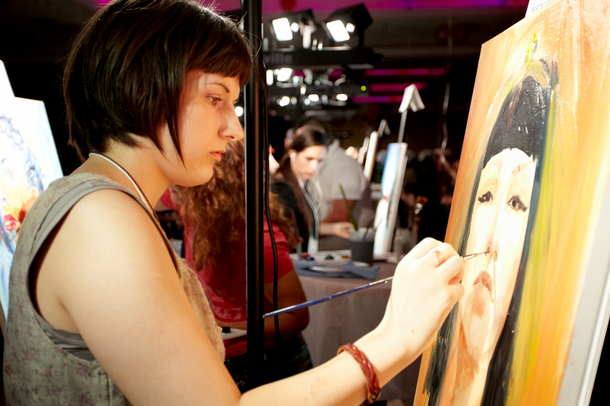 Leanna TenEycke – 2015 Art Battle National Champion
2015 Art Battle National Champion, and a winner of the first ever International Live Painting Championship, Leanna TenEycke will return to the easel this year to defend her title. An exceptionally versatile artist and intuitive live painter, Leanna's ethereal works are infused with emotion, fantasy and inventiveness. Unexpected colour play, and traditional techniques set Leanna's work apart and inspire audiences. We can't wait to see what she will create at this year's Art Battle National Championship.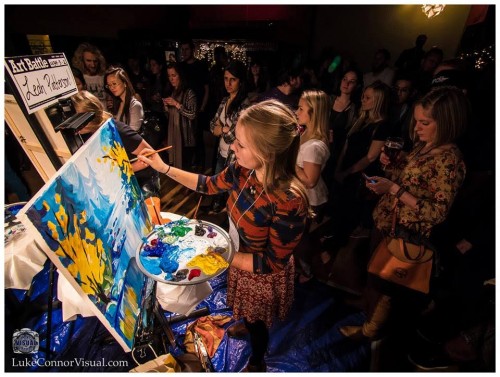 Leah Patterson – Victoria Champion
Beginning her artistic journey at 9 years old taking painting lessons in the back of an art supply store, artist Leah Patterson had an early penchant for creativity. Taking inspiration from everyday life, Leah seeks to capture the subtleties and emotion of specific moments. In her first season painting in Art Battle, Leah attributes the energy of the crowd and challenge of the blank canvas to the unique outcome of each work. Leah focused that energy into a dazzling win at the Victoria Finals, and a place in the 2016 National Championship.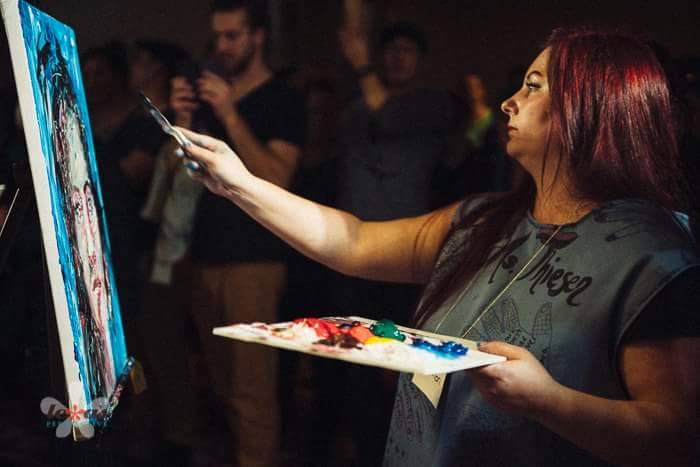 Shannon Thiesen – Vancouver Regional Champion
An artist and grade 5 visual arts teacher from Abbotsford, BC Shannon Thiesen gains inspiration from her students, drawing from their energy and spontaneity for her works. This energy can be seen in her quick and aggressive brushwork, and ability to tackle a range of subject matter from portraits, landscapes and other organic subjects. Winner of the very first Art Battle in Abbotsford, Shannon went on to represent her city in the Vancouver Regional Finals, taking the title and earning her place in the 2016 Art Battle National Championship.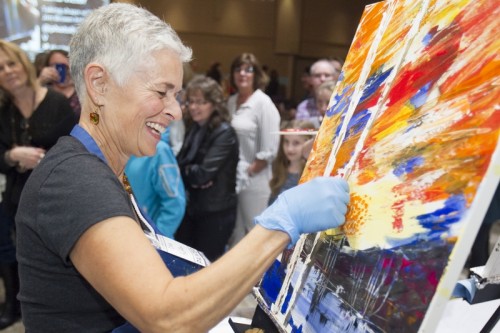 Cindy Boffey – Alberta Champion
A self taught artist from Olds, Alberta, Cindy Boffey paints from her heart. Using her art as an expression of herself, Cindy seeks to see the beauty in the world and share it with others. Cindy first competed in the Canada wide Art Battle Day in 2014, and has been a finalist in every event she has painted in. After being chosen to represent Olds in the Alberta Finals, Cindy's passion at the easel brought her the title of Art Battle Alberta Champion.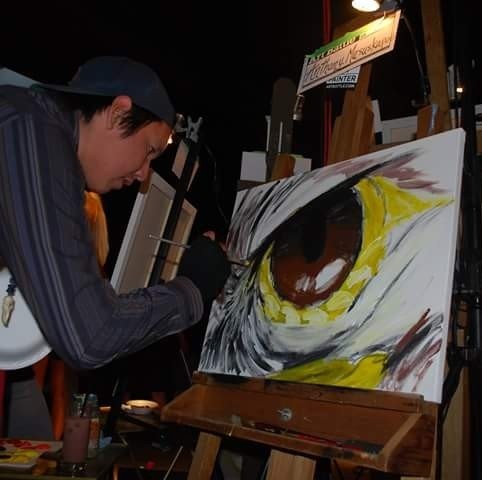 Anthony Masuskapoe – Saskatchewan Champion
A First Nations artist from Ahtahkakoop Cree Natation in Saskatchewan, Anthony Masuskapoe finds his inspiration in the sense of belonging found in the tight knit art community of Saskatoon, his family and the ritualistic nature of art creation. In the inaugural first season of Art Battle in Saskatoon, Anthony emerged as a live painting heavy weight, battling with the region's best to win the right to represent the province in the 2016 Art Battle National Championship.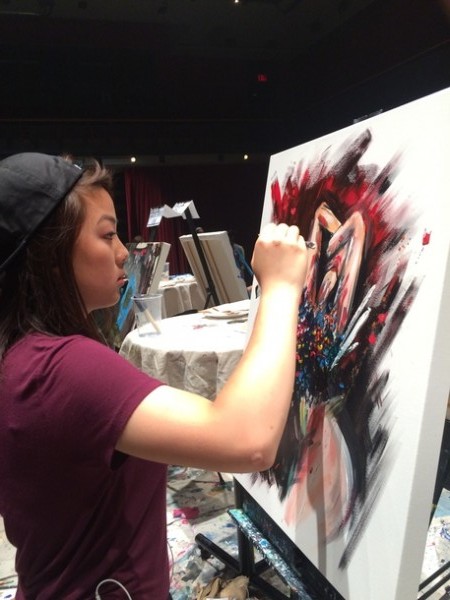 Bonnie Wu – Golden Horseshoe Champion
A high school student and emerging artist, Bonnie Wu saw Art Battle as an opportunity to grow as an artist, and challenge herself. Competing in her first season of Art Battle, Bonnie has proven herself as one of our youngest and fiercest competitors. Winning her first event in Mississauga, Bonnie moved forward in the tournament to represent the city in the regions final event. Painting against the best artists of the region, Bonnie's vision and skill earned her the title of Art Battle Golden Horseshoe Champion.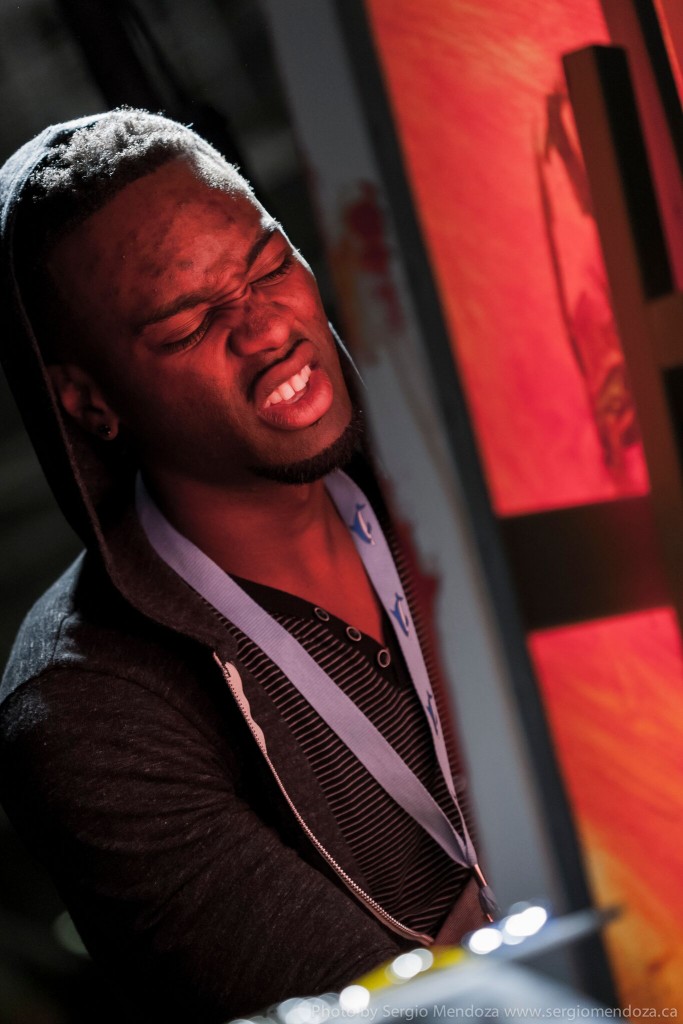 Allan André – Ottawa Regional Champion

A Canadian born artist of west indian decent, Allan André is known for his realist style infused with graphic colour and emotion. Allan believes that art is the fuel that drives us in all facets of life, contributing to what he calls "the collective masterpiece." This will be Allan's second time competing on the Art Battle National Championship, having represented Ottawa in 2014. Allan's undeniable talent and tenacity this season has once again earned him a coveted easel at the Nationals. Welcome back Allan!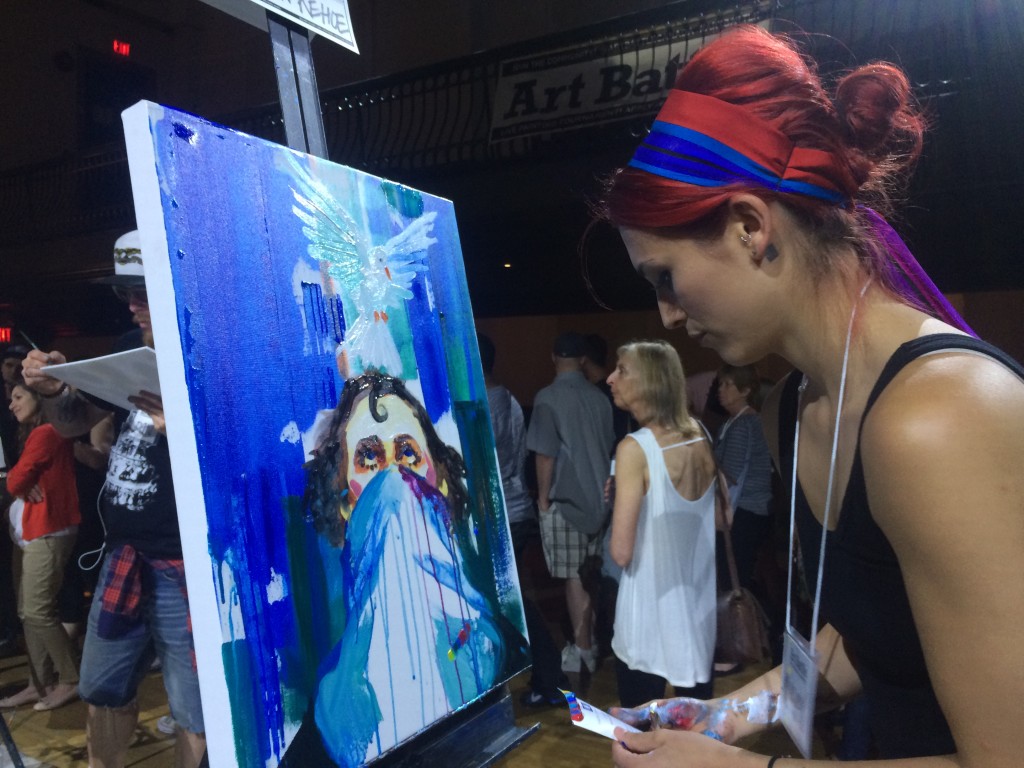 Meaghan Claire Kehoe – Toronto Champion
With a passion for contemporary portraiture, Toronto artist Meaghan Claire Kehoe is known for her ability to capture spontaneous moments with vibrancy, insight and personality. Competing in her first season of Art Battle, Meaghan embraced the live painting community with open arms and loaded brushes. Painting against the city's finest live artists and Art Battle veterans in the Toronto Finals, Meaghan took home the title, and the right to represent her city in the 2016 Art Battle National Championship.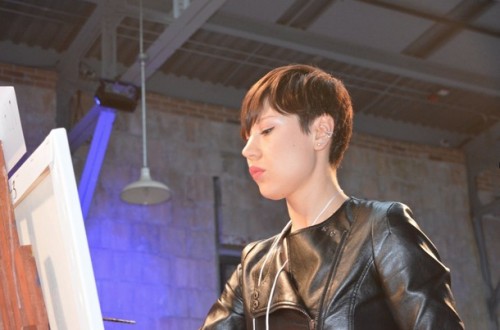 Natasha Dichpan – Toronto All Star
An animation designer by day and traditional painter by night, artist Natasha Dichpan creates works that are vibrant and visceral, taking on pop culture influences, and confronting emotion. A true Art Battle All Star, Natasha has been competing since 2014 with an almost spotless track record. An established live artist, we look forward to having Natasha represent Toronto in the 2016 National Championship.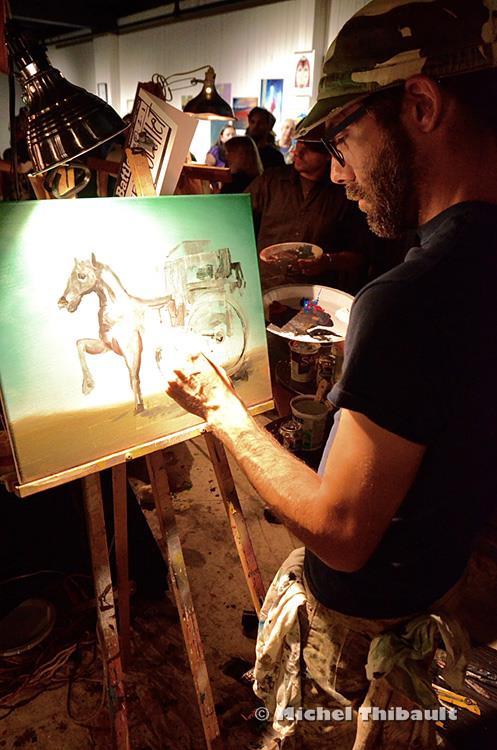 Frederick Ouellet – Quebec Champion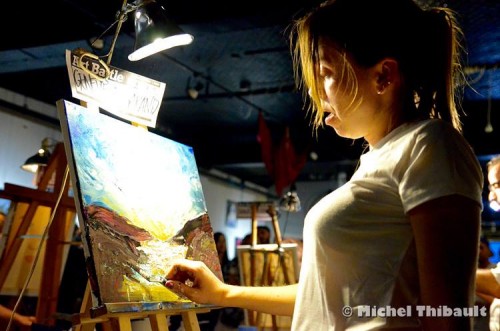 Geneviève Garand – Quebec All Star

An artist since the tender age of 7 years old, Genevieve Garand was destined for a life of creativity. Known for her vivacious landscapes, and personality driven series of musician portraits, Genevieve's work draws from the people and places that inspire her. An excellent performance in this season's Montréal final event earned her a place in the 2016 Art Battle National Championship.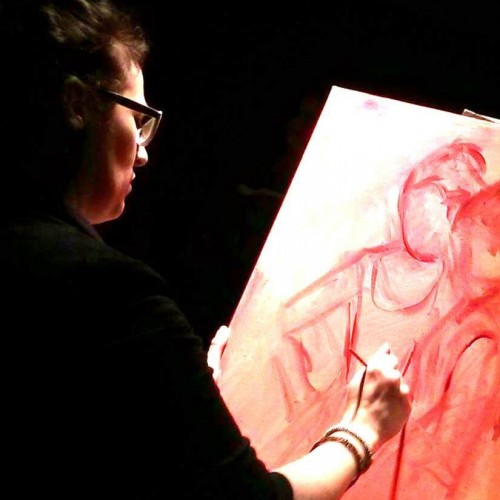 Amber Lounder – New Brunswick Champion

Hailing from the Acadian community of eastern New Brunswick, Amber Lounder is an experienced Art Battle artist. Taking much of her inspiration from the female aura, Amber creates emotive representations of movement, grace and strength. Competing in events since 2013, Amber earned her title of All-Star early on and quickly established herself as an artist to beat – a reputation she lived up to at the Finals event in Saint John, where she earned the title of Art Battle New Brunswick Champion.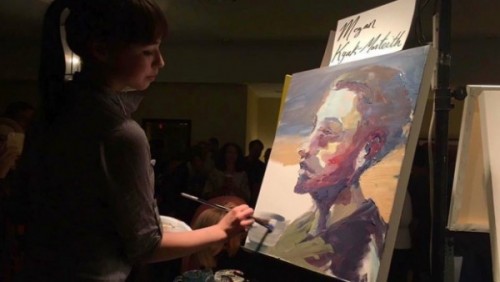 Megan Kyak-Monteith – Nova Scotia Champion

Originally from Pond Inlet Nunavut, artist Megan Kyak-Monteith relocated to Halifax to study at the Nova Scotia College of Art and Design where she began to hone the skills that would win her the title of Art Battle Nova Scotia Champion. An artist inspired by the quiet moments of humanity and her Inuit heritage, Nicole's thoughtful portraiture and dynamic brushwork won over the crowd at the Finals in Halifax, earning her place in the 2016 Art Battle National Championship.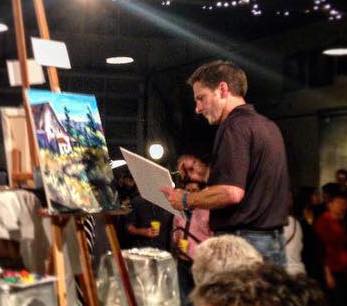 Scott O'Neil – Prince Edward Island Champion
An artist who finds endless inspiration in everyday life, Scott O'Neil captures the beauty and serenity of the eastern landscape in contemplative realist works. An Art Battle competitor since the early days of the competition in PEI, Scott has always impressed with the level of skill and refinement he can transfer to speed painting. It was this skill that landed him the title of PEI Champion in a fierce Final battle amongst the islands finest competitors.
Related Events