Meet the amazing Artists who will compete in Toronto on July 27th for the Art Battle Canada National Championship!
This is the spectacular Finale to the 2016/2017 Art Battle Canada season, after more than 150 events across the country since August 2016 leading to this night, truly the best night of the year for Live Art in Canada!
Get your tickets here for an incredible night of creative community, and help us choose which of these talented and courageous Artists will take home the cash prize, hoist the trophy and earn the title of Art Battle National Champion!
Please send questions or media inquiries to [email protected]
Featured Artists:

Shannon Thiesen – Vancouver Regional Champion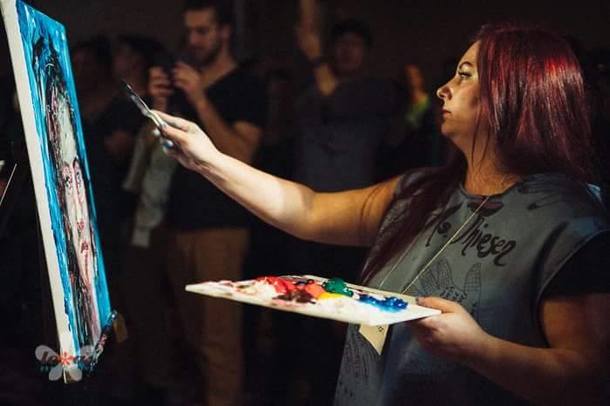 Shannon gains inspiration from her students, drawing from their energy and spontaneity for her works. An artist and grade 5 visual arts teacher from Abbotsford, her energy can be seen in quick and aggressive brushwork, and the ability to tackle a range of subject matter from portraits, landscapes and other organic subjects. This is Shannon's second consecutive trip to Nationals, she also represented the Vancouver Region in the National Championship in 2016.
@shanthiesen
shannonthiesen.webs.com/
Pénélope Angelin – Victoria Champion
Focusing on the moment, Penelope Angelin believes that art can delve deep, expressing more than merely the visual. Emotive and seeking to represent all senses, Penelope's work has an undeniable sense of nowness that lends itself well to the act of live painting. A newcomer this season, Penelope won her first ever event in Victoria, moving on to the Finals and then earning her place on the National Stage.
facebook.com/PenelopeFaitDeLaPeinture
Stan Haraszkiewicz – Alberta Champion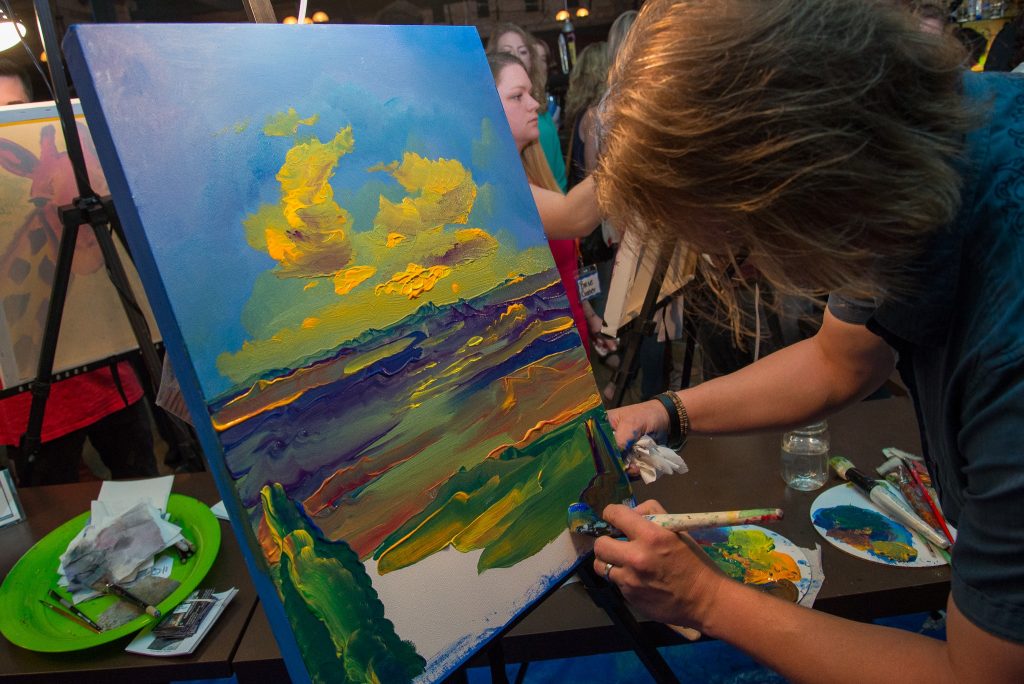 Spending his adult years in the city and having grown up rurally, Stan Haraszkiewicz finds awe in all places. Stan is enamoured with the complex beauty in the world around him, from the most delicate petals of a flower, to the towering presence of a cityscape. Going up against Alberta's best, Stan represented Edmonton, and emerged in June as Alberta's top live painter, qualifying  him for the 2017 Canadian National Championship.
Dope Chief – Hamilton Champion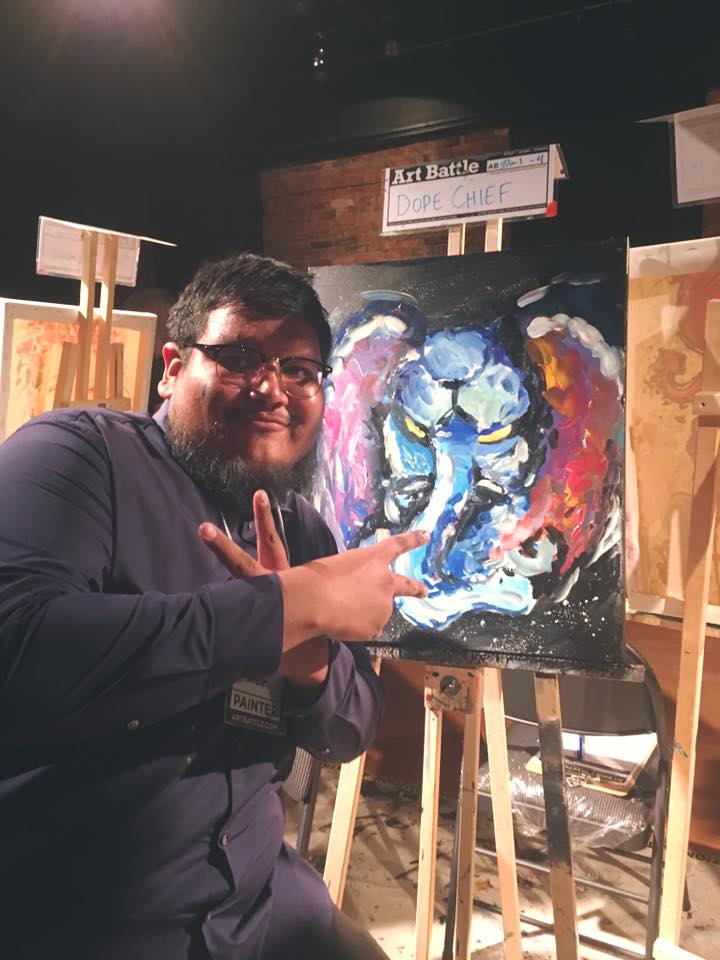 Mixing adult themes with an almost childlike playfulness, Dope Chief's work vibrates with colour, and is a collision of languid linework. His themes explore the endless possibilities in space between childhood and adulthood. Dope Chief qualified for the Hamilton City Finals with a win in November, and then the painted to the top of a very talented group in early July to earn the position representing his hometown in the 2017 National Championship.
@thedopechief
thedopechief.com
Barb TenEycke – Golden Horseshoe Champion
Focusing on the elemental and organic, Barb TenEycke paints the Canadian landscape, her work capturing the spirit of rural life and quiet moments of the land. A many-time Art Battle winner, Barb represented Burlington in the Golden Horseshoe Finals which also included artists from Mississauga and Orillia. This will be Barb's first trip to Nationals as a painter, she has previously cheered-on her daughter Leanna TenEycke, who was the 2015 Canadian Champion.
@barbteneyckeart
barbteneycke.com
Meaghan Claire Kehoe – Toronto Champion
With a passion for contemporary portraiture, Toronto artist Meaghan Claire Kehoe is known for her ability to capture spontaneous moments with vibrancy, insight and personality. Competing in her second full season of Art Battle, Meaghan has embraced the live painting community with open arms and loaded brushes. This is Meaghan's second consecutive trip to Nationals, she finished in the top 4 at the 2016 National Championship.
@mck_studio
meaghanclairekehoe.com
Moses Salihou – Toronto All Star
A self-taught artist from Cameroon and now based in Toronto, Moses Salihou draws his inspiration from his Sahelien roots, and the landscapes of his new surroundings. Blending vibrant colours, with the immediacy of capturing movement and spirit, Moses's work speaks to a sense of a new reality to be inhabited by the viewer. Runner-up in the Toronto Finals, Moses earned the host city's All Star spot and the opportunity to paint in the 2017 National Championship.
@moses_salihou
mosesartwork.com
Dom Laporte – Ottawa Champion
An Artist and Illustrator born and raised in Ottawa, Dom Laporte executes contemporary works with equal measure of innovation and traditional technique. Visually influenced by music, culture and the exploratory power of portraiture, Dom's portraits reflect the interaction of person, place and experience. Dom has been painting with Art Battle since 2014, competing alongside a strong group of live artists in the Ottawa Finals to earn his place in the 2017 National Championship.
Marc Alain Marticotte – Montréal Champion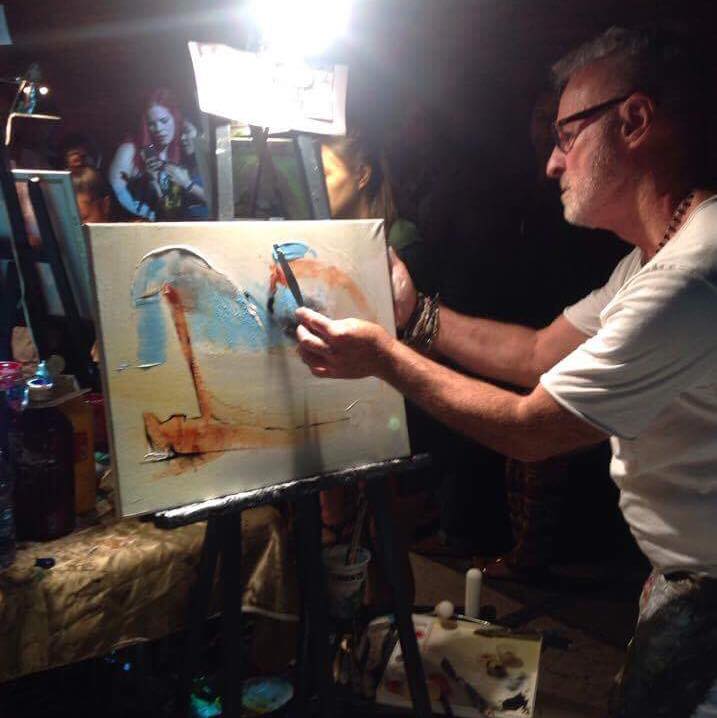 A Montréal based artist and art instructor Marc Alain Marticotte's unbridled creativity and inventiveness are guided by his intuitive use of colour and definition of space. Marc Alain's consuming energy and vivacious stage presence create a unique connection for viewers of his live painting. The only fully abstract artist to represent in the 2017 National Competition​, Marc Alain is surely one to watch!
facebook.com/marcalain.marticotte.9

Ginette Melanson – New Brunswick Champion
A French Acadian artist from Moncton, Ginette Melanson's artistic journey began painting highly rendered portraits and landscapes, she has since shifted to creating energetic and texture heavy works finding freedom of expression in the abstraction of all manner of subjects. Ginette uses knowledge of traditional techniques and composition to inform her now contemporary style so that no palette knife stroke is wasted. Competing against artists from across New Brunswick, Ginette emerged as the Champion who will represent in the 2017 Nationals.
Doug Belding – Nova Scotia Champion
With a background in art, animation, economics, and as a creator of digital experiences, Doug Belding's creative skill set is fueled by an ever expanding inspiration. This event will be Doug's third time painting in the National Championship, having represented Nova Scotia in 2015 and New Brunswick in 2013. A skillful, determined and exceptionally versatile artist, Doug will surely be hard to beat.
Shea Duffney – Prince Edward Island Champion
A Newfoundland native now based in Charlottetown PEI, Shea Duffney is a bonafide Art Battle All Star. A 2 time PEI provincial finalist, Shea Duffney has been a winner or finalist in almost every competition he has painted in, making him one of the most decorated live painters in Canada. Shea's work is technical and precise, but exudes the surreality of a world created from within. After a stunning season painting in Toronto, Shea returned to PEI, immediately winning a qualifying event, moving on to the PEI Finals and earning his way to the 2017 Nationals.
@sheaduffney
facebook.com/sheaart
Justin Fong –  Newfoundland Champion
An artist based in St. John's Newfoundland fusing modern, geometric and natural elements with undulating fields of colour, and the sly wit of pop culture. Justin was the winner of the first ever Art Battle to take place in Newfoundland. This will be the first year that the province is represented in the Art Battle National Championship, and we can't wait to see what Justin will bring to the easel as it's Champion!
Allan André – 2016 Art Battle National Champion
A Canadian born artist of west indian descent, Allan André is known for his realist style infused with graphic colour and emotion. Allan believes that art is the fuel that drives us in all facets of life, contributing to what he calls "the collective masterpiece." This will be Allan's third time competing on the Art Battle National Championship, having represented Ottawa in 2014, and again in 2016 where Allan's courage, creativity and skill won him the title of 2016 Art Battle National Champion.
Save
Save
Save
Save
Save
Save
Save
Save
Save
Save
Save
Save