AB2380 – Hamilton – November 18, 2022
November 18, 2022 @ 7:00 pm
UTC-5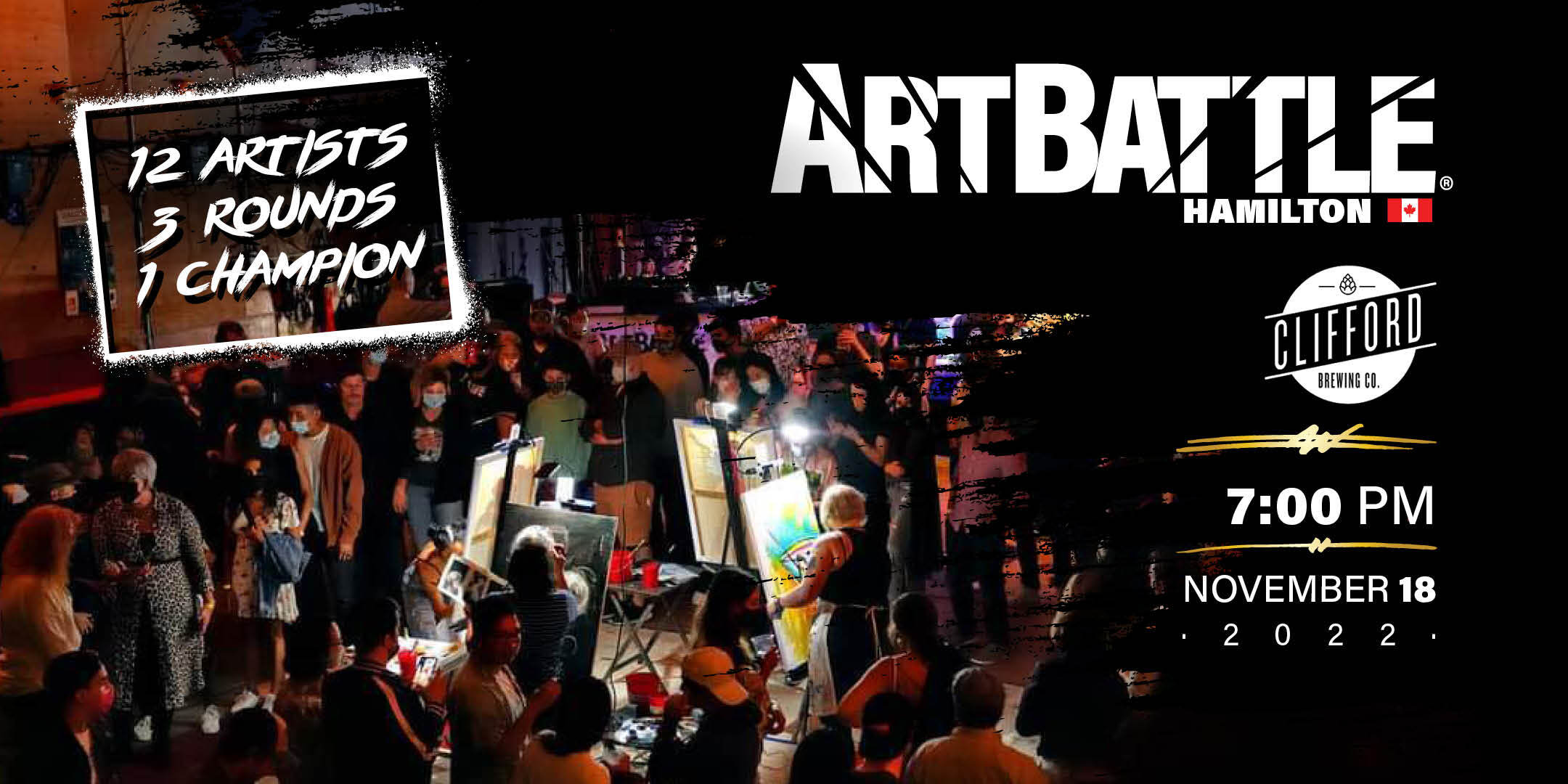 Art Battle returns to Hamilton!
Come watch as artists transform blank canvases into beautiful pieces of art in just 20 minutes, and then help vote to determine the winner of the event!
All artwork will also be available for silent auction.
*This is an All Ages event
Art Battle – Hamilton!
Clifford Brewing Co. @ 398 Nash Rd N #1, Hamilton, ON
TICKETS!
Friday, November 18th
Doors @ 7:00 PM
Painting Starts @ 8:00 PM
Confirmed Competitors
David's art is an exploration of the beauty in all things. Using bold color and line, he often paints portraits and figures that blend both distortion and elegance. His goal is to show people that even the ugly can be lovely.
David loves the energy that the Art Battle brings and finds that being watched is actually freeing and empowering./sf
Becka has performed in over 15 art battles and thrives on the pressure of people watching and the time limit. Her artistic skill set is that she is able to adapt to meet the needs of the buyer. While she usually paints optical illusions, her art battle style is often something around the human element---showing her adaptability. /sf
Self-taught Berto Morales paints realism with a lot of creativity and excitement. He has a background on comic book art form, painting, and sculpture and has now dipped into tattooing. He loves the energy that an artist collective such as Art Battle brings and gets a kick out of the thrill of painting live. /sf
For Katy, creating is her forte. She will use any medium and uses deep long brush strokes and dramatic lines to focus on emotion. She's inspired by color and composition and her focus is on natural elements, landscapes or animals. Katy is excited about the concept of creating within a timeline./sf
A contemporary, self-taught painter, Israel believes that this battle will allow him to hone his art skills by competing against other amazing artists. He is passionate about expressing human emotions using vibrant, warm colors. /sf
Hailing from Georgetown, Valerie May is a self-taught mixed-media artist that left the corporate world to pursue her artistic passions and to teach others to develop theirs as well. Starting with acrylics and using nature as her inspiration, Valerie has moved on to work with a multitude of mediums ranging from oils to watercolors, as well as creating fused glass creations.
/NP
Jessiie Rebecca Hodder aka Blondy
Ms. Jessica, a fierce humanitarian and model, does not conform to the standards of others. Ms. Jessica paints what feels right in her heart and soul, though her favorites are sketching, oil and acrylics. Ms. Jessica's art art can be seen in a 12 foot painting at the new city hall in Brantford and the Toronto Museum./sf
Skyelar Clinton is back! Known for her various styles, this graduate of the Visual and Creative Arts Program at Sheridan College paints from her imagination and how she is feeling. Though it depends on what mood she is in, her art of that day will likely contain human anatomy, bones, or morbid elements. /sf
Related Events