AB2508 – Reno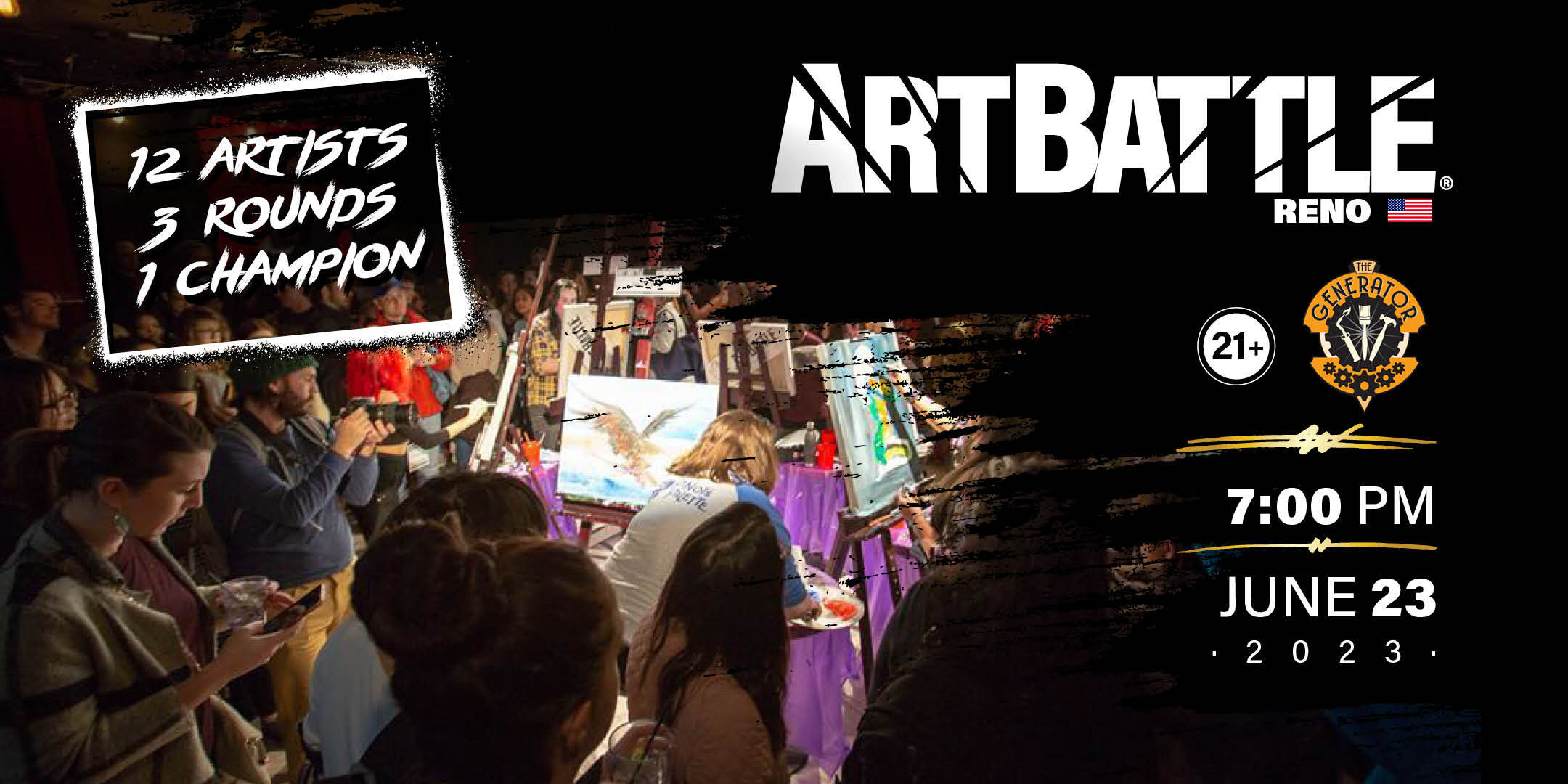 Art Battle Reno –  June 23, 2023
Doors @ 7:00pm / Painting @ 8:00pm
The Generator Community Makerspace @ 2450 Oddie Blvd, Sparks, NV

view on
Eventbrite
Join us for a Friday night full of live art!
Join us for a night of artistic excellence as skilled artists face off in three rounds of fast-paced competition. Be there as the paint flies and help choose the ultimate winner.
Then, peruse the artwork that will be available for auction and take home your own piece of the creative action. It's a night of community, creation, and pure artistic adrenaline.
Don't miss out on the excitement – we'll see you there!
Be a part of the fun as a spectator, or participate as one of the featured artists by applying online at artbattle.com/artists!
Art Battle Reno is 21+
REGISTER NOW TO VOTE
Artists
Artists can apply to compete. Also, most events have a 'Wildcard' easel, where artists leave their names at the door and we draw at random to pick the Wildcard Artist. To be a potential wildcard artist, just buy a ticket and show up!
Confirmed Competitors
Terrence (Doomed Movement) is a 26-year old street artist, illustrator and creator based in Reno, Nevada. Using spray paint, pencil, and digital mediums, he paints/illustrates characters, flowers, and surrealistic nature pieces. Having grown up in the Reno/Tahoe area, Terrence takes influence from the diverse environments around him. He uses flora and fauna from the beauty of the great basin, while at the same time uses urban graffiti and street art to help shape his work. Skateboarding and counter culture are also a huge part of his daily practices./sf
From the artist:
By supporting The Doomed Movement, you are now an ambassador of the Chaos that is inside of my head. From Characters that claw their way out of my brain & into your world. Or through the Surrealistic Nature Trips of my mind where you'll experience everything all at once. All that I create is for You.
Join me in The Movement where I'll Paint, Create, and Illustrate until the wheels fall off of this Alien Spacecraft we're all on and we Hurdle into the Infinity.
This is The Doomed Movement
Margie has had a successful career in graphic design and has been finding her own style in painting. She recently has been obsessed with birds--loving the movement and shape of them, their winds and flight. They allow her to explore color with metallic inks and acrylic paints on black paper and other surface such as aluminum, wood and canvas./sf
From the artist:
So excited to be a participant in this fun event!
Priscilla is a Mexican-American artist from Nevada. Her art is inspired by a lot of things from mental health issues to songs. She likes to use as many medias as possible in one drawing to portray her idea. She specializes in graphite pencil, colored pencils, watercolor, oil paints, photography and makeup./sf
From the artist:
Hey there! I'm looking forward to participate in a friendly competition alongside more talented artists! Ig: @prb_artsy
Boomie has been tattooing for 15 years and will use any medium she can get her hands on. When she is not creating art for the purpose of tattooing it, she loves playing with colors and textures, mixing abstract and surrealism./sf
From the artist:
Tattoo art mommy is ready for battle!
Erica, a self-taught painter, says her art is inspired by nature and the dichotomies of life and death. She echoes the phenomenological feelings of being in a part of a natural cycle or global web. In addition to painting, she also enjoys ceramics, sculpture, woodburning, and floral crafts./sf
Frankie's artwork consists of relief block prints influenced by Japanese motifs, both traditional and modern, as well as anime/manga. Frankie's art can also be seen through her bookmaking and painting. When she is not printmaking or bookmaking, she likes to cross stitch, go out and take photos, or paint./sf
From the artist:
Very excited to participate in this month's art battle. Good luck to everyone and I can't wait to see what people paint!
Marissa also known as MNT the artist, is a multi-disciplinary artist and designer who specializes in using reclaimed and recycled materials to explore the emotional aspects of the human experience. She believes that art can be a powerful tool for healing, both for the artist and the viewer. Mnt's mixed heritage (African American, Creek, and Creole) and diverse lived experiences have provided her with a unique perspective, which she incorporates into her artwork. /SF
From the artist:
I use art for healing not for fighting, but I have been practicing and I'm ready for this battle.
Elizabeth has worked in the art field for 25 years. Her background is event decor and prop building. While she usually uses acrylic, she has also used oil, watercolor, gouache, and sculpting materials. /sf
From the artist:
Come watch me fumble with paint! It's been a while!
Nicole is originally from Denver, Colorado but she currently lives in Reno, Nevada where she practices art while raising her two children. Nicole's work uses many mediums and techniques, but her primary focuses are sculpture and painting. Nicole seeks to create sculptures and paintings that are fun, engaging, and interactive./sf
Xiana is a self-taught artist who enjoys doing landscapes, animals and abstract concepts in her art. While she loves painting, she prefers using graphite and charcoal the most. She dabbles in numerous mediums including sculpting, drawing, and performing./sf
From the artist:
I am just here to have fun.
Related Events