AB2529 – London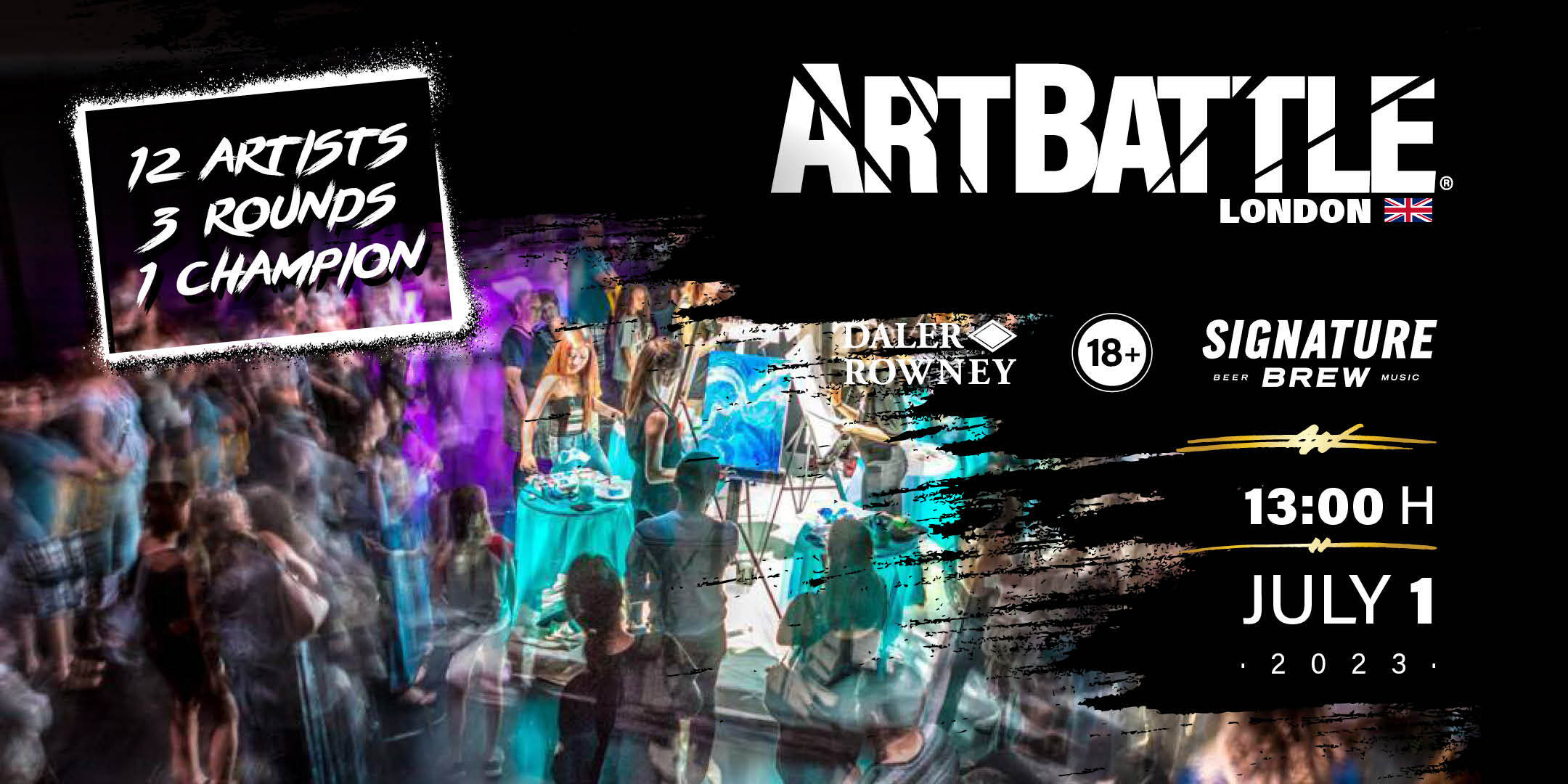 Art Battle London: Pride Edition! – 1 July, 2023
Doors @ 1:00pm / First Painting Round @ 8:00pm
Signature Brew Blackhorse Road – Unit 15, Uplands Business Park, Blackhorse Ln, London
view on
Eventbrite
Get ready to unleash your creative side at Art Battle London's PRIDE Edition!
We invite all culture enthusiasts, painters, art collectors, art party lovers, and the entire community to a day of creative activities celebrating the LGBT+ Community, culminating in the biggest "battle" London's ever seen. Our audiences' votes choose the winner of the night!
Ticket pricing is flexible, with options for a whole day pass, half-day passes, and even a concession rate for students.
1ST HALF 1PM TO 6PM – ALL AGES WELCOME
– Our drawing area where you can try out new art materials from Daler Rowney,
– Try one of our dance workshops (all levels welcome!)
– Enjoy the music and energy of DJ Sequinella
– Explore our stalls
– Get your face painted
– Get your picture taken in our photobooth
– Meet and mingle with like-minded creatives and adventurers
– Grab a drink at the bar and relax in the large outdoor area with fresh beer created on site as well as other drinks and food.
2ND HALF – ART BATTLE (18+ ONLY)
Doors reopen at 7pm and everyone with full-day wristbands or evening tickets will be registered to vote upon entry.
First round will begin at 8pm.
12 very talented artists will compete across three fast-paced rounds. You, the audience, will circle the competitors for each round and choose your favourite artist to move forward. After the Final Round, only one Champion will remain!
You can also take home a piece of the action by bidding online on the silent auction on your favourite painting.
Don't miss out on this one-of-a-kind celebration of art, creativity, and the LGBTQ+ community. Get your tickets now for Art Battle London's PRIDE Edition, on July 1st, 2023!
Event Sponsor: Daler- Rowney @dalerrowney1783 – A reputable art materials manufacturer who supplies easels, paints, and many other materials.
If you are interested in sponsoring Art Battle London events, please email
[email protected]
THE WINNER OF ART BATTLE RECEIVES:
A sizeable selection of art materials from @dalerrowney1783
A solo exhibit opportunity with @hanwaycollective
A spot at the CITY CHAMPIONSHIP for @ArtBattleLondon in November 2023
Be a part of the fun as a spectator, or participate as one of the featured artists by applying online at artbattle.com/artists!
REGISTER NOW TO VOTE

Artists
Artists can apply to compete. Also, most events have a 'Wildcard' easel, where artists leave their names at the door and we draw at random to pick the Wildcard Artist. To be a potential wildcard artist, just buy a ticket and show up!
Confirmed Competitors
Related Events