AB2575 – Los Angeles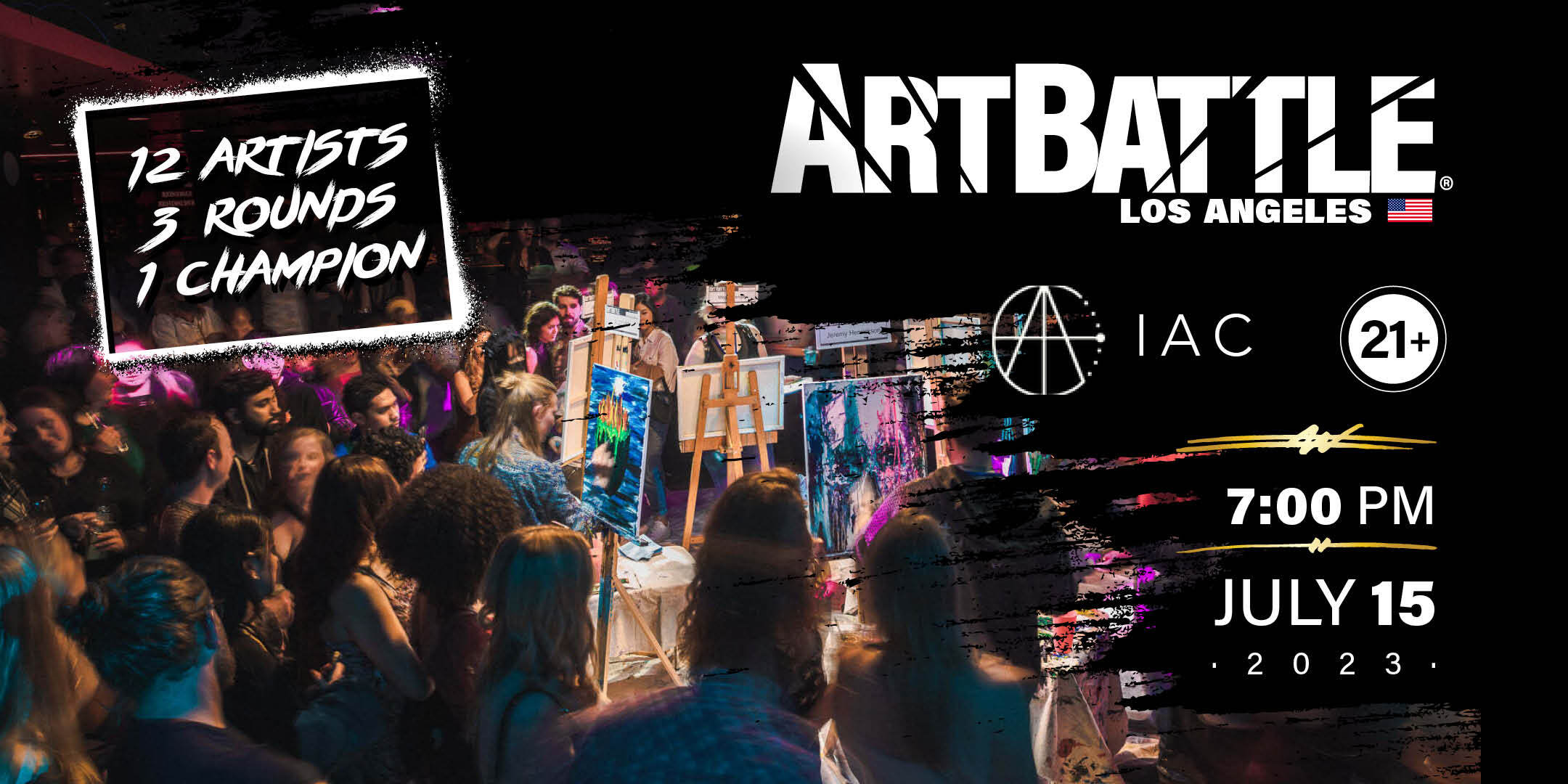 Art Battle Los Angeles – July 15, 2023
Doors @ 7:00pm / Painting @ 8:00pm
The Immersive Arts Center – 1035-A S. Olive St., Los Angeles, CA
view on
Eventbrite
Get charged up for an electrifying Saturday night featuring live, pulse-pounding art!
Be a part of the electrifying energy as skilled artists engage in a high-speed showdown, flinging paint with every stroke.
Cast your vote and crown the champion in three pulse-pounding rounds. And as the night unfolds, snag a one-of-a-kind masterpiece as every piece created goes up for auction. Don't miss this unforgettable evening of live art!
Be a part of the fun as a spectator, or participate as one of the featured artists by applying online at artbattle.com/artists!
Art Battle Los Angeles is a 21+ event. ID required for entry.
REGISTER NOW TO VOTE
ARTISTS
Artists can apply to compete. Also, most events have a 'Wildcard' easel, where artists leave their names at the door and we draw at random to pick the Wildcard Artist. To be a potential wildcard artist, just buy a ticket and show up!
Confirmed Competitors
Jeremy loves drawing robots, monsters and strange locales. Pen and ink are their medium of choice, but they love messing with watercolors, acrylic paint, graphite and other mixed media. /sf
From the artist:
My name is Jeremy Labib and I love drawing robots, monsters and strange locales!
Pen and ink is my medium of choice, but I love messing with watercolors, acrylic paint, graphite and other mixed media.
Kay is a self taught contemporary artist based in Los Angeles. Kay, a free spirited artist, finds inspiration from all aspects of life. She is often recognized by her signature features of cerulean blue skin, a third eye nestled into a vagina, and bubble textures. She has developed a world that only makes sense for these beings, often headless and naked./sf
From the artist:
CURIOSITY SAVES and I'm very curious to see what this battle will bring. Lets make this a bold show!
Anthony has been drawing since he was 8 years old. He mixes art and personal experiences together to express his views. He specializes in pop art and custom creations./sf
From the artist:
Los Angeles get ready for your artist's Artist. It's time for the King. Anthony King!!!
Anna specializes in expressionism in cubism and portraits. She already paints fast and is looking forward to the challenge of painting faster./sf
From the artist:
Art classes available @thehoneydropfactory
Rick considers his work dark, creepy and feminist. His work mixes abstract backgrounds with figurative portraits, blending images of fierce women with nightmarish horrors seeking to draw blood. He likes the thrill of a competition and being on stage./sf
From the artist:
I'll be bringing my speed-painting A-game for your delight and entertainment.
May the best painting win!
Kathy has been an artist since a young age and has had the pleasure of working for Walt Disney feature animation and later won awards for painting at shows around California. She works primarily in oil but is up for the challenges that other media present./sf
From the artist:
First timer in the art battle so come for laughs, encouragement, or just plain mayhem! I look forward to seeing everyone there 😃
The art of Dylan serves as a portal into otherworldly dimensions. His painting style is complex and emotional, using vibrant pastel hues and glowing light to portray an animated geometric dreamscape. An LA based artist, Dylan blends entheogenic and classic art techniques with realms of earthly and ethereal inspiration to bring forth his style of psychedelic surrealism./sf
From the artist:
Coming to you straight from the underground psychedelic renaissance!
Michelle's style is usually realism with fantasy elements involved. She paints mainly using acrylics and watercolor and has recently gotten into pen work./sf
From the artist:
I am honored to show you a little bit of an artist's creative process, even if it is a bit frantic and hurried! We're mostly hermits, so we appreciate your love and support.
Shalandrea uses art to express herself and heal. For her, movement and art go hand and hand so her art has movement. She drum paints and dance paints on cloth and canvas, collage over the paintings and set healing intentions over her art./sf
From the artist:
Peace and so much gratitude for this upcoming Art Battle! I am so exited to share my practice of kinetic expression with y'all and look forward to sharing space in creativity, vibes and LOVE.
-All Natural Ingredient
Tony is a California based artist who trusts intuition and follows inspiration. Tony specializes in all 2D media as well as art history and materials knowledge./sf
From the artist:
Let's do this LA! 🌴🌊
Ana Karina is a Mexican American artist who wants to show the world the rich culture of Mexico and the point of a view of a designer, mom and superwoman that she is. Ana Karina believes her art is an exploration between dreams, reality, Mexican culture, childhood and textiles./sf
From the artist:
I am overexcited to participate against all the great artists and share my surreal dream world. Come cheer us, share your energy, and help make those Canvas come to life.
Ana Karina Hurtado
Eric works in both fine art and street art. He is looking forward to the fun that goes along with Art Battle./sf
From the artist:
Hey everyone!
I'm totally excited to join in on the battle! Come check it out amazing artists dual it out!
Related Events