AB2597 – Espanola
September 30 @ 1:00 pm
EDT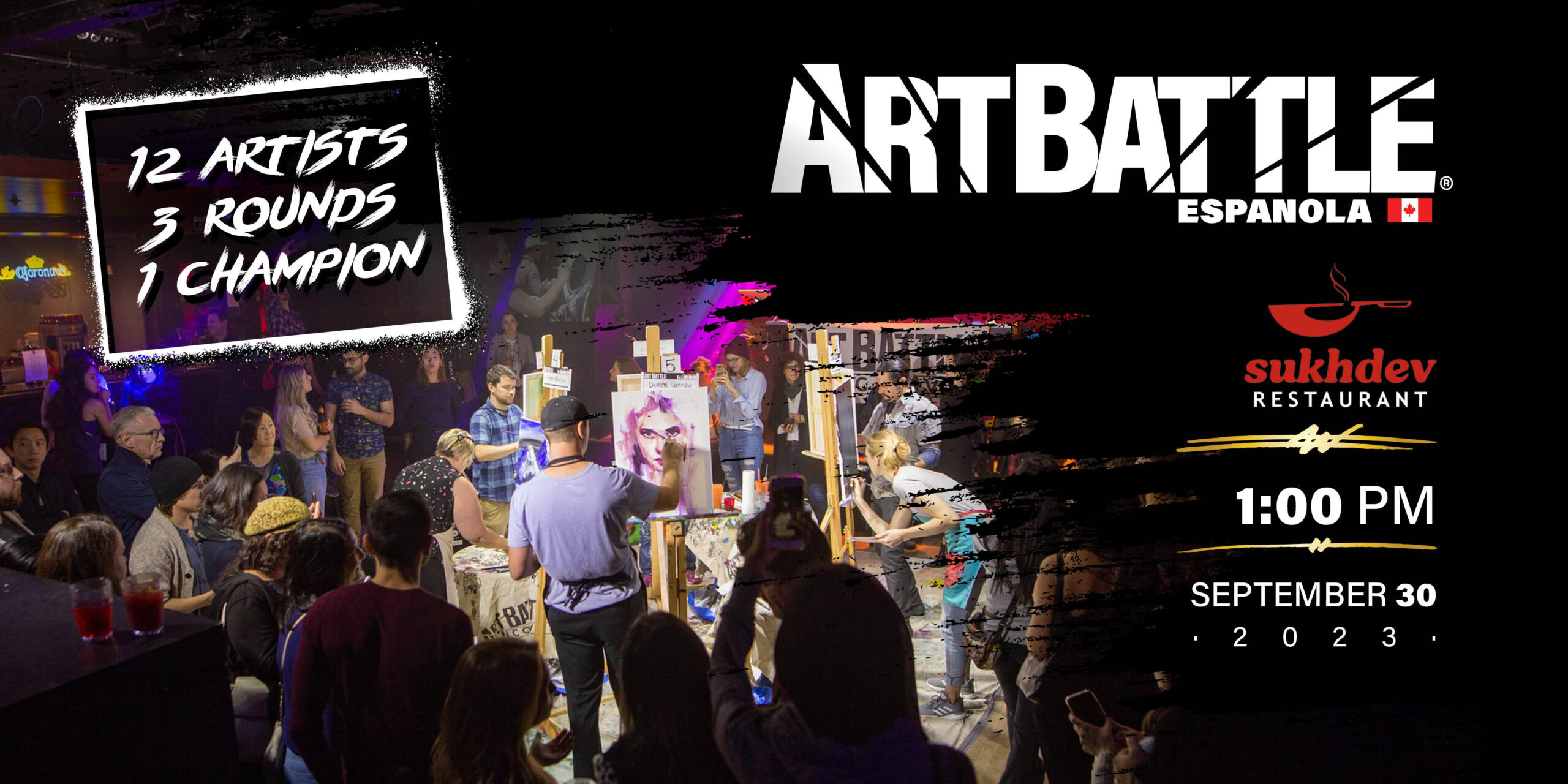 Art Battle Espanola – September 30, 2023
Doors @ 1:00pm / Painting @ 1:30pm
Sukhdev Restaurant Espanola – 585 Centre St, Espanola, ON
view on
Eventbrite
Join us for a Saturday night full of live art in the incredible Espanola!
Be a part of the electrifying energy as skilled artists engage in a high-speed showdown, flinging paint with every stroke.
Cast your vote and crown the champion in three pulse-pounding rounds. And as the night unfolds, snag a one-of-a-kind masterpiece as every piece created goes up for auction. Don't miss this unforgettable evening of live art!
Be a part of the fun as a spectator, or participate as one of the featured artists by applying online at artbattle.com/artists!
Art Battle Espanola is an All Ages event.
REGISTER NOW TO VOTE
ARTISTS
Artists can apply to compete. Also, most events have a 'Wildcard' easel, where artists leave their names at the door and we draw at random to pick the Wildcard Artist. To be a potential wildcard artist, just buy a ticket and show up!
Confirmed Competitors
Jayson is a full-time art teacher and likes to dabble with all sorts of media. His work is often colorful, whimsical or has a story behind it. When he's not teaching or making art, he is a father of five, an actor, voice actor, filmmaker, graphic designer, social justice activist, and community developer./sf
From the artist:
I am super stoked to see Art Battle at my favourite local restaurant. I'm equally excited that a portion of each ticket sold will be donated to the Espanola High School Art Club and that this is a fundraiser for Nick's Place in North Bay, a place near and dear ti my heart. Let's have fun!
Jennifer enjoys painting an impression of the Northern landscape, using colors and brushwork to create the mood of the location. Jennifer works in acrylic and watercolor and has been painting for 9 years with the Sudbury Art Club. She has always enjoyed painting live. /sf
From the artist:
I love the energy of this event! I can't wait to throw around some paint!
Dustin paints nature scenes he has been around, stuff that reminds him of home. He is self-taught, through trial and error and is continuously learning. He loves color and exploring new ideas.
From the artist:
I'm so excited to show what I got, not sure what I got in mind
My work can be found on Facebook
ROY MADAHBEE, photos or Dustin Madahbee
I wanted to share more pictures
Related Events