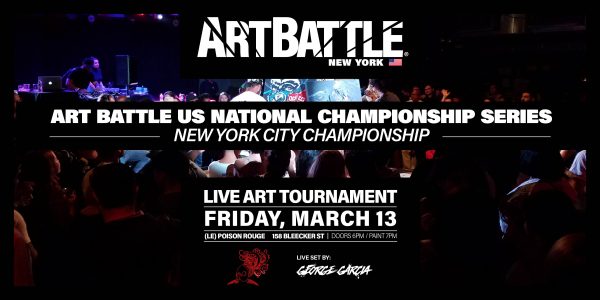 COVID19: EVENT POSTPONED
In light of the rapidly evolving and serious public health challenge posed by the COVID19 Pandemic and the associated government restrictions on travel and large gatherings:
All Art Battle® 2020 US National Championship qualifying events have been postponed for at least 3 months. This includes qualifying events scheduled for this weekend in NYC, Chicago, Dallas, and Sarasota; as well as the US National Championship event itself. A full list of the impacted events is below. Ticket refunds will be issued on request, or tickets will be honored at any future Art Battle live event. Some regular season Art Battle events may continue as scheduled; with local teams making judgments based on conditions on the ground and venue specific considerations.
Many individual competitions will be moved to online streaming for artist and audience participation. Artists and fans are invited to download Art Battle apps at artbattle.com/apps to join us for online streaming notifications as new information is released.
This is an unprecedented situation that we will face together, and we thank our community for the incredible support shown for Art Battle and all competing artists. We will work tirelessly to continue to connect artists and audiences through our activities. Even as we distance ourselves in our breath, we hope to come together in our hearts.