Meet the amazing Artists who will compete in Toronto on July 26th for the 2018 Art Battle Canada National Championship!
This is the incredible Finale to the 2017/2018 Art Battle Canada season, featuring the best artists from coast to coast, truly the best night of the year for Live Art in Canada!
Get your tickets here for an incredible night of creative community, and help us choose which of these talented and courageous Artists will take home the cash prize, hoist the trophy and earn the title of Art Battle National Champion!
Please send questions or media inquiries to [email protected]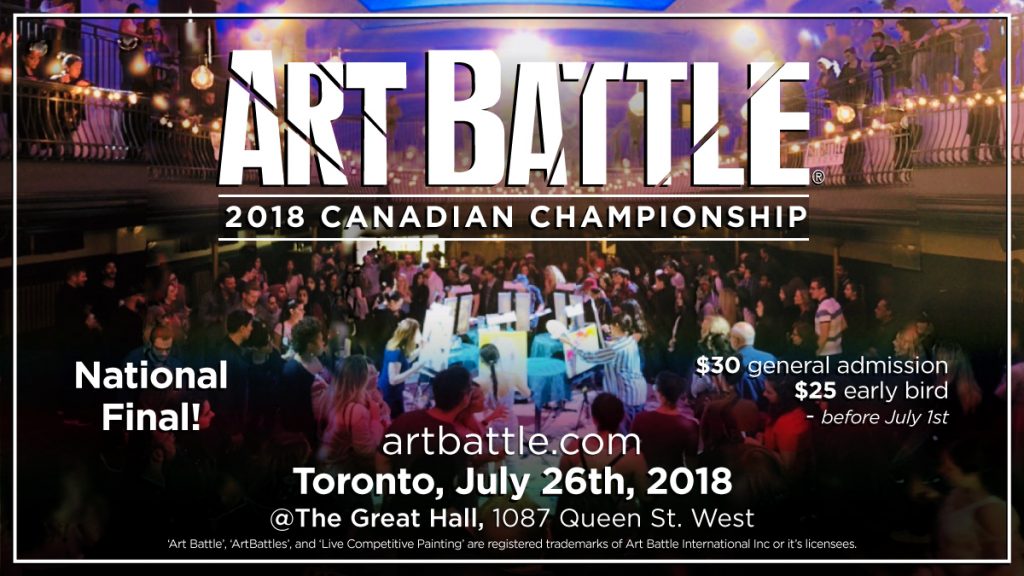 Vasile Ivanov- Nova Scotia Champion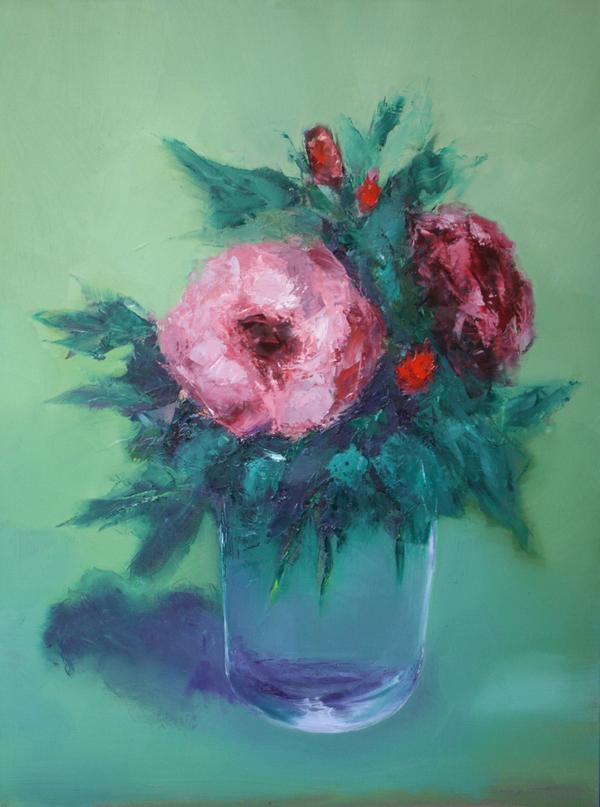 Vasile Ivanov takes great joy in the process of painting and seeks to bring that sense of awe and delight to viewers. Vasile possesses a unique ability to translate the resonance of the meeting of form and feeling into charismatic brushwork driven by the intuition of creation. Vasile has been painting with Art Battle since 2015 and was a Provincial finalist last season, and this year claimed the title of Nova Scotia Champion
Michelle MacCallum – Prince Edward Island Champion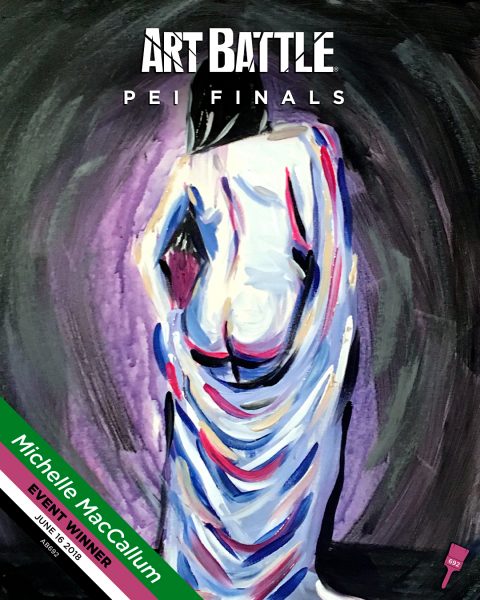 As the Director of Cultural Development for the Government of Prince Edward Island, Michelle MacCallum is a community advocate as well as a visual artist herself. Michelle creates in a variance of styles from realism to abstract and everything in between, using the canvas as an outward expression of emotion, place, and personhood. Michelle has been painting with Art Battle since the first season in PEI, always performing fiercely at the easel and this time emerging as the Champion Artist to represent her province.
Karel Prickett  – New Brunswick Champion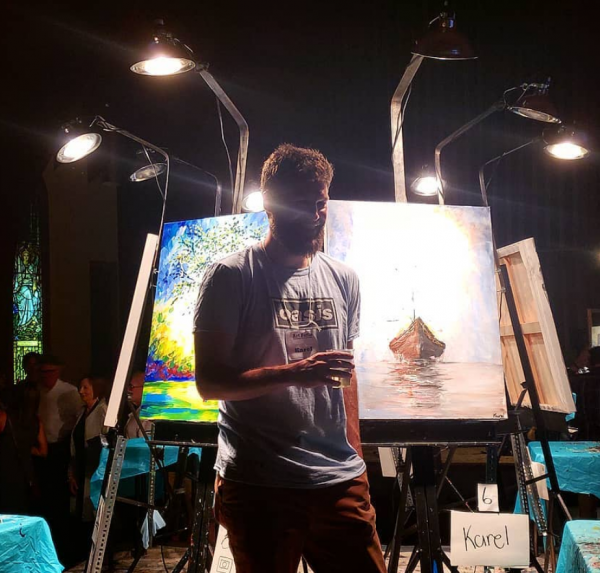 After relocating to New Brunswick from Uruguay to pursue his education, Karel Prickett began painting the memories and experiences he had gathered from living in various parts of the world. His works transport the viewer to known and unknown places providing a sense of familiarity and reference. Karel has been painting with Art Battle for 4 years, having been a provincial finalist in past seasons and now representing New Brunswick as their Champion Artist.
Maïté Côté – Montréal Champion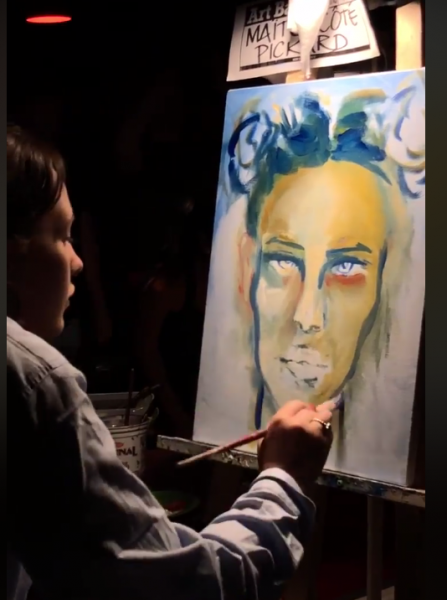 Montreal artist Maïté Côté creates dreamlike portraits of women that contemplate the mystical elements of femininity. Her works use the strong eye contact of her subjects to establish a connection with the viewer into the emotional realm of the piece. Embracing the excitement of rapid creation in her first season with Art Battle, Maïté painted amongst the cities best live artists to claim her place in the National Championship.

Gabriel Bouffard –  Ottawa Champion
 Gabriel Bouffard is an artist who believes strongly in the transformative and communicative ability of art, with each of his pieces reflecting that conviction. Using colour, brushwork and subject to convey his state of mind and relate to the outside world. A newcomer to the Art Battle arena, Gabriel won his first event in November, advancing and beating out Ottawa's top artists for the title and right to represent his city in the National Championship.
Melani Pyke – St Catharines Regional Champion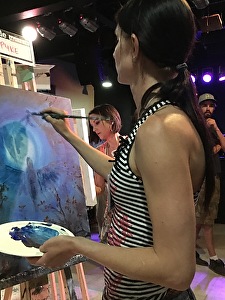 Melani Pyke describes her work as lyrical realism, seeking to inspire joy, hope, and the appreciation of life. A prolific live artist based in Niagara, Melani can often be found painting to capture the wonder and sense of community around her at different events in her area. Winning in both St Catharines and Fort Erie this season, Melani represented both at the Regional Finals, ultimately advancing as a Champion artist to the Canadian Nationals.
melpyke.com
instagram.com/painting2inspire/
Valdengrave Okumu – Toronto Champion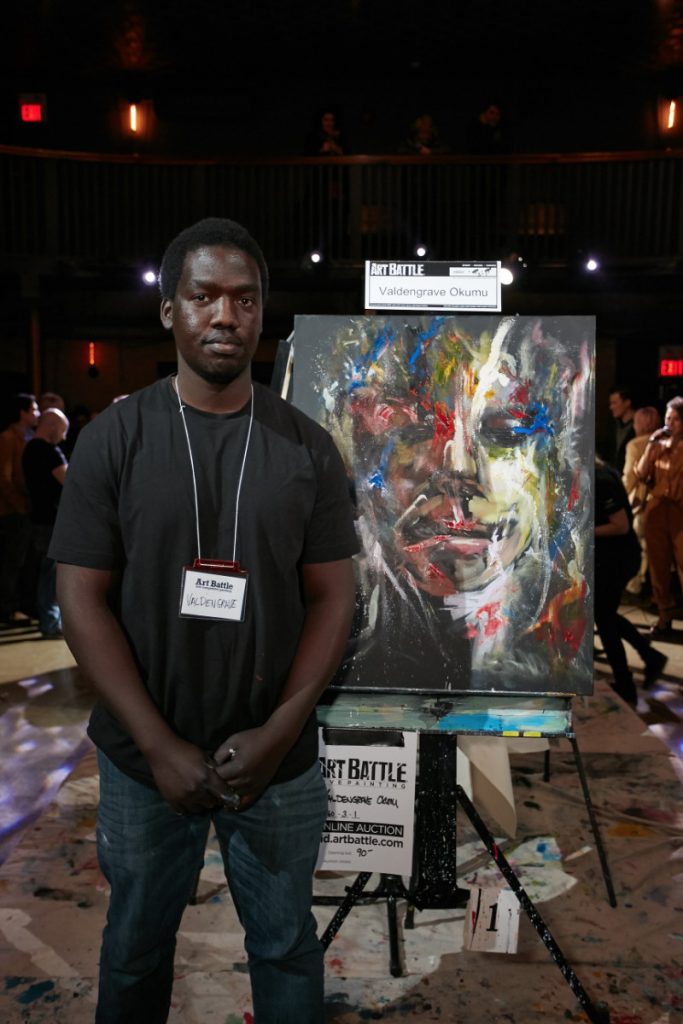 Valdengrave Okumu is a self-taught artist whose art explores human nature, mystery, spirituality and ancient knowledge. Drawing from both imagination and reality, his works seek to engage the viewer in the contemplation of human existence. Beginning his Art Battle career as a winning artist in Edmonton, Valdengrave relocated to Toronto in 2016, continuing his live painting journey to the top of the pack at the Toronto Finals and earning the right to represent the city.
valdengraveart.com
instagram.com/valdengraveart/

Courtney Bruzzese –  Hamilton Champion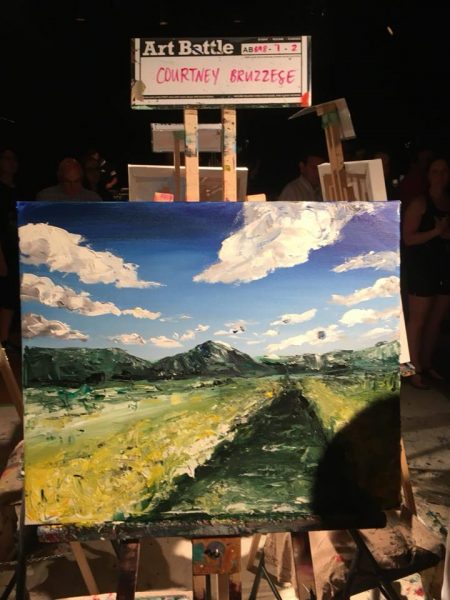 Employing various techniques of drawing, painting, and sculpture, Courtney Bruzzese uses elements of the human figure and nature as a means towards exploring and analyzing the human mind. Known for her bold and texturally focused live paintings in Art Battle, Courtney has been a regional finalist in 2016, 2017, and now 2018 winning the Hamilton Finals and right to represent her city in the National Championship.

Dave McCreary – Southwestern Ontario Champion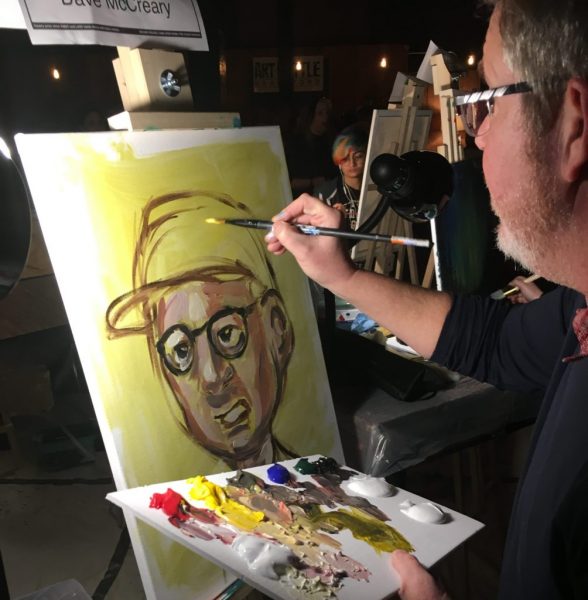 Embracing the odd, exaggerated and endearing, illustrator Dave McCreary's work focuses on social commentary and satire. Drawing inspiration from his hometown of Brantford, Dave is known for his unique ability to capture the quirk and spark of the city and its people, having recently published the "Big Book of Brantford" featuring 5 years of his illustrations for the Brant News. Brantford hosted the Southwestern Regional Finals, where Dave outpainted artists from Kitchener, London, and Norfolk County to represent the region and his city in the National Championship.

Monique Legault – Sudbury Champion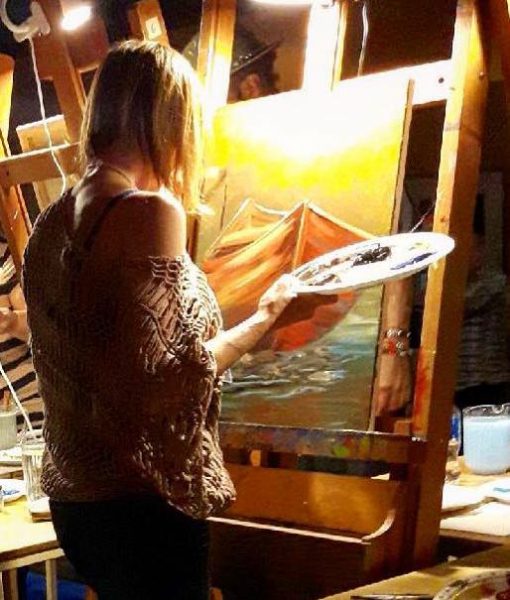 Specializing in photorealism and custom works, owner Monique Legault of Monique Legault Studio and Petal Pushers Decor has a unique ability to transform any idea into reality. In her personal practice and live painting, Monique embraces the emotive freedom of abstract expressionism to engage with the energy of the audience. This strategy won her the first event of the season in Sudbury, and again in the City Finals, bringing her now to the National Championship.

Bhavesh Gajjar – Alberta Champion
Blending his figurative work with abstract impressionism, Bhavesh Gajjar's portraits recede and emerge through a lense of explosive colour describing mood and personality. After a spectacular first season of Art Battle, Bhavesh advanced to the Alberta Provincial finals as an All-Star Artist and won, captivating audiences with his energetic portraits.
Zach Abney – BC Interior Champion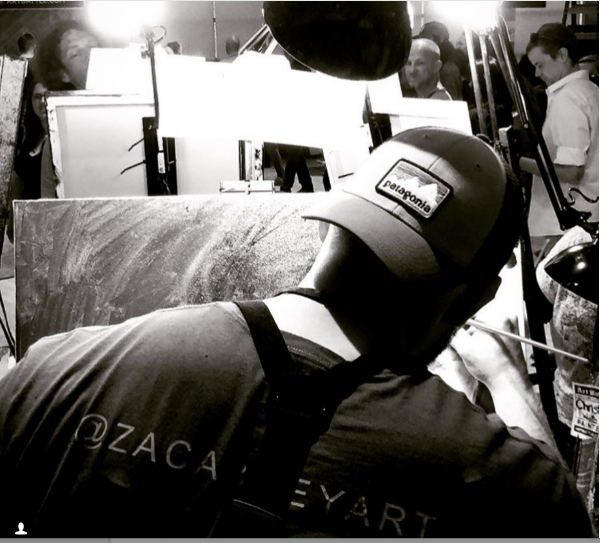 Focusing on the play of light to express mood and movement, Zach Abney's works capture the intimacy of the darker contemplative moments of the everyday. Feeding off of the atmosphere of the crowd and embracing the spontaneous nature of live painting, Zach has had an explosive Art Battle career that landed him in the Kamloops Finals in 2017. This season he took on the best painters from the BC Interior area, awing the audience and winning with an impressive double portrait.
Dimitri Sirenko – Vancouver Champion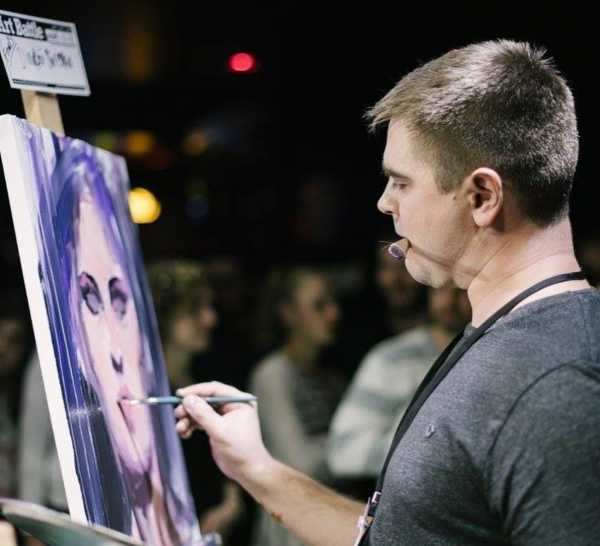 Dimitri Sirenko's work lives in the space between the push and pull of embracing and challenging classical standards of universal beauty. As a traditional and concept artist as well as art director, Dimitri approaches the creative process with versatility of style and subject. Winning his first ever Art Battle in January, Dimitri successfully took on established live painting veterans in the Vancouver Final, earning the right to represent the city in the 2018 Canadian National Championship.
Sheena McCorquodale – Vancouver Island Regional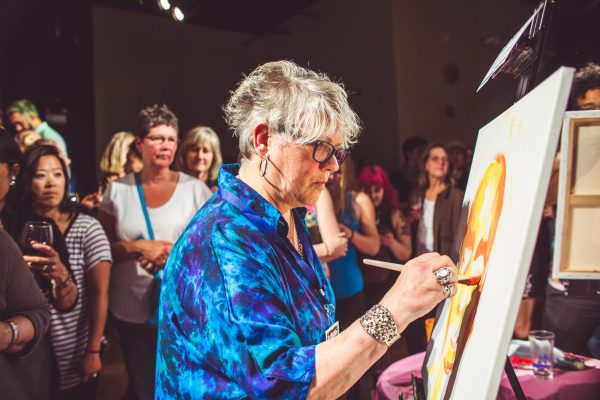 Qualicum Beach based artist Sheena McCorquodale creates works wherein tone, mood and expression take priority in celebrating the beauty of movement in the human form. Holding weekly life drawing sessions in her studio, Sheena's live art style embraces the immediacy of capturing a moment, infusing as much information as possible into each brushstroke. Sheena represented Comox Valley in the Vancouver Island Regional taking on artists from Victoria, Campbell River, and Nanaimo to represent the region.

Moses Salihou – 2017 National Champion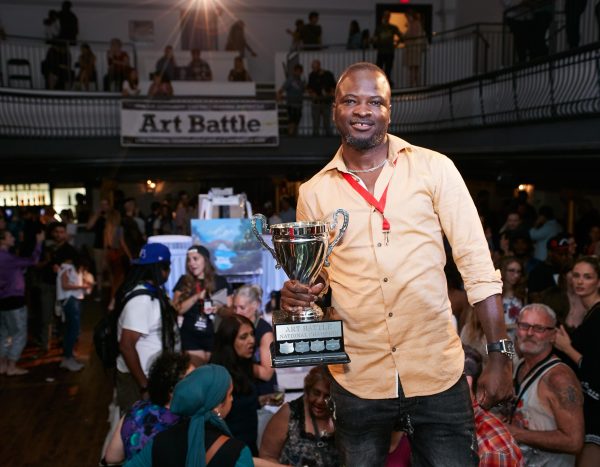 2017 Art Battle Canada National Champion Moses Salihou is a prolific artist, whose works are visceral and vibrant, capturing the immediacy of movement and spirit. Inspired by his Cameroonian roots and the urbanity of his surroundings in Toronto, Moses's work provides a sense of a new reality to be inhabited by the viewer. Representing Toronto, Moses rose to the top competing against the best live artists of the 2017 Art Battle Season. This year he is back to defend his title as National Champion.