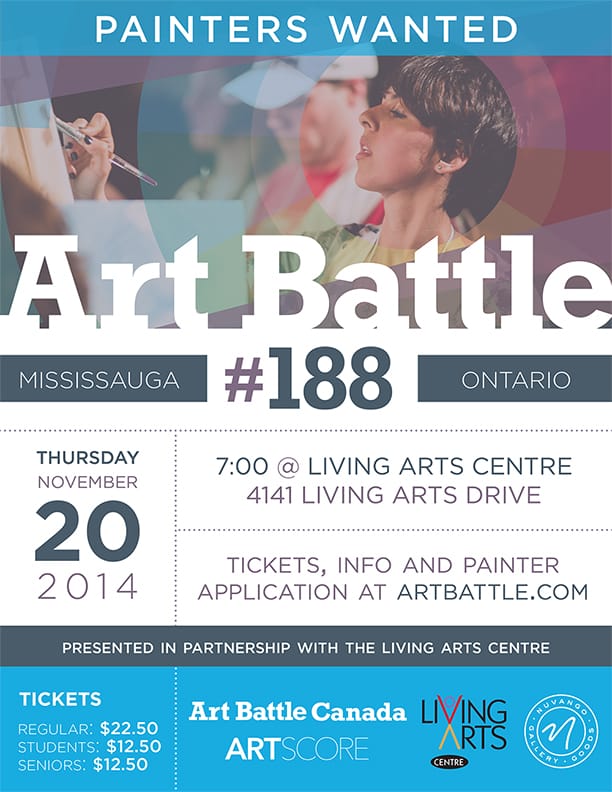 Art Battle returns to Mississauga!
Join us on Thursday November 20th for the first event of the season. 12 painters will compete for the title of Art Battle Champion, cash prize and a spot in the Regional Finals in June 2015.
Art Battle Mississauga is presented in proud partnership between Art Battle Canada and The Living Arts Centre.
AB188 Mississauga
Thursday, November 20th, 7pm
The Living Arts Centre
4141 Living Arts Drive
Mississauga, ON
FREE PARKING after 6pm
Tickets $22.50 / Students and Seniors $12.50
Available at door or in advance at The Living Art Centre Box Office
Buy your tickets here: http://livingartscentre.ca/shows/event-listing/event/885-art-battle-188.html
Last year saw some amazing live performances by local artists. Puneet Kohli represented Mississauga at The National Championship which was held in Maple Leaf Gardens in July 2014. Puneet made it to the final round at Nationals, placing in the top 5 in Canada! Congratulations Puneet, we know we'll see some amazing performances from Mississauga artists this year!
Watch the 2014 Nationals recap video here:
To apply as a Painter:
http://artbattle.ca/register
WHAT IS ART BATTLE?
Art Battle is live competitive painting. Painters create the best work they can in 20 minutes. As they work, patrons move around the easels, closely watching the creative process. The medium is acrylic paint and the tools allowed are brushes, palette knives or any non-mechanical implements. At the end of the round, the audience votes democratically for their favourite painting and bids in silent auction to take the work home. This is Art Battle Canada's 6th season and 2nd season in Mississauga.