AB2431 – Genova
January 19 @ 8:00 pm
UTC-5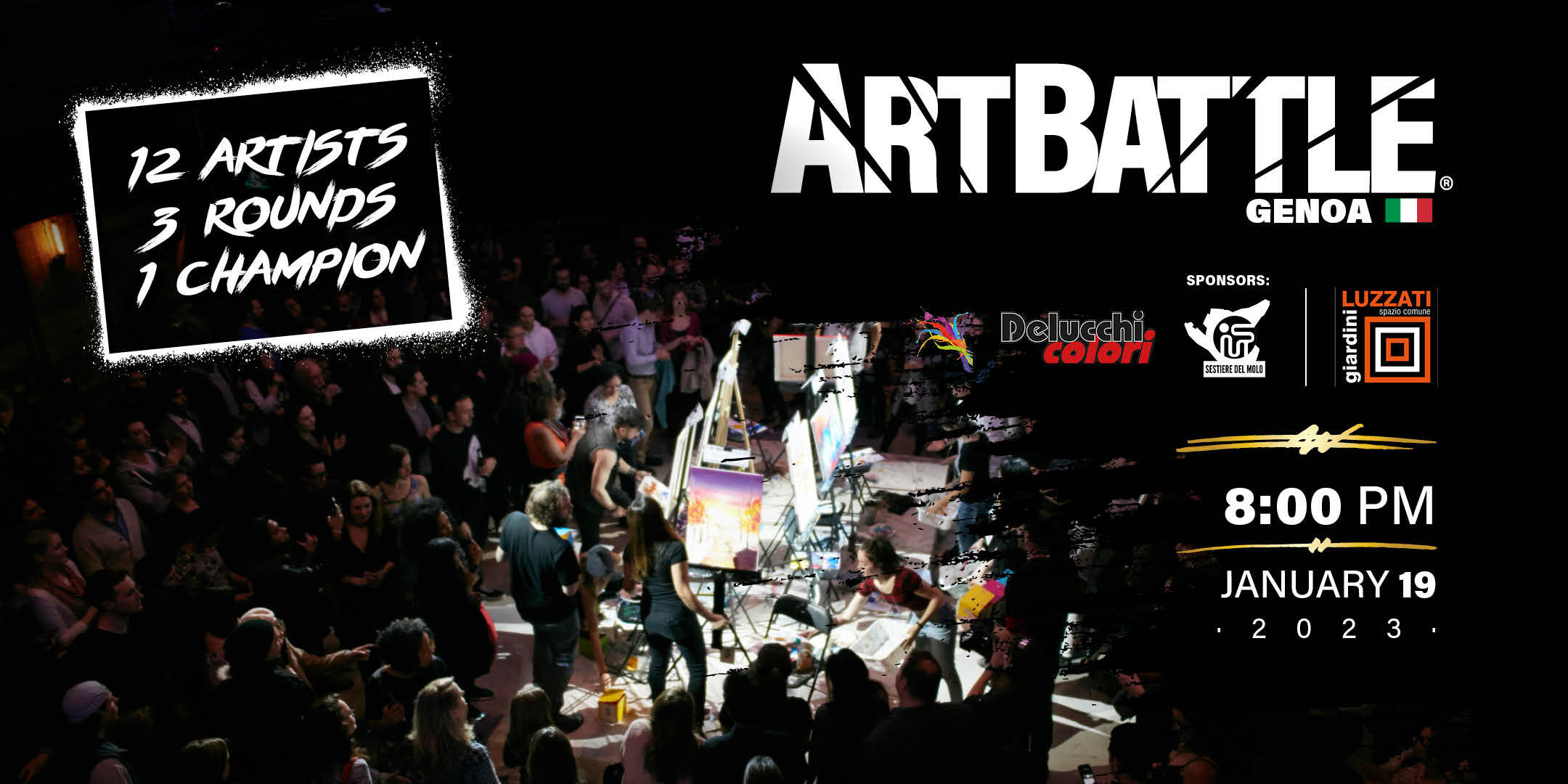 Art Battle Genova – Gen 19, 2023

Artists in Round: 1 :
1 => giuseppe ballacchino (WIN)
2 => Nicola Coraci ()
3 => Monica Pelizzari ()
4 => Angelina Sansone ()
5 => Francesca ()
6 => Cristina (WIN)

Artists in Round: 2 :
1 => Valerie Tschida (WIN)
2 => Fulvio Zacco (WIN)
3 => Augusto Casarino ()
4 => Francesca Ciullini ()
5 => Simone Gastaldi ()
6 => Luca Siri ()

Artists in Round: 3 :
2 => Cristina (EVENT CHAMPION)
1 => giuseppe ballacchino ()
3 => Fulvio Zacco ()
4 => Valerie Tschida ()
Doors @ 8:00pm / Painting @ 8:30pm
Area Archeologica Giardini Luzzati – Piazza Giardini Luzzati, 1
view on
Eventbrite
Dopo 3 anni Art Battle torna a Genova!
Unisciti a noi per una meravigliosa serata di pittura competitiva dal vivo in cui 12 talentuosi pittori avranno 20 minuti per mostrare le loro abilità e creare il miglior quadro possibile.
Guarda ed osserva come l'artwork si trasforma ed aiuta a votare il vincitore della serata ! Siamo entusiasti di vederti partecipare! Sei interessato a dipingere ad un evento futuro? Candidati online su www.artbattle.com/register/it
Durante la serata i quadri vengono messi all'asta e possono essere acquistati attraverso un'asta silenziosa.
REGISTER NOW TO VOTE
Artists
Artists can apply to compete. Also, most events have a 'Wildcard' easel, where artists leave their names at the door and we draw at random to pick the Wildcard Artist. To be a potential wildcard artist, just buy a ticket and show up!
Confirmed Competitors