Art Battle Special: Toronto vs Oakville
September 9, 2015 @ 7:00 pm

-

11:00 pm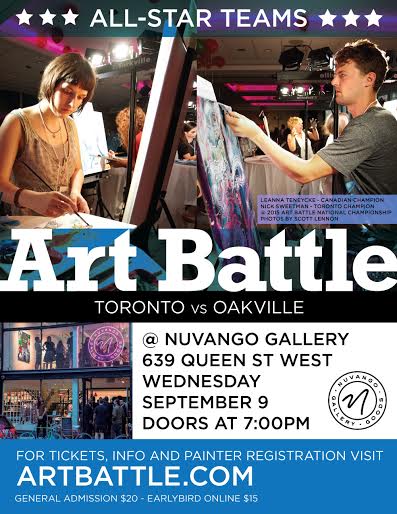 We're kicking off the year with a special City vs City event!
Join us at the Nuvango Gallery on Queen West in Toronto as two teams of amazing Art Battle painters face-off for fun and city bragging rights. Team Oakville includes Canadian Champ Leanna TenEycke who brought the National Championship trophy to Ontario for the first time with her win in Ottawa on July 16th. Congrats Leanna, we can't wait to see you at the easel again!
The event will feature a total of 8 painters, with 4 from each city. All 8 artists will paint in two 20 minute rounds on individual canvases. The audience will vote for their favourite painter in each round, and total votes for each city will be counted to determine the winning team.
TORONTO TEAM
Chen Cao
http://chencaoart.com/
Daniel St Amant
http://www.danielstamant.com/
Nick Sweetman
http://www.nicksweetman.ca/
Natasha Dichpan
http://www.natashadee.net/
OAKVILLE TEAM
Leanna TenEycke
http://www.leannateneycke.com/
Barb TenEycke
http://www.barbteneycke.com/
Branislav Dordevic
http://onesketchyguy.weebly.com/
Sanjay B Patel
http://sanjaybpatel.com/
Don't miss this special event, space is limited at this beautiful new venue so get your tickets now!
Featured artists will also exhibit a studio piece in the gallery during the event, and there will be a silent auction of live painted works in the usual Art Battle format.
Art Battle Special: Toronto vs Oakville
Wednesday, September 9th @ 7:00PM
Nuvango Gallery
639 Queen St West
Toronto, ON