AB378 – Montreal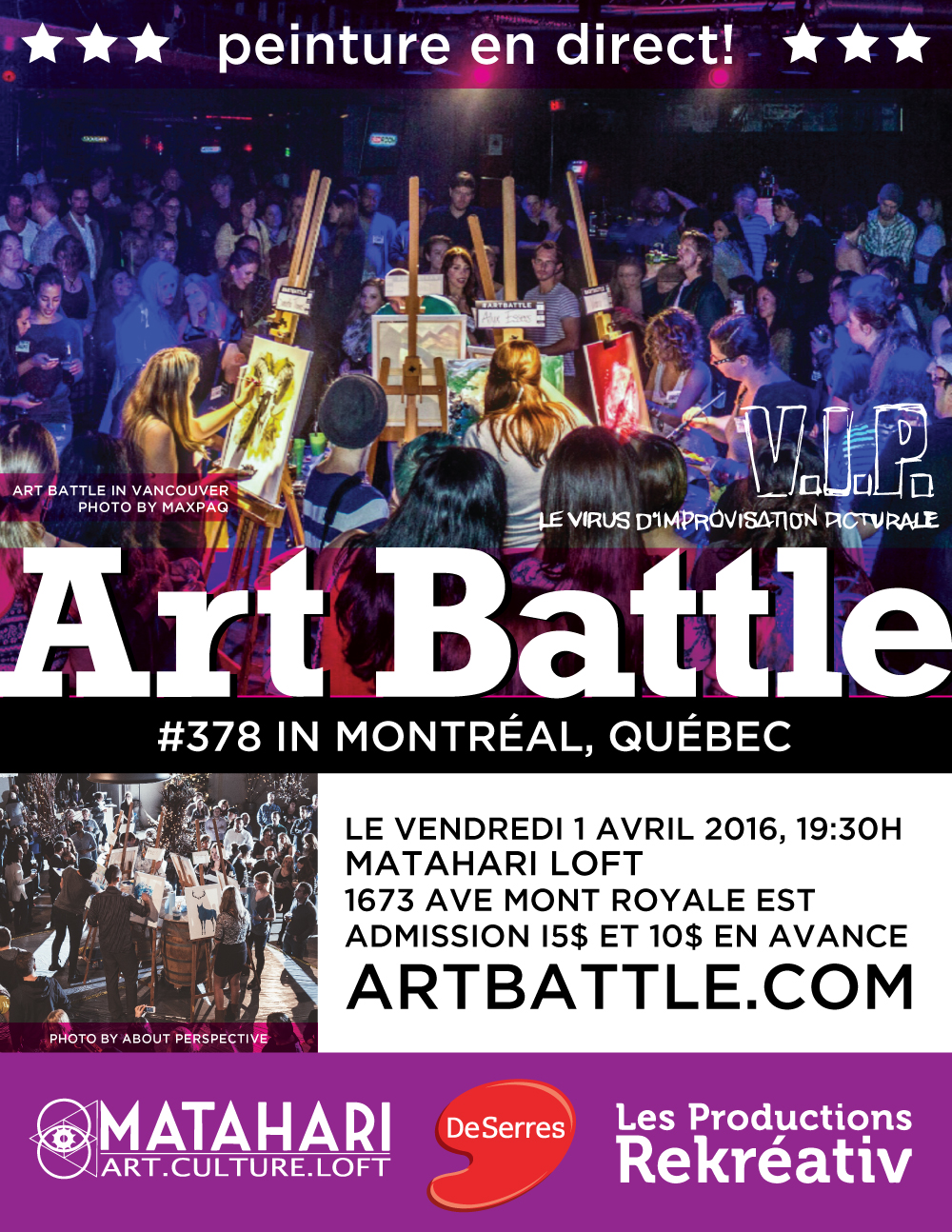 AB378
Joins-toi à nous pour une autre soirée épique de peinture en direct au Matahari Loft le 1er avril qui vient! Ne manques pas une des meilleures soirées culturelles ou l'on célèbre l'intuition et la spontanéité tous les premiers vendredi du mois! Nous sommes fiers de diffuser le talent de certains des meilleurs artistes émergents de Montréal et ses environs dans ce contexte de défi ludique et créatif qui uni les communautés artistiques au travers du Canada! Venez participer à sélectionner les peintres qui se rendront aux Finales d'Art Battle cet été! Manquez pas ça!
le vendredi 1 avril 2016, 19:30h
MATAHARI LOFT
1673 AVENUE MONT ROYAL EST
Montréal
ART BATTLE est un événement compétitif de peintures créées en temps réel.
12 artistes visuels réaliseront les meilleurs œuvres d'art possible en 20 minutes. Pendant qu'ils travaillent, le public se déplace autour des chevalets, de sorte qu'il puisse observer le processus créatif de près. Le médium utilisé est la peinture acrylique et les outils autorisés sont les pinceaux, les couteaux à peindre et tout autres outils non-mécaniques. À la fin du tour, le public votera pour sa toile préférée et pourra également participer aux enchères de l'encan silencieux de toutes les oeuvres créees lors de l'événement. Une chance unique pour vous de ramener à la maison une création des plus originale!
* VOUS VOULEZ APPLIQUER POUR PEINDRE À UN ART BATTLE?http://artbattle.ca/register
##############################################
AB378
An epic night of live painting awaits! All the good stuff, all night, no refunds.
Tickets $15 / Advance $10
Friday April 1st, doors at 7:30pm
MATAHARI LOFT
1673 AVENUE MONT ROYAL EST
Montréal
WHAT IS ART BATTLE?
Art Battle is live competitive painting. Painters create the best work they can in 20 minutes. As they work, patrons move around the easels, closely watching the creative process. The medium is acrylic paint and the tools allowed are brushes, palette knives or any non-mechanical implements. At the end of the round, the audience votes democratically for their favourite painting and bids in silent auction to take the work home.
WANT TO PAINT IN ART BATTLE? Apply via http://artbattle.ca/register
See the Facebook event HERE!
Buy your tickets in advance online at http://www.picatic.com/ab378-montreal/