AB2388 – Grand Rapids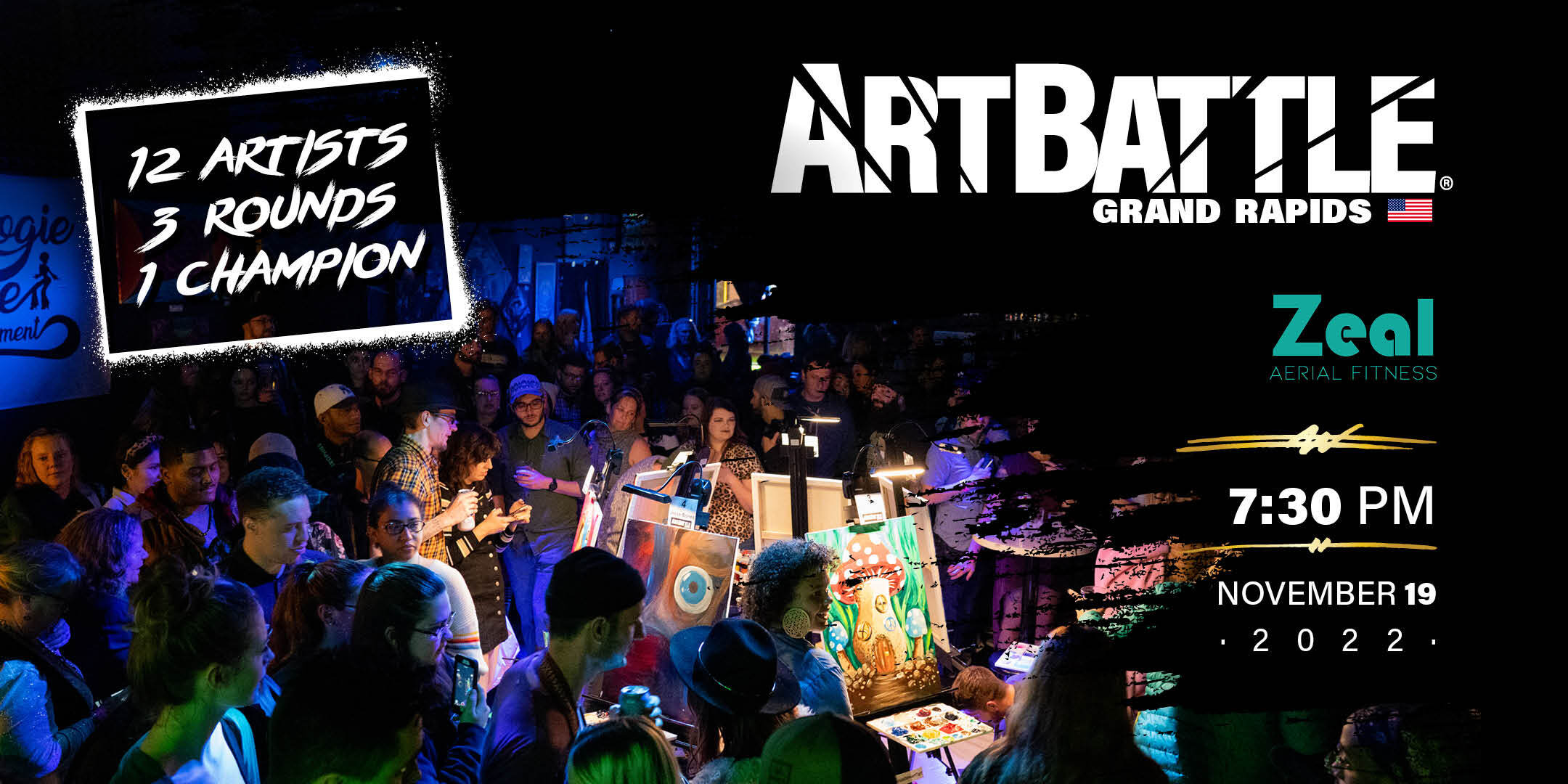 Art Battle Grand Rapids – Nov 19, 2022
Doors @ 7:30pm / Painting @ 8:00pm
Zeal Aerial Fitness – 1111 Godfrey Ave SW, Suite S-290, Grand Rapids, MI
view on
Eventbrite
Join Art Battle Grand Rapids for the Season Opener!
Come watch the paint fly before your eyes and help vote to determine the Winner as artists battle the clock & each other in 3 fast-paced rounds.
All artwork will also be available for auction during this incredible night of community and creation!
Be a part of the fun as a spectator, or participate as one of the featured artists by applying online at artbattle.com/artists!
Art Battle Grand Rapids is a 21+ event / BYOB
Artists
Artists can apply to compete. Also, most events have a 'Wildcard' easel, where artists leave their names at the door and we draw at random to pick the Wildcard Artist. To be a potential wildcard artist, just buy a ticket and show up!
Confirmed Competitors
Aja's skill set is painting and 2D but has also begun to create clothing from upcycled materials and incorporating painting into those projects. Her art reflects the different people one can be in a day. Often solitary with her art, this is the perfect place to connect with other artists. /sf
Erik's art: ECLECTIC, LOOSE, FREE. He primarily works with clay with a dash of painting on the side for fun. He also works closely with clay making functionary pottery./sf
Gabi adores traditional drawing and is perfecting digital drawing, but still considers themselves a traditional painter. They are currently exploring digital collages and editing photos, in addition to traditional art. Gabi tries to portray the temperament that's present constantly with the experience of being a human.
/sf
Self-taught Ben specializes in illustrations done in a unique and painter style. He is inspired by his own emotions and the music he loves. He also has branched out into oil pastels and different mediums./sf
Billy has been drawing since he was a child. His dream is to do great things with art around the world. He would like to compete against other artists to show his skills.
/sf
A mother of two, Angelea been doing live painting for seven years. She enjoys painting with acrylics as well as alcohol inks and resin. Angelea has also been dabbling in VR art. /sf
Carlos loves combining realism with surrealism. He uses a variety of mediums from body painting to custom clothing and shoes. He is passionate about the artistic atmosphere and is excited about competition in the Art Battle. /sf
A fan of circular compositions and high contrast line work, James is competing in his first Art Battle. /sf
Related Events