2015 Art Battle National Championship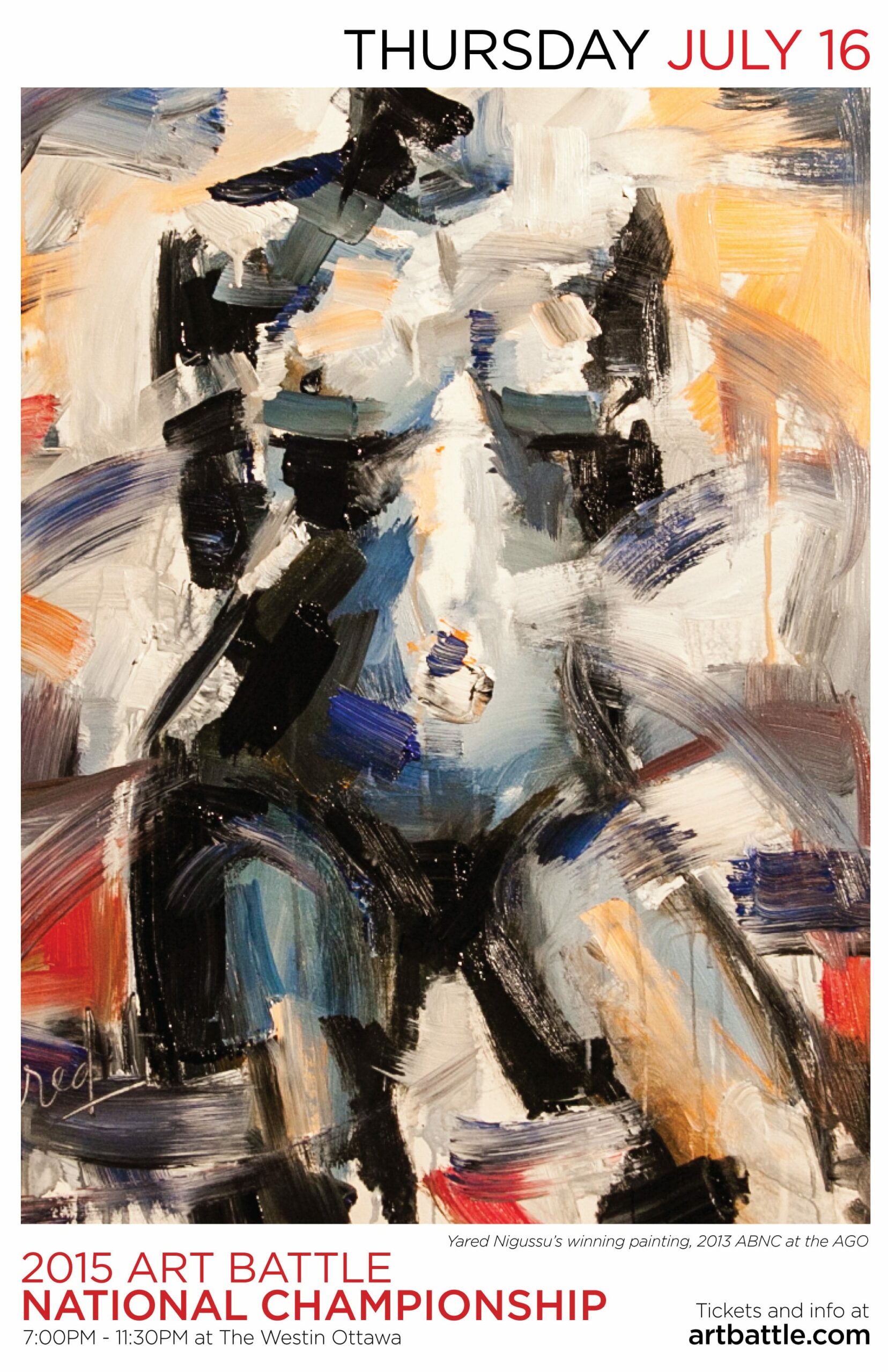 Scroll down to see the painters who are featured at this year's National Championship

Ottawa will host the The Final event of Art Battle Canada's 6th season! Join us in the Nation's Capital on Thursday July 16th and help choose the best live painter in Canada. 16 winning artists from coast-to-coast will paint live for the title of 2015 Art Battle National Champion, cash prize and a spot representing the country in the International Live Painting Championships at the Pan-Am Games in Toronto.
Rejoignez-nous à Ottawa le jeudi 16 juillet afin de couronner le ou la meilleur(e) artiste en direct du Canada! 18 artistes émérites représentant plusieurs villes et provinces de tous les coins du pays viendront peindre en direct dans le but d'obtenir le titre de champion national d'Art Battle 2015, un prix en argent et une place dans la compétition internationale de peinture en direct. Cet événement marque la fin d'une fantastique 6e saison pour Art Battle Canada.
2015 Art Battle National Championship
Thursday July 16th, 7pm
Governor General Ballroom
The Westin
11 Colonel By Drive
Ottawa, ON
2015 NATIONAL CHAMPIONSHIP: FEATURED PAINTERS
Allee Olmstead – Saskatchewan Champion

A recent graduate from the University of Regina with a BFA in Visual Arts, Allee Olmstead is a Regina based artist inspired by psychology and myth. Exploring the nature of mental health and psychiatric disorders, Allee's work features surrealistic depictions of animals and women, raising issues of real and perceived vulnerability.
After winning the first ever Art Battle event in Regina, Allee moved on to the Regina Finals where she again was victorious and earned the title of Regina City Champion as well as the right to represent her city in the 2015 Art Battle National Championship.
Ame Papatsie – Representing Nunavut

Ame Papatsie is an award winning Inuit artist, animator, and story teller from Pangnirtung, Nunavut, who creates artworks inspired by his cultural heritage. Famous for his perfected technique of two handed painting, Ame is one of the most exciting live painting artists in Canada.

Charlie Johnston "C5" – Manitoba Champion

Using his work to create poetic metaphors, Winnipeg based artist and muralist Charlie Johnston uses the walls of the city to tell stories and forge narratives for the evolution of consciousness. Passionate about both execution and creativity, Charlie's awareness of composition and technique allow him to create experimental works with prowess.
Charlie was the winner of Art Battle's special event with the Royal Canadian Mint, qualifying him for the City Finals where he won the title of Winnipeg Champion and the right to represent his city in the 2015 Art Battle National Championship.
Diane Fontaine – Ottawa Champion

Mixed media artist and owner of Gatineau based collaborative art space and gallery L'ESPACE 654, Diane Fontaine is inspired by the human body, portraits of multicultural women and horses. Exploring emotions, depth and movement through shadow contrasts and extreme light within her work.
Diane was the winner of the Ottawa City Finals and will be representing Ottawa in the 2015 Art Battle National Championships.
Doug Belding – Nova Scotia Champion

A visual artist based in Bedford, Nova Scotia, Doug Belding is no stranger to the Art Battle easel. In 2013 Doug represented New Brunswick in the Nationals at the Art Gallery of Ontario, this season he returns as an artist representing Nova Scotia.
With a background in art, animation, economics, and as a creator of digital experiences, Doug's creative skill set is fueled by an ever expanding inspiration. The only competitor this season painting in their second National Championship, Doug will surely prove a difficult to beat.
Golriz Rezvani – Alberta Champion

Originally from Iran and now based in Calgary, Golriz Rezvani is a visual artist inspired by poetry, photography, and film. Creating vibrant and narrative figurative works with humanity playing the leading role, Golriz's subversive works explore the beauty of reality.
Up against a cast of winners from Calgary, Edmonton and Red Deer, Golriz was the winner of the first ever province wide Art Battle Final, earning the title of Alberta Champion, and the right to represent her province in the 2015 National Championship.
Hovey Eyres – Victoria Champion

Hovey Eyres is a Victoria based artist who creates as a way to reflect society. Through her current project "The Selfie Gallery" Hovey explores the meaning of identity expression within her generation and society as a whole, whilst subverting technology and the digital platform of "selfies" by creating work using traditional drawing and painting techniques.
Hovey's exceptional performance this season culminated in her win at the Victoria City Finals and earned her the title of Victoria Champion as well as the right to represent her city in the 2015 Art Battle National Championship.
Jill Higgins – New Brunswick Champion

Jill Higgins is an artist and architect, practicing in Saint John, New Brunswick. Using art as an outlet, Jill draws inspiration from the act of creation itself, and from the raw beauty of Canadian landscape. Influences such as The Group of Seven and the Impressionists, blend to yield work that lives and breathes with the vitality of the environments she depicts.
Jill competed and won her first time ever attending an Art Battle, and from there moved on to the Provincial Finals where she faced an All Star cast of painters from all over New Brunswick. Jill won the finals and the right to represent her province in the 2015 Art Battle National Championship.
Jordan Meekis – Ottawa Representitive
Jordan Meekis is an Ottawa based artist and illustrator currently attending Algonquin College, and is known for his ability to execute vibrant and playful portraits with ease and flair.
Jordan's spectacular performance and exceptional work this season of Art Battle has earned him a place in the 2015 National Championship as a representative of Ottawa.
Kalkidan Assefa – Canada Day WildCard Champion

A Multimedia Visual Artist based in Ottawa, whose work is rooted in an aesthetic fusion of cultures, drawing from philosophy and the influence of ancient art as well as the contemporary. Kalkidan's subject matter leans toward the figurative, with a bold colour palette and surreal and metaphysical subject matter.
Beginning his Art Battle journey in 2013, Kalkidan was a 2014 Ottawa Finalist, and has continued to prove a difficult artist to beat this season as well. After a rained out outdoor battle on Canada Day, in which he continued to paint through heavy rain and a soaking wet canvas, Kalkidan emerged the winner of the online Canada Day WildCard contest, earning the last spot in the 2015 National Championship.
Laura McNeice – Vancouver Champion

Laura McNeice is an artist based in Vancouver whose passion for painting is charged by her enthusiasm for life, music, literature, and a commitment to making the world a more colourful place. Laura seeks to bring inspiration to viewers of her work, while challenging artistic trends and creating images that burst with vibrancy.
Laura was the winner of the Vancouver City Final, and will be representing Vancouver in the 2015 Art Battle National Championship.
Leanna TenEycke – Golden Horseshoe Champion

Oakville based artist Leanna TenEycke is a passionate emerging artist whose work draws from the realms of the surreal and fantastic to produce ethereal characters and the worlds they inhabit. Leanna  is the daughter of Art Battle artist and champion Barb TenEycke.
This is Leanna's first season of Art Battle and thus far has won each event she has competed in, including the Golden Horseshoe Final where she faced off against the best live painters from Mississauga, Oakville, Collingwood, Brampton and Alton Mills.
Mary-Louise Scappaticci – Eastern Ontario Champion

Influenced by travel, and the possibilities and experiences of life, Brockville based visual artist Mary-Louise Scappaticci creates work with emotional intensity. Using colour, light and texture, she expresses the dialog, needs and journeys of her subjects.
While facing off against the best live painters of Eastern Ontario in the Finals at the Tett Centre in Kingston, Mary-Louise blew the crowd away with her vibrant and energetic work, and will be representing Eastern Ontario in the 2015 Art Battle National Championship.
Mathieu Robert – Quebec Champion

Montréal based artist, instructor and gallerist Mathieu Robert was destined to be an artist from a young age. The son of an artist, Mathieu's creative expression blossomed through painting as a child, and grew into a passion that he shares with his community by running art school and gallery – Les Ateliers Créaction.
Mathieu was the winner of the Montréal Regional Final, where he inspired the audience with his energetic cityscapes, and riveting performance, and will be representing Montréal in the Art Battle 2015 National Championship.
Nick Sweetman  – Toronto Champion
Nick Sweetman's work draws attention to physical and conceptual sites of intersection between humans and their environment. Questioning the divisions enacted by concepts of urban space, nature, and culture, Nick re-imagines the constructed environments of reality. A joyful live painter, Nick's inventive techniques ensure that each piece is a performance in itself.
Nick was the winner of the Art Battle Toronto Finals, and has won every event he has painted in this season, making him a strong representative for Toronto in the 2015 National Championship.
Sophie Wilkins – Quebec Representitive

Sophie Wilkins is a Montreal based artist inspired by the duality of human nature, and the connections between fantasy and reality. Creating portraits that simultaneously emit strength and vulnerability, Sophie's ability to capture emotion within figurative realism is undeniable.
Sophie's spectacular performance and exceptional work this season of Art Battle has earned her a place in the 2015 National Championship as a representative of Montréal.
Sara Perry – Prince Edward Island Champion
An artist and Elementary School Teacher based in Charlottetown, PEI, Sara Perry is always experimenting with different styles and techniques. From rapid abstract expressions to considered and detailed realism, Sara never shies away from an artistic challenge.
Her signature use of quick and broad brushstrokes quickly established her as a star within her first season of Art Battle, and won her the title of PEI Champion, as well as the right to represent her province in the 2015 Art Battle National Championship.