AB – Montréal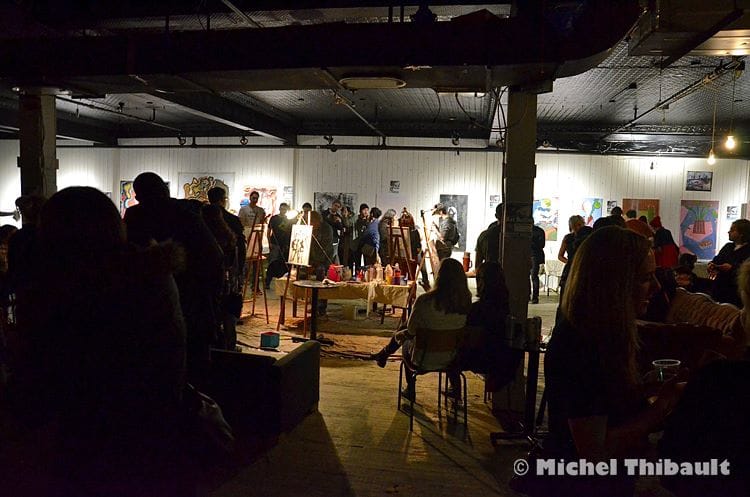 Une invitation à te joindre à une soirée de peinture en direct des plus créatives de Montréal dans une communauté artistique vivante et stimulante le 10 mars prochain au Matahari Loft! Cette soirée est une fenêtre ouverte et stimulante sur le processus créatif. Art Battle présente des artistes locaux émergents et établis dans un format interactif qui permet à l'audience de choisir leur créations préférées et de miser et ramener à la maison des oeuvres originales misent à l'encan silencieux suite à leur réalisation. À ne surtout pas manquer!
15$ / En Avance 10$ – http://artbattle.ticketfly.com/event/1438218
Art Battle Montréal
le vendredi 10 mars 2017, 19:30h
MATAHARI LOFT
1673 AVENUE MONT ROYAL EST
Montréal
Art Battle réalise des événements d'un bout à l'autre du Canada, vous pouvez voir les prochains événements des autres villes ici > artbattle.ca/calendar
#### #### #### #### #### #### #### ####
Please join us for a fun night of live competitive painting in Montréal! This is the best night of the month for creativity and community, an exciting window into the artistic process. Art Battle showcases emerging and established local artists with an interactive format that let's the audience choose their favourite and bid to take the beautiful work home in a silent auction. Not to be missed!
$15 / $10 In Advance – http://artbattle.ticketfly.com/event/1438218
Friday March 10th, 2017, 7:30pm
MATAHARI LOFT
1673 Avenue Mont Royal East
Montréal, QC
Art Battle has events from Coast-to-Coast! Help us spread the word artbattle.ca/calendar
Related Events