Art Battle: 15 Years!
December 15, 2016 @ 7:30 pm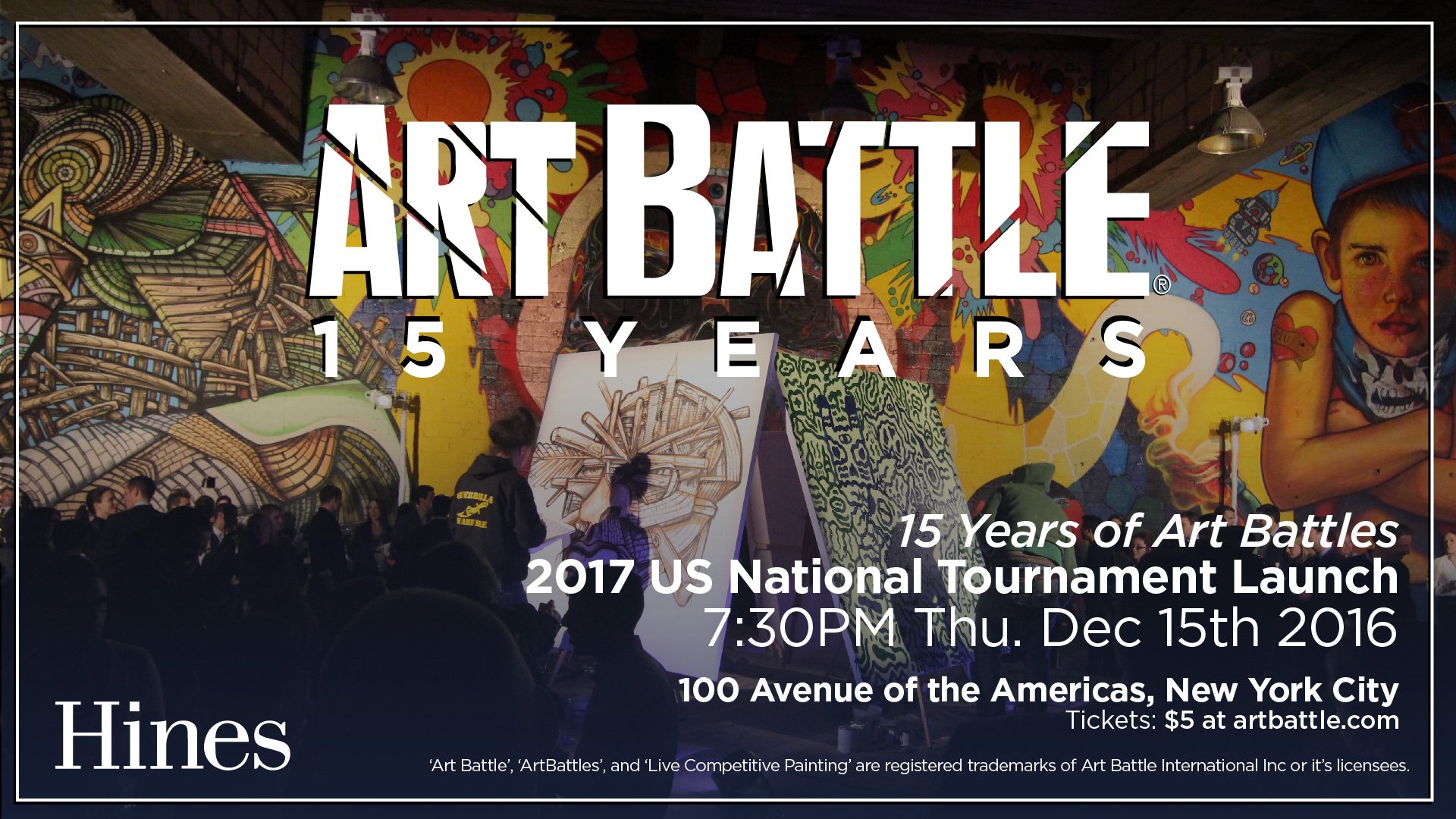 Celebrating 15 years of Art Battles! A one night tournament featuring 16 artists and a $1,000 grand prize. This incredible, 13,500 sq. ft. space at 100 Avenue of the Americas will be transformed with murals from 3 Art Battle All-stars, vibrant creative community, great music, drinks, audience voting and more. Tickets are $5; all proceeds will support the Children's Museum of the Arts.
It's been 15 years since the first Art Battle – together we have come from a junkyard lot in lower Manhattan to the World Stage! Over 1000 events later, we've held battles in nearly every major city in North America, brought live painting Championships to Europe, South America and Asia. Brooklyn to Paris, Toronto to Sau Paulo, Tokyo to Mexico City. Our mission remains the same: showcasing incredible artistic talent, creating communities and partnerships that support live art as a means of expression and celebration.
The next year is set to be the biggest yet! On December 15th, Art Battle launches the US National Tournament as part of the 2017 International Championships. Come out and help us celebrate an incredible 15 years of talent and courage in New York.
A huge thank you to Hines for hosting the event at 100 Avenue of the Americas, a unique 13,500 sq. ft. retail space at the gateway to SOHO, and for welcoming the community gather in celebration of these incredible artists and this 15 year milestone.
Apply to compete [$1000 grand prize!]: http://artbattle.com/register/
Art Battle: 15 Years
Thursday, December 15th
Doors 7:30PM
100 Avenue of the Americas
100 6th Ave
New York, NY 10013, USA
See the Facebook Event HERE!
GET YOUR TICKETS ONLINE at http://artbattle.ticketfly.com/event/1393456
Related Events