Art Battle presents: Artists 4 Athletes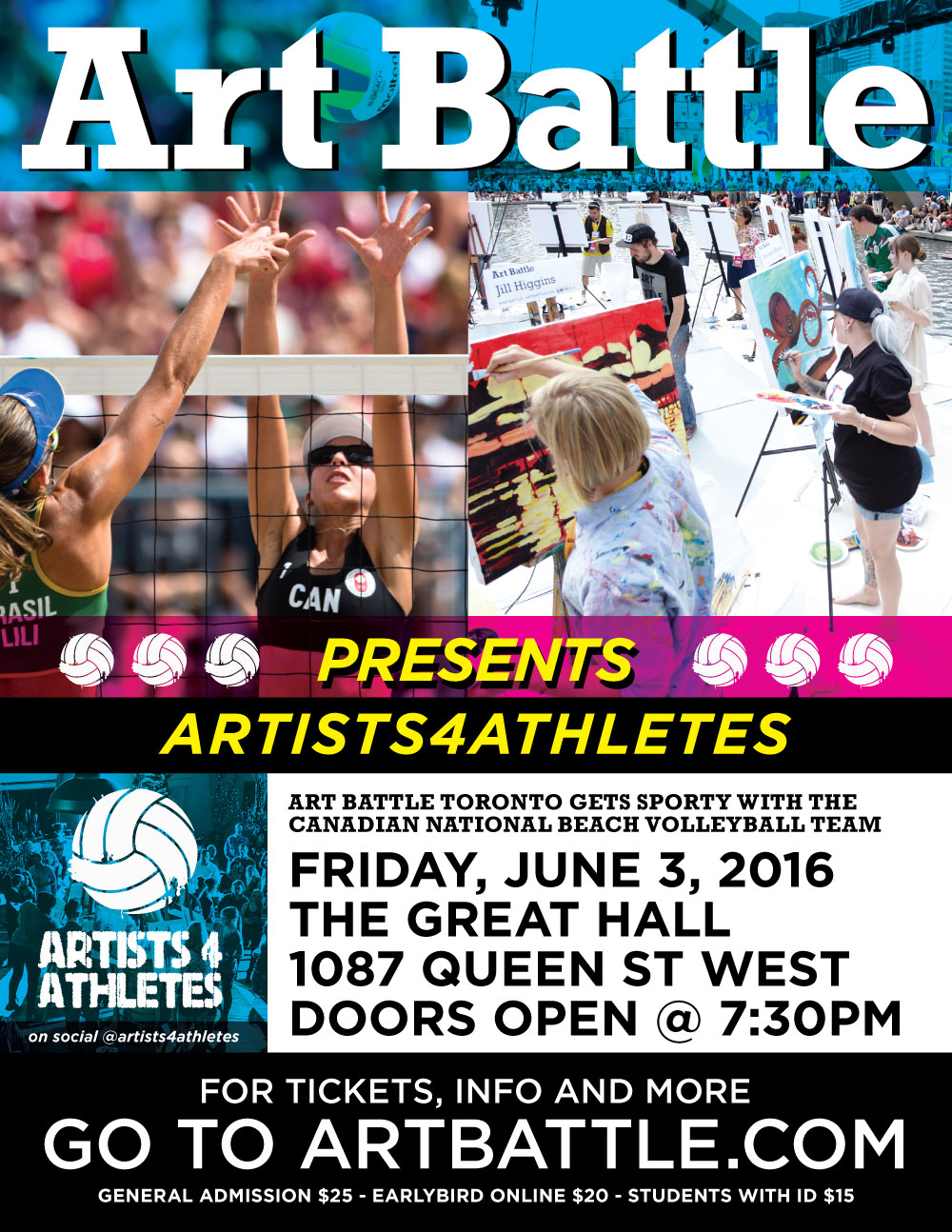 Art Battle presents Artists4Athletes – Friday June 3rd – 7:30pm
Art Battle Canada has teamed up with Artists4Athletes to host an evening of Live Art fun at The Great Hall on June 3, 2016. The night will feature and support Canada's top beach volleyball athletes, including Rio 2016 prospects.
Six teams, composed of one artist and one athlete, will battle in a live painting challenge. Together, each duo will create 3 pieces to be auctioned off at the end of the night. Silent auction prizes are also up for grabs and a door prize for one lucky attendee. Proceeds will support the athletes while highlighting several very talented Toronto artists.
✦ Doors open at 7:30PM, 19+
✦ $25 General Admission $20 Earlybird (online only) $15 Students with ID @ the door
✦ Hosted by Art Battle Toronto MC Tanya Casole-Gouveia and Special Guests
Get Tickets here: www.picatic.com/event14631481080134157
FEATURED ARTISTS + ATHLETE DUOS
Jacqueline Poirier + Melissa Humana-Paredes
Leanna TenEycke + Sam Pedlow
Natasha Dichpan + Felipe Humana-Paredes
Katrina Manigbas + Brandie Wilkerson
Sanjay B Patel + James Mark Battiston
Christopher Pemberton + Grant O'Gorman
WHAT IS ART BATTLE?
Art Battle is live competitive painting. Painters create the best work they can in 20 minutes. As they work, patrons move around the easels, closely watching the creative process. The medium is acrylic paint and the tools allowed are brushes, palette knives or any non-mechanical implements. At the end of the round, the audience votes democratically for their favourite painting and bids in silent auction to take the work home. For more on Art Battle > www.artbattle.com
WHO IS ARTISTS4ATHLETES?
A4A is a committee of dedicated individuals sharing a mission to support Canadian athletes and artists. With Rio right around the corner, A4A is organizing an inaugural fundraiser for Canada's beach volleyball athletes, while recognizing the immense artistic talent that our diverse city has to offer. Check us out and say hi over here:
https://www.facebook.com/Artists4Athletes/
If you are unable to see the ticket widget below, visit www.picatic.com/event14631481080134157 for tickets!
Related Events