Montreal – 2/6/2017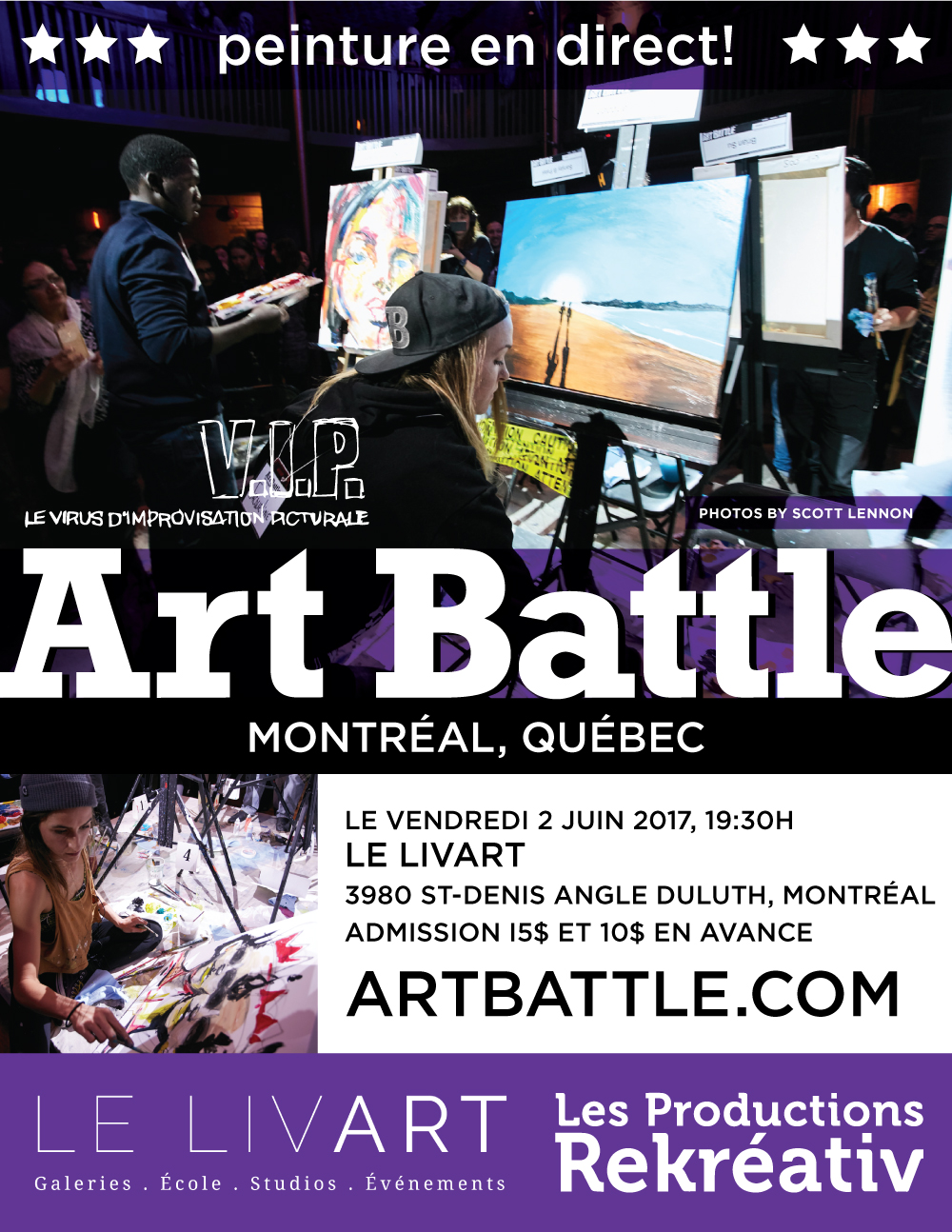 Bienvenue au prochain Art Battle Montréalais qui se déroulera le 2 juin prochain au Matahari Loft. Venez profiter d'une ambiance des plus créatives alors que les artistes transforment leurs toiles vierges en oeuvres d'Art en seulement 20 minutes de magie sous vos yeux. Vous êtes amenés à voter comme spectateur pour l'oeuvre gagnante de la soirée et à miser à l'encan silencieux toute la soirée sur ces oeuvres originales créées en temps réel. Une ambiance extra dans un lieu inspirant! C'est la dernière soirée avant la Finale Régionale qui réunira les gagnants de toute la saison. Manquez pas ça! Toujours un plaisir de vous recevoir dans cette frénésie mensuelle!
BILLETS – 15$ / En Avance 10$
http://artbattle.ticketfly.com/event/1486430
Art Battle Montréal
Vendredi 2 juin, 19:30h
Le LIVART
3980 St-Denis_angle Duluth
Montréal, QC
Art Battle réalise des événements d'un bout à l'autre du Canada, vous pouvez voir les prochains événements des autres villes ici > artbattle.ca/calendar
#########################
Art Battle returns to Montréal, Friday June 2nd at Matahari Loft. Come and be part of the fun as Artists take their canvases from blank to beautiful, the audience votes to choose who is the winner, and bids in silent auction to take these new masterpieces home. This is the best night of the month for live art and creative community. Groovy music, cash bar, and good vibes. This is the last event before the City Finals in June, hope to see you there!
TICKETS – $15 / $10 In Advance
http://artbattle.ticketfly.com/event/1486430
Friday June 2nd, 2017, 7:30pm
Le LIVART
3980 St-Denis_angle Duluth
Montréal, QC
Art Battle has events from Coast-to-Coast! Help us spread the word artbattle.ca/calendar
Related Events